Abhishek Kumar
February 21, ON THIS DAY
Hans Erni was a Swiss artist and graphic designer known for his contributions to modern art, particularly in the field of abstract art. Erni's work was characterized by a unique blend of abstract and figurative elements. He often incorporated geometric shapes and patterns into his designs, but also included recognizable forms and symbols from nature and mythology. Erni's embrace of abstract and figurative elements, as well as his use of geometric forms and patterns, has also influenced contemporary art movements such as Pop Art and Neo-Expressionism. His use of recognizable forms and symbols from nature and mythology has also been influential in the development of contemporary art that draws on mythic and archetypal themes.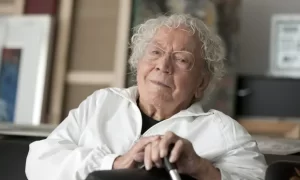 He was born in Lucerne, Switzerland and began his artistic career as a painter in the 1920s. Erni studied at the School of Applied Arts in Lucerne and later at the Académie Julian in Paris. He became involved in the Swiss art movement known as "Concrete Art" in the 1930s, which emphasized the use of simple geometric forms and colours in art. Erni's work also had a broader impact on the field of modern art. His unique blend of abstract and figurative elements, as well as his use of geometric forms and patterns, were influential in shaping the development of Concrete Art and other modern art movements.
He is perhaps best known for his poster designs for the Swiss National Exhibition in 1939 and the 1949 International Labour Organization conference, as well as his numerous stamp designs for the Swiss postal service. Hans Erni's work had a significant cultural and political impact in Switzerland and beyond. His designs for posters, stamps, and other printed materials helped to shape the visual identity of Switzerland and promoted the country's cultural and economic achievements. Erni was particularly influential in promoting the idea of Switzerland as a neutral and peaceful country, a message that was particularly important during the Cold War.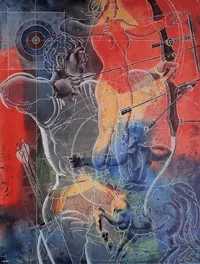 Erni later turned to graphic design, creating illustrations and designs for posters, stamps, and other printed materials. One of Erni's most important contributions to graphic design was his ability to combine abstract and figurative elements in his designs, creating bold, dynamic images that captured the essence of his subject matter. His use of geometric forms and patterns, as well as his innovative typography, helped to set new standards for graphic design in the mid-twentieth century. Erni was particularly skilled at creating designs that conveyed complex ideas and messages in a clear, concise manner. His designs for the Swiss National Exhibition in 1939, for example, effectively communicated the country's achievements in science, technology, and culture through a series of bold, colorful posters.
Erni's designs were often characterized by their simplicity and elegance, yet also conveyed a sense of energy and movement. His use of colour was particularly notable, with bold, vibrant hues often used to create striking contrasts and dynamic compositions. Erni was also known for his ability to create designs that were both functional and aesthetically pleasing. He worked closely with clients to understand their needs and goals, and developed designs that were both visually engaging and effective in communicating their intended messages.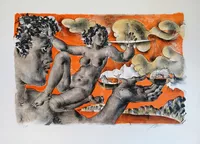 Erni's influence on graphic design can be seen in the work of contemporary designers who continue to draw on his legacy of innovation, creativity, and technical skill. His designs for the Swiss Red Cross, for example, have been cited as an important influence on contemporary designers who seek to use graphic design as a tool for social change. Hans Erni's contributions to the world of graphic design helped to establish a new standard of excellence, innovation, and creativity that continues to inspire designers and artists around the world. His legacy serves as a powerful reminder of the transformative power of art and design to shape the world around us.
Erni was also a prolific sculptor, creating numerous public works throughout Switzerland and abroad. His sculptures often featured human figures and animals, and were characterized by a sense of movement and dynamism. Throughout his long career, Erni received numerous awards and honours, including the Grand Prix at the 1951 São Paulo Biennale and the Hans Christian Andersen Medal for illustration in 1968. He continued to work well into his 90s, and died in 2015 at the age of 106.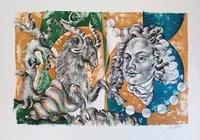 Erni's work is featured in numerous public collections, including the Museum of Modern Art in New York, the Tate Gallery in London, and the National Museum of Modern and Contemporary Art in Seoul. In addition to his artistic achievements, he was also recognized for his contributions to cultural and civic life in Switzerland, and served as a member of the Swiss Federal Art Commission and the Swiss Olympic Committee.
Erni's legacy continues to inspire artists and activists around the world. His work remains highly relevant to contemporary issues and concerns, including environmentalism, social justice, and global peace. His commitment to promoting the common good through art and design serves as a powerful example for future generations of artists and cultural leaders.