Smriti Malhotra
It may be all the rage now, this new aesthetic that has been doing the rounds in homes and interiors and in the design world. But the Japandi style is anything but a new aesthetic. It is simply a blend of Scandinavian and Japanese interiors. It is a marriage between simplicity, elegance and its usefulness. It is a minimalistic style of living that creates a sense of warmth and slow comfort within your spaces.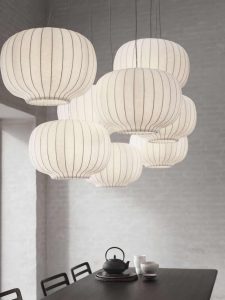 Here are 11 things you need to know about the Japandi style or aesthetics:
The word 'Japandi' is a combination of 'Japanese' and 'Scandinavian' which came about as a response to growing interest in the concepts of minimalism and nature-inspired designs. A lot of Scandinavian designers were intrigued by the Japanese aesthetic, so when they travelled to Japan once the country opened its borders in the 1850s. The country and its style inspired various artists and designers which has resulted in the Japandi style.
The Japanese influence on the Japandi style has elements of 'Wabi Sabi'. While 'Wabi' translates to rustic simplicity in the interior front, 'Sabi' means finding perfection in imperfection which could be reflected in old items that have aged in your homes or surroundings over time.
The Japanese influence on the Japandi style and aesthetic is the use of natural elements such as bamboo, stone, paper, cotton and wood. While the Scandinavian influence is the use of muted colour tones, simplistic but crisp shapes and clean lines. Together, these two make a perfect combination that is unique and visually appealing and gives a sense of warmth with sleek comfort.

Japandi Aesthetics in a living space.
Courtesy: The Design Shepherd
A key element of the Japandi style or aesthetic is the use of natural light. The light softly filters through the Japanese paper screens creating a calming atmosphere and the Scandinavian influences of the window treatment and use of blinds or sheer curtains let in plenty of warm light into the interiors and makes the space feel airy and bright.
The Japandi style is also known for its use of neutral tones and natural colour schemes such as beige, shades of white, and grey which is indicative of the Scandinavian influence while the darker shades such as greens, blacks, and brown reflect the Japanese influence on the Japandi aesthetic.
Another important element of the Japandi aesthetic is the use of plants and greenery within the interior space to make it seem larger and create a more zen-like space. The use of greenery also reflects the little touches of nature within a space. Using natural elements such as water, tone and greens provides a sense of tranquillity and calm.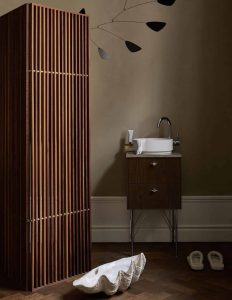 Japandi style emphasises de-cluttered spaces and a simple and clean aesthetic. A streamlined living space that is calm and welcoming encourages mindfulness and relaxation. It insists on lesser but more functional pieces that could be used for a longer period of time.
Japandi style favours handmade and artisanal pieces, unique vintage pieces that have lasted a long time in a home and could still stretch up to a few more years. It is reflective of a slow living with pieces which are important and could be sustained for a long period of time. These unique items suggestive of pure craftsmanship and human ingenuity make the space look very well put together.
Natural and textured pieces made with high-quality materials such as different varieties of cotton and wool are a must in the Japandi style. Ragged and rough surfaces, exposed brick, stone or concrete can provide a rustic yet homely look to the space.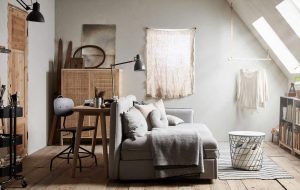 The Japandi style abides by Minimalism and suggests 'less is more', with minimal but well-crafted accessories to adorn your space such as small planters, vases, photo frames, etc.
The Japandi style or aesthetic has also influenced many ceramic and textile artists. These artists are also experimenting with this aesthetic and creating inspired artworks. Some artists who practise the Japandi art are Birgit Birkkjær (Denmark), Norie Hatakeyama (Japan), Ane Henriksen (Denmark), Agneta Hobin (Finland), Kazue Honma (Japan), Mutsumi Iwasaki (Japan), Kiyomi Iwata (Japan), Tomika Kawata (Japan), and so many more. They have exhibited their works of art in galleries and collectives.
It is a unique design philosophy that has taken over the world by storm lately, with many new designers, architects and homeowners converting their spaces into a 'Japandi' style home. It focuses on natural light, the use of natural elements and textures and artisanal pieces for the home. The hybrid union between Japan and Scandinavia suggests a clean, sustainable and calm physical space.