Tsuktiben Jamir
EXPO Chicago is the leading platform for contemporary art and culture. The worldwide Exposition of Contemporary and Modern Art is known for hosting leading worldwide galleries. This year, EXPO Chicago will be hosting their tenth edition of the live exposition from 14th April to 16th April at Navy Pier. A whopping 170 galleries from 36 countries and 90 cities will be represented in the expo.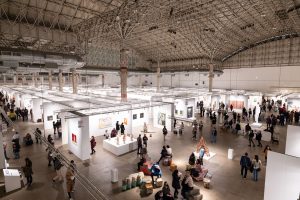 Leading galleries including Gallery 1957, Corbett vs. Dempsey, Cristea Roberts Gallery, Luis De Jesus, Edel Assanti, Kavi Gupta, half gallery, Jenkins Johnson Gallery, Kasmin, Monique Meloche Gallery, Galeria Nara Roesler, and Michael Werner Gallery are among those that will participate in the event.
We also have first-time exhibitors such as Casas Riegner from Bogotá, Eric Firestone Gallery from New York and East Hampton, Kohn Gallery from Los Angeles, Micki Meng from San Francisco, Ortuzar Projects from New York, kó from Lagos, Reyes Finn from Detroit, Southern Guild from Cape Town, Welancora Gallery from New York, and Almine Rech, which has locations in Shanghai, London, New York, Paris, and Brussels.
The 2023 exposition includes prominent worldwide galleries in addition to concentrated areas including PROFILE, which showcases solo booths and targeted initiatives by international galleries, and EXPOSURE, which is devoted to solo and two artist presentations by galleries 10 years and younger.
The Dialogues programme is one to definitely check out. Over the course of the fair, it will host important curators, artists, and museum directors in discussions that are presented in partnership with the School of the Art Institute of Chicago (SAIC).
IN/SITU Outside extends EXPO Chicago's artistic and intellectual dialogue beyond the walls and throughout the city with works installed in a variety of public Chicago spaces, including parks (Yoko Ono, 'Sky Landing', Jackson Park), bus shelters organised by Public Art Fund (Ada Muluneh, 'This is where I am'), and O'Hare.
EXPO Chicago will also host an EXPO ART WEEK from 10th April 2023 to 16th April 2023, showcasing a number of museum exhibitions and gallery openings as a prelude to the main event.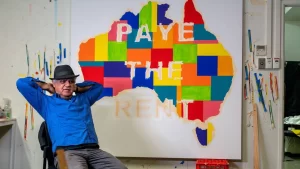 A special treat in the form of two sneak peek previews of 'You Can Go Now', a documentary on Aboriginal artist Richard Bell, will also be shown at the Gene Siskel Film Center on 15th April. In collaboration with EXPO CHICAGO, the Gene Siskel Film Center will also screen a number of films that examine contemporary artists and their practices. One of the highlights is Nan Goldin's 'All the Beauty and the Bloodshed' (15th April), which won the Best Film Golden Lion Award at the 2022 Venice Film Festival.
The goal and passion of EXPO Chicago extend beyond exhibitions and events; In fact, "The city of Chicago has proudly hosted a global contemporary and modern art exposition for nearly forty years and serves as the site of the first international art fair in the Americas. Since its inception, EXPO CHICAGO has remained dedicated to supporting local, regional, and international arts communities, with strong regional support throughout the Greater Midwest, both US coasts, and maintained a growing international commitment from Europe, Asia, and Latin America."
Dates:
14th April 2023- 16th April 2023
Location:
Navy Pier, Chicago