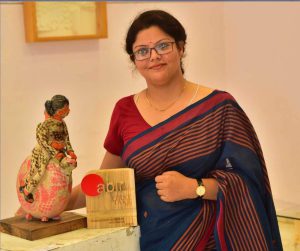 My art is deeply influenced by Hindu religious thought, in which the human body is regarded as a 'temple', a sacred space considered as a supreme creation of god, in which the divine resides. At the same time, evil thoughts exist inside the same receptacle, interpreted as 'maya' or illusion. My artwork, using the medium of stoneware ceramic, draws inspiration from this crux of our existence.

— Anju Paliwal
After being awarded the First Take Award (Ceramic Sculpture) in 2017, Anju Paliwal went on to participate in the 'Khoj' International Art Exhibition in 2018 at Jaipur and in 'Body' National Art Exhibition in Shanghumugham Art Gallery in 2019 at Kerala.
Along with the above – mentioned group shows, she has also been a part of Ceramic Symposium at Mrittika, Kolkata and Ceramic sculpture and Lustre workshop at Chitrakala Parishath, Bengaluru.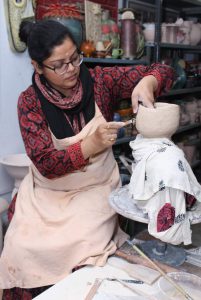 "In 2019 I started an event called POTTER'S MARKET LUCKNOW and this year I am going to organise the 2nd edition of this event. It gave the opportunity to the students and art lovers of Lucknow to know different styles of functional ware made by the artists of different places. It is a national event and any ceramic artist or potter of any place can come and participate in it" says Anju Paliwal.
Currently she is pursuing a project of Junior Fellowship by Ministry of Culture, New Delhi and pursuing her PhD at IIS (Deemed to be University), Jaipur.
You can find a some of Anju's works on Abirspace.com.