A SUMMARY OF THE MOST EXCITING ART NEWS FROM AROUND THE GLOBE
While we focus on Indian art, we can't obviously function in a vacuum. It's a small world and everything is connected, especially on the web. So, let's train our spotlight across the world map to see what's going on — from art trends to socio-political issues to everything that affects the great aesthetic global consciousness. Or, let's just travel the world and have some fun!
New hires for senior positions at BAMPFA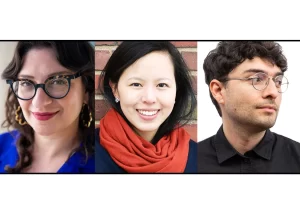 The Berkeley Art Museum and Pacific Film Archive (BAMPFA) has made three major curatorial hires for senior positions: Margot Norton will join as chief curator on May 1, while Victoria Sung and Anthony Graham will become senior curators on March 1 and March 20, respectively. Norton, who is currently a senior curator at the New Museum in New York, is among the most closely watched curators working today. Having spent 12 years at the New Museum in various roles, she is known for mounting major exhibitions for contemporary artists such as Lynn Hershman Leeson, Sarah Lucas, Chris Ofili, Pipilotti Rist, Kaari Upson, Carmen Argote, Mika Rottenberg, and Bárbara Wagner and Benjamin de Burca. She curated, with Jamillah James, the 2021 New Museum Triennial, and two additional shows of hers will open at the New Museum later this year: a survey of Wangechi Mutu, curated with Vivian Crockett, and a solo for Pepón Osorio. She also organized the Georgian Pavilion at the 2019 Venice Biennale. Read more on Art News.
El Anatsui selected for next Hyundai Commission in Tate Modern's Turbine Hall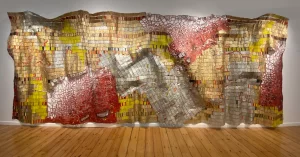 A
n African artist who recycles old bottle tops to make large shimmering sculptures has been chosen to take on the monumental Hyundai Commission in 
Tate Modern
's 
Turbine Hall
.
Ghana-born El Anatsui made his name using recycled material to create his work which has been shown at the Metropolitan Museum of Art and the Venice Biennale among others. His work has also seen him use everything from old nails to milk tins, driftwood and railway sleepers to highlight issues of consumerism and history. Tate Modern Director Frances Morris said: "El Anatsui is responsible for some of the most unique and unforgettable sculptures in recent times and we are delighted that he will tackle the Turbine Hall this autumn for the annual Hyundai Commission. Anatsui's much-loved Ink Splash II 2012 in Tate's collection enchants visitors wherever it's shown, and we can't wait to see how this inventive artist will approach a space like the Turbine Hall." Details on
Evening Standard
.
The Palm Beach art dealer Daniel Elie Bouaziz pleaded guilty yesterday to selling a counterfeit artwork by Andy Warhol, according to recent court filings. In the spring of 2022, special agent Marc A. Gervasi, of the FBI's Art Crime Team, submitted a complaint to the Southern Florida District Court outlining the findings of his investigation into the dealings of Bouaziz. Gervasi suspected Bouaziz of selling faked works by artists such as Warhol, Roy Lichtenstein, Keith Haring and Banksy out of his two Palm Beach galleries, Danieli Fine Art and Galerie Danieli, to at least six people. During the course of the investigation, law enforcement officials went undercover and bought a fake work from Bouaziz for $25,000, a "Superman" print. During the deal, Bouaziz allegedly told the undercover agent, "This is very rare . . . He like a hundred of Superman, a hundred of them. This is, this is one of [sic] to me, this is one of the good ones. You know, that's a beauty. It's a small number. It's really good." Read more on Robb Report.