Ved Prakash Bhardwaj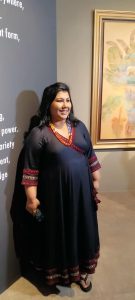 Shampa Sircar Das's solo exhibition titled 'Pravah', curated by Anu Bajaj, was opened at Sridharani Art Gallery, Delhi on 4th April. This exhibition is on view till April 14. The exhibition is organized by Gallery Art Positive. It includes paintings as well as some sculptures of Shampa Das. Shampa has been identified as an artist who portrays spiritual experiences and natural beauty. The aesthetic side of her art is so strong that the ideological light behind it gets hidden. Her art is also a search for the meaning of nature and the presence of all living beings including humans in it. It also indicates how our relationship with nature is and how it should be. This exhibition is an expression of the flow of life in nature.
If you look at the pictures included in this exhibition, humans along with deer, elephants, lions, peacocks, fish, birds all are part of a beautiful natural environment. This is an indication that nature attains perfection only with all living beings, on the other hand all living beings can also co-exist only under the shelter of nature. Here the artist has not given any kind of direct message, indirectly there is a big message in these pictures. The ill-effects of the manner in which man has mindlessly destroyed nature for his selfishness have come to the fore. Today the whole world is talking about environmental crisis, talking about the balance of life with nature. This is what Shampa says through her art.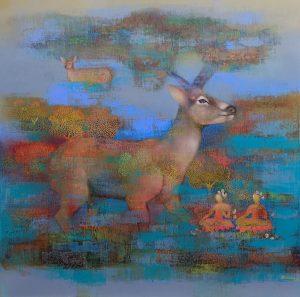 To give a simplistic interpretation of Shampa's art would be unfair to her. If we are limited only to the natural beauty, to the brightness of the colours, then we will not be able to understand these paintings in their entirety. Shampa and her husband Sanjay Das, a creative photographer, travel a lot. Sanjay captures such scenes with his camera which demand wider social discussion. What Sanjay does with the camera, Shampa does with colours on the canvas. The Buddhist monasteries and Thanka paintings of Leh-Ladakh not only influenced her work, but also gave her a different direction. On one hand the experiences of Ladakh take shape in Shampa's paintings, on the other hand the life struggle of women from Bihar, Bengal and other places gives her the power to think of painting differently. She does not take women's struggle as a slogan but takes it as a creative side of life.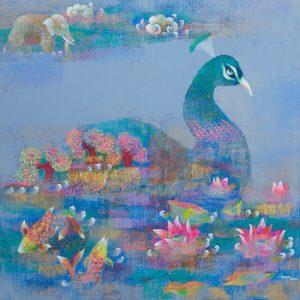 Shampa's childhood was spent in Delhi exposed to Bengali culture, as well as her schooling was influenced by Sri Aurobindo's philosophy which she still believes in today. After doing MFA, Shampa had to keep herself away from art due to family reasons. There was a long struggle in life and she kept distance from art for about seven years. In 2002, Shampa turned to art again and started a new life with canvas. She was not able to satisfy herself even after participating in group exhibitions. Then in 2003 she went to Leh and Ladakh with Sanjay. The natural beauty of the mountains and the spiritual atmosphere of Buddhist monasteries as well as Thanka paintings inspired her. Returning from there in 2003, she did an exhibition titled Tatva. After that, this process continued for the next three years. The golden colour of Thanka paintings and Buddhist monasteries, the gray and white colours of mountains and the red colour of spiritual energy became prominent on her canvas. We also find images of words written on the walls of monasteries in the paintings of that time.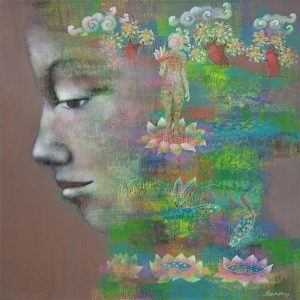 If you look at the paintings included in this exhibition, many images of Buddhist monasteries and Thanka paintings have been used in them. Apart from this, figures like meditating monk and nun are also here. The presence of deer in these paintings has a special significance. Deers are considered to be very beautiful yet gullible creatures, just like nature. She also uses the lotus flower to reveal the beautiful and soft element of nature. The frequency of blue colour in these paintings gives a sense of the purity of water and sky. Golden and red colours are still dear to Shampa. With metallic colours, she creates a new aura in the picture. Her painting process is different. She creates texture by first applying two-three layers of colours on the canvas. After that she starts creating shapes on it. In this way, many colours together become like a musical tune.