Abirpothi interviews Preeti Garg, co-founder of Gallery Veda
"To make art more inclusive and not intimidating was the idea behind the gallery. Chennai, with its well-known love for the arts, provides the perfect setting for such a concept. The need for a distinctive space amid the homogeneity is what urged me to start the gallery,"

-Preeti Garg, co-founder of Gallery Veda
Gallery Veda is one of the up-and-coming art galleries based in Chennai that aims to do very innovative work and transform the way art occupies spaces. They started with the mission of not just selling art commercially but making the buyers understand the art that they want to display. They believe that each and every artwork has a home, and they will do their best to find it. Gallery Veda wants to make art less intimidating for laymen, making a constant effort to open up the art space to the general public. Veda also offers an umbrella of services including choosing art works for home décor, art consulting and corporate gifting services and commissioning art works to artists of one's choice.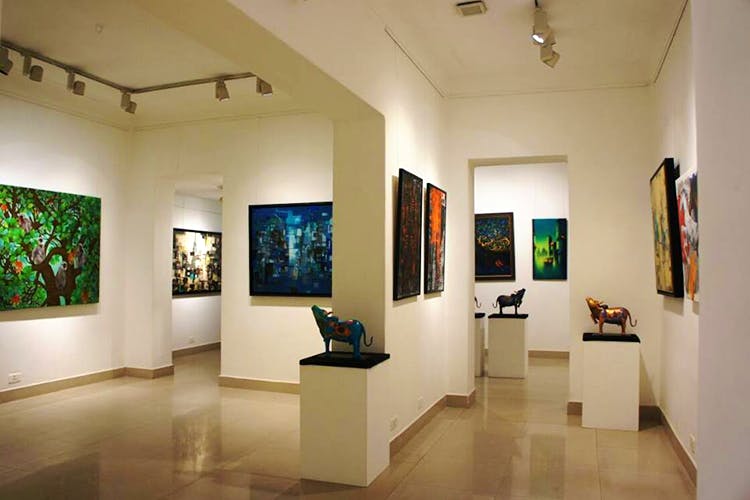 Veda hosts many young and contemporary artists, as well as established artists likeChandra Bhattacharjee, Seema Kohli, Arpana Caur, and Jogen Choudhury. They have participated in Kochi Muziris Biennale in 2014 and the 56th Venice Art Biennale, and are a regular at India Art Fair.
Gallery Veda was an initiative co-founded by art connoisseur Preeti Garg and art collector Sanjay Tulysan. And today, Preeti Garg sits with us at Abirpothi to answer a few questions about her gallery and what they plan for the future.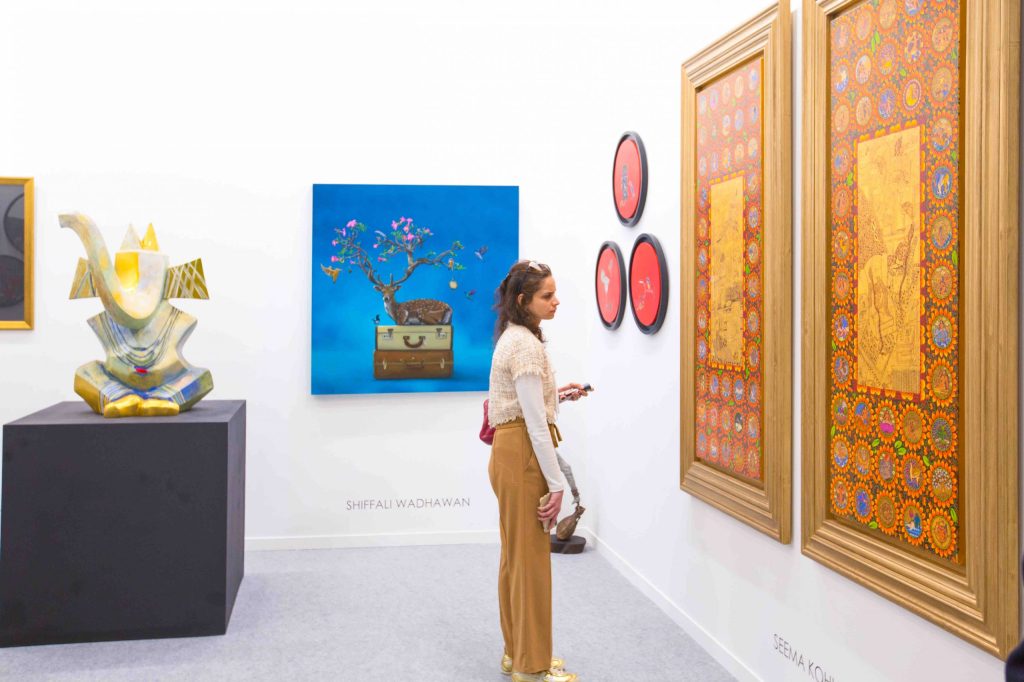 You said that one of your gallery's goals is to "make art less intimidating" and that great pieces of art can find their way to different living spaces. How do you plan to break down the barrier and ensure that art does indeed find its way into different living spaces?
Preeti Garg: So basically at Gallery Veda, we try and source out art that is value for money at the same time is more universal. We noticed that usually our first-time buyers have a very low budget and they have very conservative tastes. We try to cater to their needs by providing the best possible options with quality work. We also give them options– we show them works that can be chosen after they are put up on-site. The buyers can see them at the required space if they are in Chennai or then photoshop images for the look and feel.
How did you come about founding the gallery?
Preeti Garg: It was quite a few years ago. I was looking for something to do and one of my friends was running a gallery at Pondicherry. She wanted me to try and open a gallery myself. I spoke to my friend, who is one of the eminent collectors in India and he invited me to come on board and organize the Art Chennai festival with him. That was the first step for me and ever since, there is no looking back
I have noticed that your gallery hosts the works of a wide variety of artists. I was quite fascinated by the range. How do you select the artists for your gallery?
Preeti Garg: I normally do some research on the artist I come across whose work I like. After the research, I approach them. Some other times, I appoint curators to do my show and they recommend me the artist that suits my requirement. Other times, a few good artists have approached me based on our gallery's previous work. When you do good work, good people want to work with you. I am very grateful for this.
Can you give some advice for newcomers in the art field who want to enter the global art market?
Preeti Garg: There is always scope for work for everyone. Honestly, I always tell artists to stick to their pricing. Loyalty to galleries also matters.Pricing should be kept low initially so people can pick them and the artwork finds space at home or an office. For collectors, I would say buy art with your heart and choose galleries that will help you build a collection with good quality art.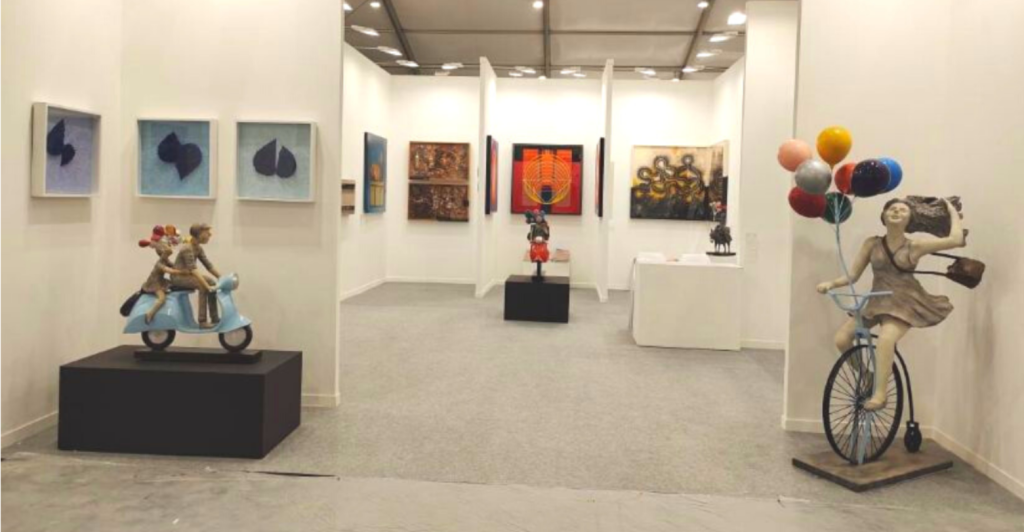 What are the emerging trends that you have noticed in recent years in the domestic art scene? I'm sure you are very familiar with these trends; I've noticed that you have been a regular at India Art Fair for the past few years.
Preeti Garg: Yes, I like different mediums that artists are using these days. I have noticed many trends. I remember when I started doing art fairs, our gallery was the first to show contemporary work and it was very well appreciated. So I have noticed that people now want new mediums at low prices and since there is demand for that there is enough supply. It's all a matter right art suiting the right space.
It's been a decade since the founding of your gallery. What were the major challenges that you faced till this point?
Preeti Garg: The first challenge was being in Chennai. We couldn't have many sales in the beginning. There was a need for awareness and change. When you can't sell art, the artist would not be loyal and sell art from their studios at cheaper prices. Slowly we are getting the market to change. It is going to be tough but I like to push myself as this has been my goal to run the gallery to change the art scene in my city.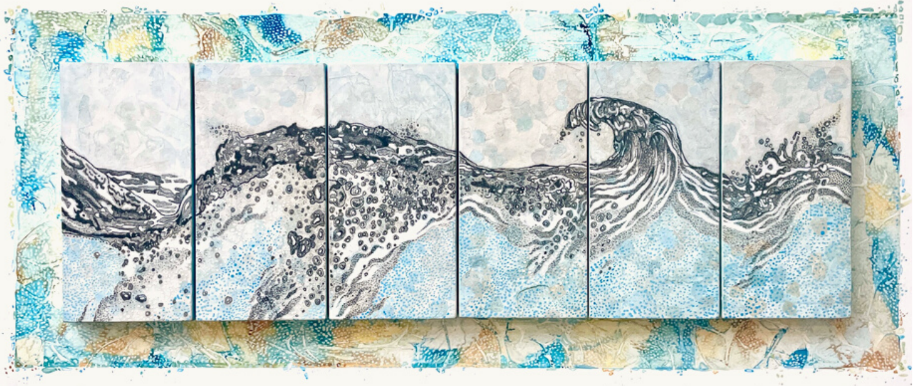 How do you help your artists get exposure in the international market?
Preeti Garg: I don't have any exposure to the international market yet. Whatever little entry into the international space I have done is through the clients I have from different regions globally. These clients have been picked up from different places; be it at the fair, through our promotions, or through the gallery at the Hotel Park Hyatt Chennai, which is also a space our gallery displays works at.
What can be done to open up a new space for local Indian artists in the global market? Domestic galleries like yours are surely going to play a crucial role in that process.
Preeti Garg: I would love to work towards that but I am still not out there. I'm surely going to do something in the coming years!
Is there a message you'd like to share for young artists who want to make a name for themselves in the art market?
Preeti Garg: If you have talent, have some patience also and you will get there! For every art piece that is ever made, there is definitely a buyer for it. We just need to find it!