Abhishek Dixit
During the chaotic "Bloody Week" that marked the end of the Paris Commune, Georges-Henri Rouault came into the world in a cellar on May 27, 1871. The family's residence was hit by an unguided missile, which compelled the pregnant woman to relocate to the basement where she delivered her second offspring. Rouault, a weak and delicate child, had a joyful upbringing in the industrial district of Belleville located in Paris. He inherited his father Alexander's passion for artisanal work, as Alexander was a carpenter who worked at the Pleyel piano factory. The entire Rouault family fostered a passion for imagination and actively supported Georges in his artistic pursuits. It is true that Rouault's maternal grandfather had amassed a number of lithographs by Honoré Daumier and reproductions of artworks by Rembrandt, Courbet, and Manet. Rouault himself later acknowledged that he began his artistic education with the works of Daumier.
At a tender age, Rouault's passion for art was evident as he commenced sketching. At age fourteen, he undertook an apprenticeship with Georges Hirsch, who specialized in restoring medieval windows and painting glass. The heavy black lines that define Rouault's adult style are frequently attributed to his formative years. On Sundays, he would visit the Louvre to create sketches. At eighteen years old, Rouault registered himself in Paris's School of Fine Arts. He, along with Marquet, Camoin, and Matisse, received training from the distinguished Symbolist painter Gustave Moreau. Rouault quickly gained the favour of his instructor and developed a close friendship with him. Moreau was an encouraging and modern instructor who carefully valued and appreciated the distinct characteristics of his pupils and was committed to allowing them the freedom to explore their own artistic inclinations.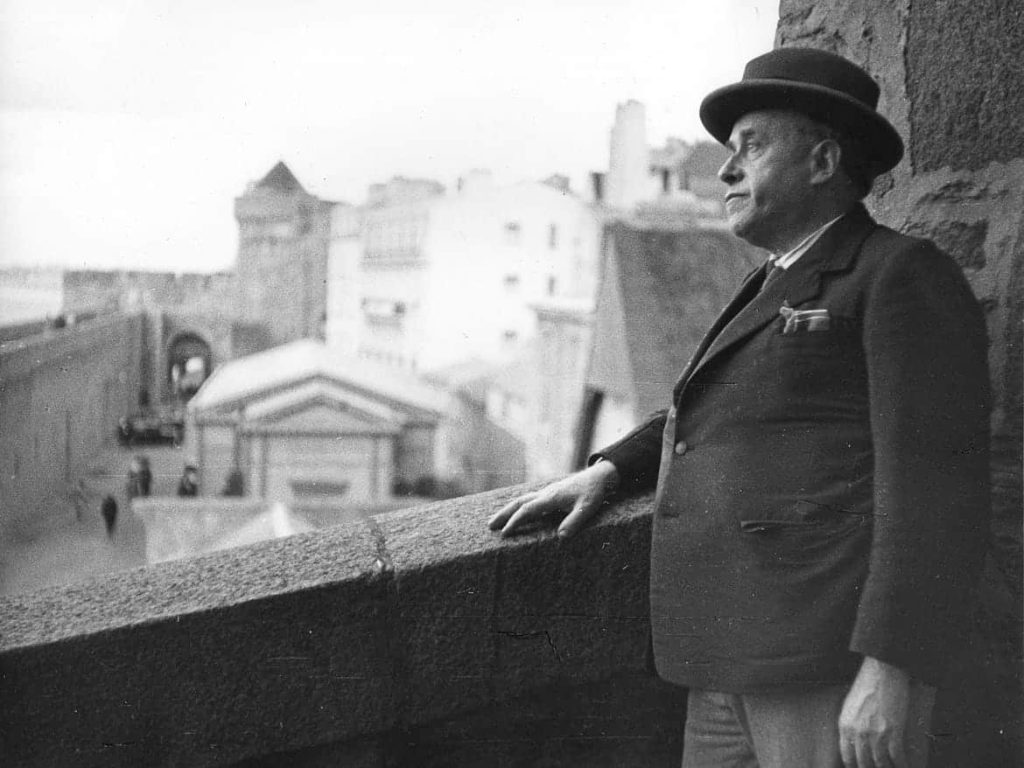 Georges Rouault on the walls of Saint-Malo, Photograph by Pierre Matisse
Upon receiving Gustave Moreau's encouragement to partake in public showcases, he began to establish a notable reputation for himself. When he was 23 years old, he received the Prix Chenavard for L'Enfant Jésus parmi les docteurs, which translates to Infant Jesus among the Doctors. During his early career, he adhered to the customary subjects that were prevalent during that era and incorporated a symbolist style, which he eventually abandoned. Following his unsuccessful second bid for the Prix de Rome, Rouault heeded the counsel of Gustave Moreau and departed from the École des Beaux-Arts. In his later works, he departed from the conventional academic style of the school.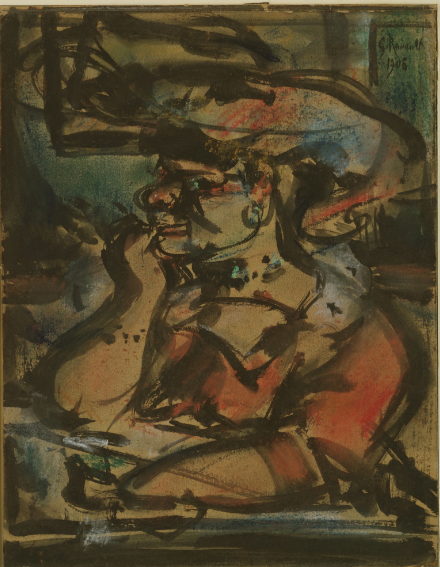 Woman at a Table (The Procuress), 1906. Courtesy: MoMA
In approximately 1898, the individual experienced a psychological upheaval and later drew inspiration from Vincent van Gogh, Paul Gauguin, and Paul Cézanne. This resulted in a transformation that aligned with the Fauves' preference for bold, random use of colour by the 1905 Paris Salon d'Automne. Prior to the onset of World War I, he excelled in creating impactful works using watercolours or oil paints on paper, which featured striking shades of blue, dynamic lighting, bold shapes, and expressive mark-making. After 1914, Rouault increasingly shifted his focus to using oil paint, although he continued to use watercolours to some extent. He achieved a luscious and sumptuous texture in his paintings through the application of multiple layers. Moreover, he streamlined his forms, giving them a weighty and imposing appearance, and infused his works with vivid hues and thick, dark contours that evoked memories of stained-glass panels. In his later works, he focused predominantly on religious themes, placing more significance on the prospect of being saved compared to his earlier pieces before 1914. During the 1930s, he created a magnificent collection of paintings illustrating the story of the Passion of Christ. Some notable pieces from this series include Christ Mocked by Soldiers, The Holy Face, and Christ and the High Priest. Throughout this period, he developed a tendency to revise his previous artworks, as demonstrated by The Old King which bears the dates of both 1916 and 1936.
Unlike other Modernists, Rouault's artistic development was influenced by his strong devotion to Catholicism. Rouault was influenced by religious scholars who advocated symbolism and vivid hues to communicate the fundamental principles of Catholicism. This approach was considered outdated and narrow-minded given the modern and forward-thinking atmosphere in which he operated.
Amidst the era of enlightenment and logic, where belief was deemed appropriate only for the naive, Rouault depicted Jesus not with mockery or contempt, but rather as the genuine redeemer of humanity. A book containing 58 compiled illustrations is regarded as his most exceptional work. Miserere (1922-1927) exposes the striking portrayal of mankind's suffering through the use of German Expressionist woodcuts. The figure of Christ is depicted as the deliverer of countless miserable souls, vividly showcasing the harsh reality of human agony.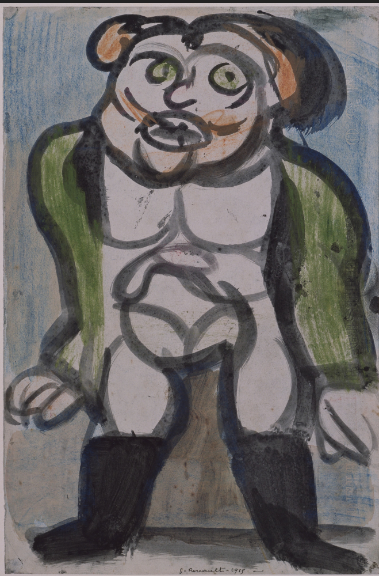 Circus Trainer, 1915. Courtesy: MoMA
In this particular style, Rouault created numerous Christ portraits that were marked by bold, uncomplicated black strokes. The countenance of Christ is highlighted by a combination of muted and warm hues that are demarcated by thick lines, which also serve to emphasize his visage. Surrounding him is a faint aura of luminosity. The painting depicts Christ in a deeply human manner by utilizing natural skin hues. The eyes make a powerful impact and, when paired with the slightly angled pose of the head, further emphasize the profound intelligence of Christ.
Rouault occupies a unique position in the chronicles of contemporary art. Although he lived during the same period as the Cubists, Fauvists and Expressionists, he never became a part of their community. Even though he expressed his artistic talent in a distinctive manner, his strong devotion to Catholicism influenced his choice of depicting religious motifs and prevented him from being recognized as a true modernist artist. Clement Greenberg discredited him in 1945 with his comment that Rouault, who represented the erotic, sadomasochistic and avant-garde Catholicism of Léon Bloy through his paintings, was an awkward choice for the title of the most deeply religious painter of contemporary art. He was not trusted by the modernists who believed his thoughts were too customary, and also by the religious writers who believed his religious beliefs were not conventional.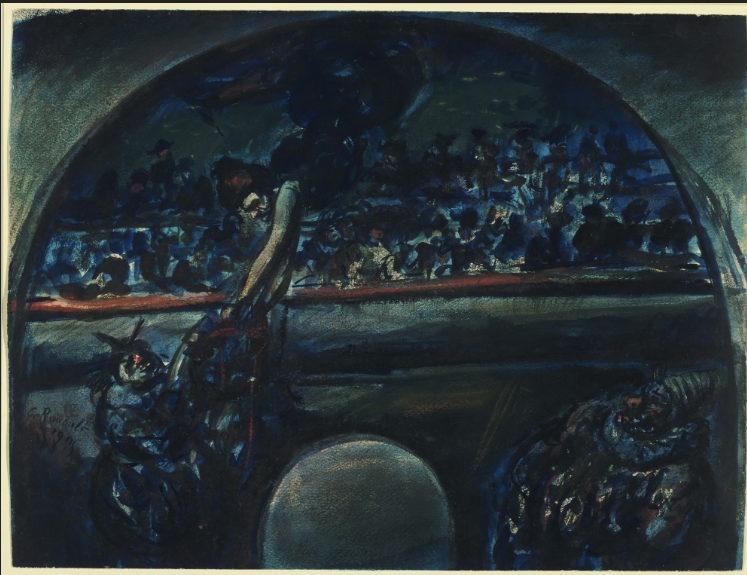 Circus Act, 1905. Courtesy: MoMA
Towards the conclusion of his artistic career, Rouault created a set of scenic pieces generally labelled as Biblical Landscapes or Landscapes featuring Figures. Characteristic of these works created towards the end of the artist's career, the painting incorporates an architectural framework in the background, while the foreground is populated by unidentified personas. The figures are positioned right at the focal point of the image, delimited by two trees which are emphasized in the title as well. With meticulous attention to detail, Rouault constructs the backdrop of this scenery from his own mind, providing a foundation for the characters within. The presence of the sun is ubiquitous in recent paintings, casting light on the composition (including the current artwork). In Rouault's artwork, warm dark brown and green hues are the dominant colours utilized alongside pure colours, flattened figures, and thick black borders.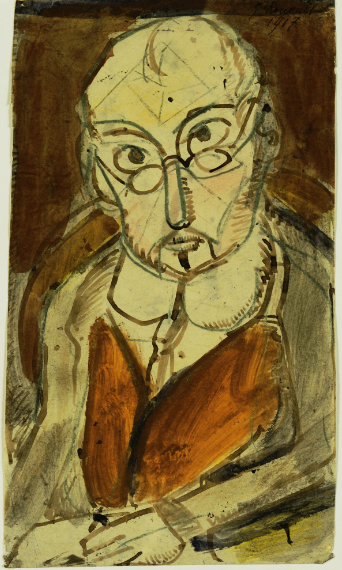 Man with Spectacles, 1917. Courtesy: MoMA
Using his own belief as a motivation, every landscape he created emanates a vibe of peace and tranquillity. Smartly rewritten: The attire suggests bygone eras, and despite no explicit reference to a particular Biblical anecdote, the characters in question could plausibly be Jesus and his disciples. The artist combines classic influences with a pursuit of pure colours by taking inspiration from symbolic landscapes using simple methods. Through the utilization of these methods, Rouault infuses his work with a distinctively profound spiritual essence that sets him apart from his contemporaries. At an earlier point in his profession, André Suarès, who was both a poet and critic, provided guidance in a review of Rouault's art, suggesting that one should not suppress the enigmatic melody that lies within. This counsel was followed by Suarès for the duration of his imaginative career.
The demise of Gustave Moreau occurred in 1898 due to the disease of cancer. Rouault's world crumbled when he lost his primary source of emotional strength. He himself labelled this time frame as "the abyss." Afterwards, Rouault experienced a period of both ethical and artistic upheaval. After his beloved mentor passed away and his kin relocated to Algeria, he underwent a protracted period of seclusion and grief that deeply impacted him.