Tsuktiben Jamir
French-American feminist artist Louise Bourgeois (25th December 1911- 31st May 2010) is well known for her statue of a spider called "Maman." She is well known for creating monumental sculptures and installations that draw inspiration from her own past and life experiences. The tall and delicate structures spiders by Louise Bourgeois may be found in cities from Seoul to Kansas City. French meaning mother, "Maman" is the biggest sculpture in the collection and rises 30 feet tall at London's Tate Modern. Powerfully hunched, her slender bronze legs taper down to delicate pinpoints. A metal egg sac filled with orbs made of white marble hangs menacingly over the heads of the audience from underneath the spider's belly. Even though Bourgeois didn't start working on spiders until she was 80 years old, they have grown to be some of her most well-known pieces.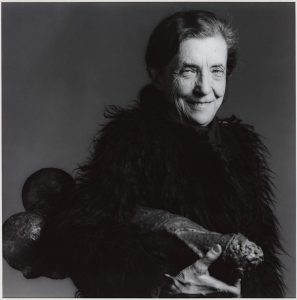 Louise Bourgeois' "Spider" from the iconic collection will be auctioned off at Sotheby's in New York for an estimated 40 million dollars. The sculpture, which is over 18 feet across and over 10 feet in height, is being presented and offered by Fundaço Ita, the nonprofit division of the Brazilian bank Ita Unibanco. After serving as the centrepiece of a special exhibition of works by Louise Bourgeois during the 1996 São Paulo Biennial, for which the French-American artist also created a unique, spiralling logo, the sculpture was purchased by Olavo Setubal, a well-known art collector and co-founder of the bank. From 1997 through 2017, the artwork was on loan to the So Paulo Museum of Modern Art. After which it was shown at other Brazilian institutions throughout the years.
The gigantic 1996 'Spider' from the renowned collection is going up for sale for the first time in more than ten years, inspired by the artist's complicated relationship to motherhood. The sculpture is expected to bring in up to $40 million at the modern evening auction on 18th May, 2023 at Sotheby's in New York.
With the selling of this sculpture, Bourgeois is expected set a new auction record; her previous record was $28 million (excluding fees), another Spider (1996) that broke the record at Christie's in May of 2019. According to ARTnews, "And if the work sells at or above its high estimate, it could become the most expensive work by a woman ever sold at auction. The holder of that record is Georgia O'Keeffe's painting Jimson Weed (1936), bought by Walmart heiress Alice Walton for $44.4 million (without fees) in 2014."
Louise Bourgeois famously said, "The spider – why the spider? Because my best friend was my mother and she was deliberate, clever, patient, soothing, reasonable, dainty, subtle, indispensable, neat, and as useful as a spider… I shall never tire of representing her."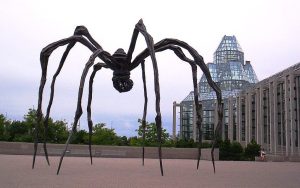 Bourgeois' status as the first woman to get a solo exhibition at the Museum of Modern Art in New York in 1982 solidified her place in the annals of art. The artist's world-famous spider sculptures, created in tribute to her mother for her painstaking weaving abilities and her fortitude, were among the significant public art projects that came next, which further echoed her name through the art world.