A SUMMARY OF THE MOST EXCITING ART NEWS FROM AROUND THE GLOBE
While we focus on Indian art, we can't obviously function in a vacuum. It's a small world and everything is connected, especially on the web. So, let's train our spotlight across the world map to see what's going on — from art trends to socio-political issues to everything that affects the great aesthetic global consciousness. Or, let's just travel the world and have some fun!
Largest Exhibition of Johannes Vermeer's Paintings to open at Rijksmuseum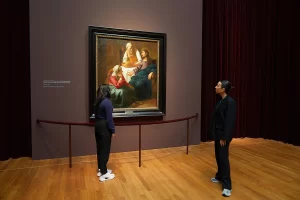 Johannes Vermeer may be highly regarded for his domestic interior scenes of middle-class life, but little is known about the Dutch Baroque painter, who lived from 1632 to 1675 and left behind a remarkably small oeuvre of 37 paintings, the most famous of which are Girl with a Pearl Earring (1665) and The Milkmaid (1658–59). The Rijksmuseum in Amsterdam is set to change that, as this week it opens the largest exhibition of Vermeer's work to date, with 28 paintings on view—seven of which have not been on display in the Netherlands in over 200 years. The exhibition has been made possible by global museum loans from such institutions as the Frick Collection in New York and the National Gallery in Washington D.C. The son of an art dealer, Vermeer lived and worked in Delft as a painter, an art dealer, and the head of the St. Lucas art guild. He was raised a Calvinist reformed Protestant, but converted to Catholicism upon his marriage. He had 11 children who survived beyond childhood. The new exhibition follows themes that Vermeer took up during his life such as domestic interiors, religion, musical seduction, and daily life. Read more on The Indian Express.
Gold glass 'Roma' discovered in Rome during work on the city's subway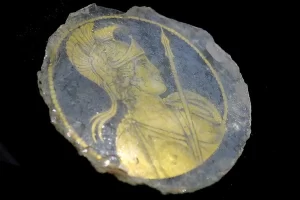 A golden glass artifact depicting a personification of Rome was found during excavation work on the city's Metro C subway line last week. It is the only representation of its kind on golden glass that has been found to date. The figure shown on the glass is depicted in profile, wearing a helmet and military gear and holding a spear—a well-known form of representation among ancient Romans. "Golden glass is already a very rare finding, but this has no comparison," Simona Morretta, an archaeologist from the special superintendency of Rome, told the Italian news agency Agenzia Nazionale Stampa Associata. "No golden glass with the personification of the city of Rome had ever been found before," she continued, adding that its execution is "extraordinarily refined." The glass would have originally been placed at the bottom of a cup so that the person using it could look at it while drinking. It likely would have been a gift. Details on Art News.
New sculpture at Super Bowl by Hank Willis Thomas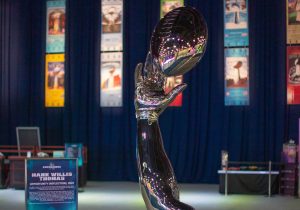 From star-studded ads to lavish halftime shows, the Super Bowl is equal parts spectacle and football. Cerebral fine art is not usually part of the game, but that's about to change this Sunday. For Super Bowl LVII, the National Football League (NFL) has partnered with artist Hank Willis Thomas to debut Opportunity (reflection), a large sculpture that explores struggle and hope at the intersection of photography, pop culture, and sports. The work is part of Thomas's Punctum series, where the artist isolates a portion of an image and transforms it into sculpture. The series meditates on French philosopher Roland Barthes's photographic theory of the punctum, a detail in an image that punches viewers in the gut to create a relationship between the picture and the person. Last month, alongside MASS Design Group, the Brooklyn-based artist unveiled The Embrace  a sculpture on the Boston Common honoring civil rights leader Dr. Martin Luther King Jr. The work depicts Dr. King and his wife holding each other when Dr. King won the Nobel Peace Prize in 1964. Read more on The Architect's Newspaper.