The natural Afro-textured hair, or kinky hair, of African-origin people has long been an issue of cultural pride and civil rights (the latter especially for African-Americans, amid a long history of slavery and issues of ghettoisation and persistent violence by law enforcement authorities).
The hiding of this naturally voluminous, dense, curly hair to conform with white or even Asian norms has for decades been a matter of debate and activism. From straightening to blow-drying to 'relaxing' to myriad heat and chemical treatments, African-origin women, in particular, have struggled with the daily presentation of their locks for professional and social scenarios. As a counterpoint, many have actively chosen to go in the opposite direction. And thus, over time, notions of freedom and community honour have come to be closely attached to the display and highly customised upkeep of these types of tresses.
In such a scenario, one young artist has harnessed this reality as a most unusual medium to create art with, and has been making political and unique statements literally using her hair — nappy, ulotrichous and curly, as it is referred to, in all its glory.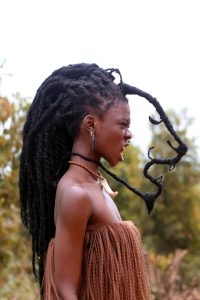 Laetitia Ky, just 27 years old in 2023, is a one-of-a-kind artist, activist, and creative voice from the Ivory Coast in West Africa.
Today, Ky is literally seen as a figurehead in the natural hair movement. Besides artist-activist, she 'dons the wig' of published writer (she has authored the book 'Love and Justice: A Journey of Empowerment, Activism and Embracing Black Beauty'), 'influencer' with half a million and counting followers on Instagram, and even has a social media contract with Elite Models under her partnership with TikTok, where her reels are viewed by countless aficionados. Further, as an actor, she has appeared in Philippe Lacôte's film Night of the Kings, and says she has another film role in the works. In 2019, Artnet called Ky "the Picasso of Ponytails"!
But it all really began when she started her own career in fashion design, following a degree in Business Administration in Yamoussoukro. Soon, however, Ky changed direction. Looking at archival photographs of African tribal women's hairstyles, especially pre-colonisation, Ky felt like she wanted go back to her African roots, she told Dazed Digital in an interview. So, she began creating new fusions of hair art and sculpture as recently as 2016.
What does Ky really do? Calling it the Ky Concept, she essentially creates sculptures from wire, thread, glue and her own dreadlocks (lengthened with weaves into her natural hair). Ky uses her hair and art to tackle taboos on race, sexism, abortion, harmful beauty standards, mental health stigmas, and lots more.
Ky is at the heart of her own art, both as its pedestal and core.
Her art can be fun. Dive into her Instagram and you see the hair becoming a giant bulb above her head; modelled into a tiny angel and devil floating above either shoulder, or even formed into a small puppy offering her a paw. Her art can be fierce: The outline of a growling lioness mirrors the profile of her own face, crafted in hair, or her dense tresses form a bra around her slender bosom, with a lock shape holding it in place on her chest. Not the least of it is that her art is a voice — a womb replete with two ovaries emerges from the top of her head; in another piece, her crown is the bust of a female figure, with a scarlet red cloth 'flowing' from the vulva.
View this post on Instagram
She has admitted to The Guardian in an interview that her struggle with self-love and acceptance has been a long journey, including grappling with bullying, peer pressure, anorexia and bulimia.
Ironically, in more recent times, Ky has also been in the eye of controversy for being associated with what is known as Trans Exclusionary Radical Feminism (TERF). On her social media pages and in various interviews, Ky has made her views clear on the discourse about sex and gender, asserting that womanhood is a huge foundation of her creative instinct and voice, and that while she believes that the trans community deserves inclusivity, she also has certain fixed ideas about what constitutes the experience of being a woman and its myriad consequences.