Fabric is something that is integral to many cultures all over the world. It conveys a sense of history and past, revealing the roots of the region. The striking colors and fascinating patterns of the hand-printed fabrics created by the female artists of Maningrida instill a sense of awe as one gazes at them. Jarracharra brings to Delhi a powerful collection of screen-printed textiles created by women of the Maningrida region of Western Arnhem Land, Australia. Even though these artists use contemporary mediums to convey their narrative, there is a sense of history among these pieces of cloth, which are intrinsically connected to the larger legacy of the land and its people.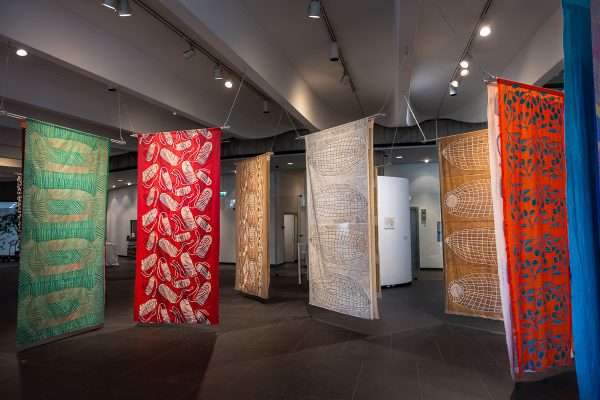 These hand-printed fabrics can be seen at the National Crafts Museum hosting a special exhibition called Jarracharra: Dry Season Wind. This exhibition started on the 1st of March 2023 and will end on the 17th of March. It will display numerous hand-printed fabrics created by 17 female artists depicting ancient narratives and their cultural heritage through the cloth. This exhibition has been through various Indian cities like Mumbai and Kolkata and contains over 40 hand-printed artworks, made of various fabrics like cotton, silk, and linen. The artists draw inspiration from the very land they came from; their prints carry simple but ebullient motifs originating from the natural elements of their homeland. They contain motifs of sacred rocks, female water spirits, turtles, mud crabs, bush foods, food-collecting and ceremonial sites, alongside narrations from djang, their ancestral creator stories.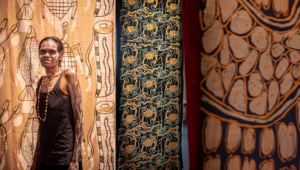 This was an effort of Bábbarra Women's Centre, which enables local women to run and develop women-led enterprises and create sustainable livelihoods. They have a specialized textile workshop that has been producing hand-printed fabrics since 1989 and is one of the very few and rare art centers that produces Indigenous textiles. This is one of their efforts to preserve the art and culture of the region.
The meaning of the work Jarracharra is special. It refers to the powerful cool wind that blows across Arnhem Land each dry season, signifying the beginning of a period of exchange between clans and an annual ceremonial coming together. This exhibition, a part of the G20 initiative, also intends to bring together cultures as it is hosted in collaboration with the Australian High Commission. Jessica Stalenberg, the Manager of Bábbarra Women's Centre, comments on Jarracharra's India tour:
"We hope that the tour helps all the groups we visit find points of intersection between culture and design and that Indian and Australian artists consider opportunities to collaborate and learn from each other in technique, business acumen, sustainability and creativity. We want to raise awareness about women's issues, especially those experienced in marginalised communities and bring value to traditional women's work"
View this post on Instagram