Deepshikha
Kashmir – the paradise on Earth is famous for its picturesque valleys and warm people. Significantly famous are the talented artisans of local crafts that developed over centuries and are practiced in clusters across the region. Few of the most commonly practiced arts and crafts will be discussed in this article.
Crewel embroidery

Crewel embroidery is an old chain stitch embroidery technique practiced in Kashmir typically on cotton or linen fabric as base. A hook called aari is used for the chain stitch. Stylised flora and fauna from the rich environment are translated onto the fabric by the artisan. Tree of life, maple an djacobian are the most common designs. The colors are mostly vibrant. The embroidery could be of 1ply or 2 ply woolen yarns which offers a range from low to high while selling the products. The artisan first makes the design on paper and punches hole throughout the lines of the design. Following this, the punched paper is kept on the based fabric and ink is soaked through the pores of the punched paper to translate the design onto the fabric. After this the artisan embroiders with varied colors, washes and irons the fabric to make it ready for sale. Designs such as pamposh (lotus), sarav (cypress), sosan (iris), dainposh (pomegranate), gulab (rose), other flowers along with rabbits, deer, lion, horses and birds are also commonly seen in crewel embroidery.
Pashmina weaving

Changpa pastoralists rear Changthangi goats near eastern Ladakh at an altitude of 4000-5000 metres in a climatically harsh habitat. Each family has around 100 or more animals, gosta and sheep in equal numbers. And from one goat the family may rear 200-300 grams of raw pashmina in a year's time. Many Changpa's are selling their existing livestock and moving to alternative occupations. The Changpa families sell raw pashmina for 8000-9000 INR to Kashmiri traders which may be 20,000 INR due to high demand or high quality. When woven into shawls, the price may be 10,000 INR for plain shawls, 30,000 INR for shawls with borders and lakhs for overall woven pattern shawls. The wool collected is cleaned, combed to separate fine fibers from yarns and hand spun on charkha. Weft and warp are separated by the wool merchant. If needed, the yarns are dyed at this stage and morphed into bobbins ready for warping. Once the designs are ready, a writer converts them into a hieroglyphic script which is read aloud by the weaver when weaving. Talim is read right to left unlike Urdu which is read left to right. It may take 10-15 days to complete one woven pashmina shawl. Badams, Panjdar, Cheet misri, Kev Posh, Gul-e- noor jehan, Gulabkan, Yumberzal Posh, Marder, Gulkar, Ragas Chinar, Taj are some common motifs used in pashmina shawls. 
Tilla work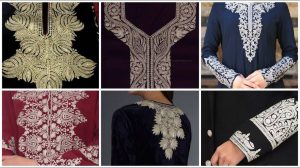 The origins of Tilla dozi is believed to have been the Zari village in Persia from where migrated Shah -e-Hamdan with 700 artisans and made their way to Kashmir. The craft grew under the patronage of Mughals who took great interest in art and cultural traditions. Originally the embroidery was done in real gold and silver threads for bride's apparel and accessories but now artificial threads are used. The design is transferred to fabric just like that of crewel embroidery and the process is termed as 'Trombun'. After embroidering the fabric is washed and ironed.
Khatamband 

Khatamband is a technique of making ceiling but fitting wooden pieces together which are made of walnut or deodar. It is also believed to be introduced by the saint Shah-e-Hamdan who travelled to Himalayan valley from Iran with hundreds of artisans in the 14th century. Some also believe it was brought by Mirza Hyder Tugluq during Mughal era around 1514 AD. Khatam-bandh refers to Polygons combined or stacked together with the help of wooden beadings. It is uniquely geometric and provides insulation from harsh climate outside since it is made up of wood. Khatam band is usually found in Shikaras, royal houses and shrines. The shrine of Khwaja Naqshband is one of the most prominent examples of this beautiful yet painstaking craft. It utilizes very few nails or nearly no nails which helps in dis-assembling and re-assembling easier in different locations. 
Walnut wood carving

Walnut woodcarving is said to have been brought to Kashmir by Sheikh Hamza Makhdoom during the reign of Zainul Abdideen (15th century). Walnut is widely available in Kashmir at an altitude of 5500-7500 feet above sea level. Walnut trees are largely categorised into four varieties – 'Wantu' or 'Vont Dun', 'Dunu' and 'Kakazi' or 'Burzol' and 'Khanak'. The Kashmiri artisans carve intricate patterns of iris, lotus, rose, pear, bunches of grapes, chinar and so on. Five main styles of wood carving include – Undercut (Khokerdar), Open or Lattice work (Jalidahr), Deep carving (Vaboraveth), Semi carving (Padri) and Shallow carving (Sadikaam). The traditional tools used include chisels of various kinds (wathlavun), planer (randha), measuring tape (phet gaz), L-angle for obtaining parallel and perpendicular lines (khari hat) and a wooden scale (khat chhal). 
Papier mache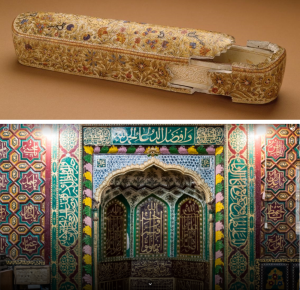 Papier-mâché is believed to have been brought to Kashmir by Sultan Zain-ul-Abadin, son of Emperor Sikander, after he returned from Samarkand where he was held as a captive in the 15th century. Papier mache boxes were used by European visitors to gift arts and crafts of the region. The craft is practiced in Baramula, Kupwara, Anantnag and Badgam. The Sakhtasaz makes the form of the object with paper pulp while the Naqqash paints the surface with wide flora and fauna of Kashmir. The interior of the Shah Hamdan mosque situated on the right bank of river Jhelum is a prominent example of the craft used for interior ornamentation of walls and ceilings. 
References