Saptarshi Ghosh
Pooja Iranna and G. R. Iranna
Pooja Iranna is an eminent sculptor and installation artist. Through her works, she engages with issues like globalisation and its impact on urban spaces. Before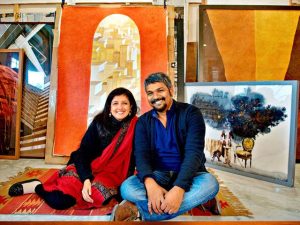 training as an artist, she wanted to become an architect. One can consequently discern a predilection towards architectural forms in her art works as well. Pooja is married to the acclaimed visual artist G. R. Iranna. With an oeuvre consisting of paintings, videos and sculptural installations, G. R. Iranna's works deal with the inner rhythms of human life and the existential crisis plaguing humanity at large. Possessing a certain transcendental quality, they seem to transgress boundaries of space and time.
Let's take a look at their individual artistic journeys!
Pooja Iranna
Pooja uses various media to create lattice-like structures with intersecting lines and planes, which resemble architectural blueprints. Her works explore the effects of uncontrolled development on urban environments and human populations. As part of her practice, Pooja uses inorganic materials to create art.
Though her art has witnessed visual shifts through the years, Pooja has remained true to her concerns regarding the relationship between human bodies and urban spaces. In an interview with Chitra Balasubramaniam, she summed up the various concerns articulated in her art: "The city, and its relationship with its inhabitants, has always fascinated me, particularly in terms of how we live and how cities are changing all over the world. Inorganic growth is choking us. Geographically based diversity – of peoples and cultures, heritage and history – is being lost every day, taken over by mass-produced, mass-manufactured growth and insane development. This story is being played out all over the world."
Pooja often works with staples to create ever-expanding grids, highlighting the monotony of existence in cramped urban spaces. Almost Clones (2018) is an installation created using the signature staples ensconced in cement. Through this work, Pooja critiques the monochromatic nature of architecture and urban design: "Buildings look the same everywhere – Shanghai, New York, Tokyo, Cairo, Delhi. In the name of efficiency and mass production, we are simply cloning everything and losing local heritage and culture."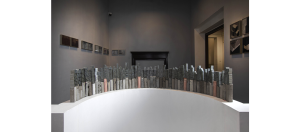 Pooja Iranna's latest exhibition Silently Continuing … is currently underway at Aicon, New York till February 11, 2023.
G. R. Iranna
Born in 1970 in Bijapur, Karnataka to a family of Shaivaite believers, Iranna's childhood education took place in the ashram of a gurukul. The holistic learning in a traditional environment left a deep impression on him. Expanding on this, he said, "It inculcated in me the highest regard for human values. It prodded me to ask questions like what's my purpose?" Influenced by the doctrines of Lingayatism and Buddhism, Iranna in his works dwells on the philosophy of life and issues like morality and wisdom.
Iranna deploys several motifs with metaphorical suggestions regarding the human condition, like the tree, globe and carpet. Deeply aware of the interconnectedness between all forms of life, Iranna uses the tree to represent the network of life encompassing both the human and nature. He also frequently engages with ash as a material, which has deep spiritual and cultural significance. In Shaivaite traditions, ash symbolises the mortality of life and is used to anoint a newborn child. In Silver Ash (2020), Iranna uses acrylic and ash on tarpaulin to uncover abstract formations hidden beneath the anatomy of a tree. In an interview with Abir Pothi, Iranna elaborated on his use of ash: "Dust to dust – there is a certain meaning inherent to this ash, and I am merely trying to bring forth its own essence, and explore that meaning. […] We are all just guests here on earth, and also a part of nature. If we become one with nature, and see ourselves from far above, it is clear that we are nothing – a small speck in a vast universe."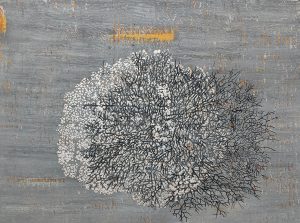 Iranna has also created many sculptural works. Wounded Tools (2007), made with fibreglass, depicts a donkey suspended in air despite being harnessed to a cart carrying wounded tools. It signifies the continuing servitude of the animal to its master. The work won him the Asia Pacific Breweries Foundation Signature Art Prize in 2010.
Iranna's recent works, grappling with issues like citizenship, refugee crisis and climate change, were on display as part of the exhibition The Chaos Trilogy Part 1: Disorder Under Heaven at the Guild Art Gallery, Mumbai till 5 January 2023.
Their Story …
Evidently, the philosophies of G. R. Iranna and Pooja Iranna's artistic practice are very different. Illustrating how different they are as artists, Pooja said in an interview, "People might think we're both artists, and the same, but we're actually saying very different things. He is towards nature, very much connected to the people and to philosophical world views. […] I'm just the opposite. I want my audience to feel the suffocation of our plastic lives when he talks about breath." We at Abir Pothi wish the couple a very happy Valentine's Day!