NOVEMBER 24, ON THIS DAY
People want me to finish things. But I see them in such a way and paint them accordingly. … Nothing is simpler than to complete pictures in a superficial sense. Never does one lie so cleverly as then.

Henri de Toulouse-Lautrec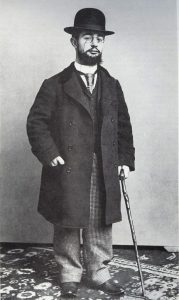 Henri de Toulouse-Lautrec was a French painter, draughtsman, caricaturist, printmaker, illustrator, and poster designer who lived in the 19th century. He is best known for his evocative depictions of the underworld of Paris. He was one of the most well-known post-impressionist painters of his time, and his work was influenced by Art Nouveau. His themes centered on the bohemian life in Paris's streets, brothels, theatres, and bars. His absorption in the vibrant and theatrical life of Paris in the late nineteenth century enabled him to produce a series of beautiful, elegant, and intriguing pictures of the contemporary events of the day.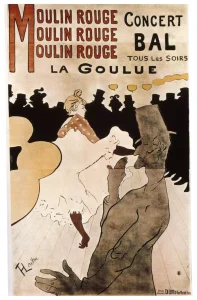 The animated dance hall in the Moulin Rouge is seen in Lautrec's earliest and most well-known poster, Moulin Rouge, La Goulue. The artist spent numerous evenings at this renowned club and had a close relationship with the establishment and its proprietors, who once hung his picture of a circus in the lobby. In order to create his distinctive style, Toulouse-Lautrec used a technique called "crachis," or "spatter," in which ink is spattered onto a lithographic stone. He combined this with a heavy influence from Japanese woodblock prints from the 19th century, leading to the creation of works with flattened perspectives, simplified forms, and vibrant colours.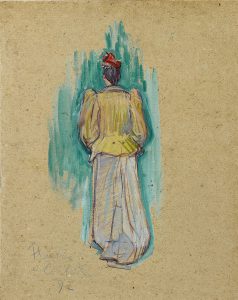 Alphonse-Charles and Adele Zoe welcomed Henri de Toulouse-Lautrec into the world on November 24, 1864 in Albi, France. He began drawing at a very young age, developing his skills over protracted periods of illness and recovery. In the 1870s, he first attended the Lycee Fontanes in Paris, where he later studied with John Lewis Brown and Rene Princetau. He also studied under Leon Bonnat and Fernand Cormon in the 1880s. He relocated to Paris's Bohemian Montmartre district, which was home to many artists, poets, philosophers, and musicians. Toulouse-Lautrec produced a number of outdoor paintings in the area's well-known garden, referred to as the garden of Monsieur Pere Foret.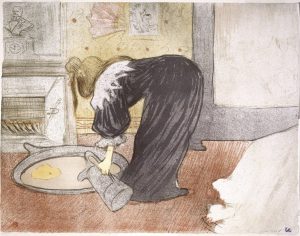 He produced paintings on canvas but decided to present them in the form of posters, which helped him become a highly sought-after painter due to his distinctive style. The Japanese art form of woodblock printing, which employs single-sheet paintings in the ukiyo-e style, had an impact on Toulouse-Lautrec. He produced 5,084 drawings, 737 paintings, 275 watercolours, 363 prints and posters, some ceramic and stained glass pieces, and an undetermined number of lost works over the course of his brief career, which lasted less than 20 years.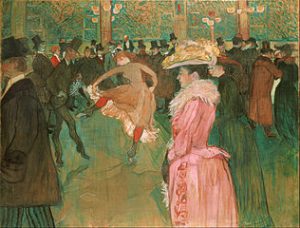 Among the painter's favorite subjects were the cabaret dancers Yvette Guilbert, Jane Avril, and La Goulue and her partner, Valentin le Desosse, the contortionist. Through the seriousness of his intention, Toulouse-Lautrec depicted his subjects in a manner that was on the verge of caricature but rose above it. He selected people who frequently used cosmetics and masquerade as a way of life and removed all that was extra, revealing each as an individual—but a prisoner of his own fate. Toulous-masterful Lautrec's representation of humans was based on his highly linear painting technique, which placed a strong focus on shape. He frequently used lengthy, thin brushstrokes to apply the paint, which frequently allowed a significant amount of the board they were painted on to show through. Many of his works may best be described as drawings in coloured paint.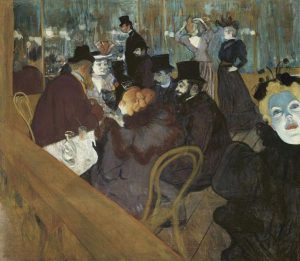 The posters Henri de Toulouse-Lautrec created for the Moulin Rouge cabaret, such as the one for Jane Avril's performance, Divan Japonais, and the painting At the Moulin Rouge, are among his most well-known creations. Other than creating paintings on posters, Toulouse-Lautrec also painted posters and woodblock printmaking. "The Englishman at the Moulin Rouge" and "At the Moulin Rouge" are two of his well-known works. He gained notoriety for his candid and accurate depictions of working women in both their professional and private life. Despite being well-known and prosperous, he struggled with depression on a regular basis and drank heavily for most of his life. At the age of 36, Henri de Toulouse-Lautrec passed away on September 9, 1901.
Sources: