A SUMMARY OF THE MOST EXCITING ART NEWS FROM AROUND THE GLOBE
While we focus on Indian art, we can't obviously function in a vacuum. It's a small world and everything is connected, especially on the web. So, let's train our spotlight across the world map to see what's going on — from art trends to socio-political issues to everything that affects the great aesthetic global consciousness. Or, let's just travel the world and have some fun!
Hong Kong department store removes artwork citing its hidden 'political content'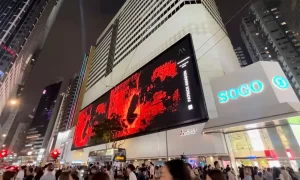 A department store in Hong Kong took down a digital artwork containing hidden references to defenders of free speech during the city's Art Week activities. The artist behind the work said the incident is evidence of the erosion of free speech in the city by the Chinese government. No Rioters by Los Angeles-based artist Patrick Amadon was displayed on a large digital billboard, measuring 230 by 65 feet, on the side of the Sogo department store in the busy Causeway Bay shopping district. The red and black glitchy video included names, ages, and jail terms of convicted protestors displayed in flashes of Matrix-style text. Amadon told the Guardian these details were shown too quickly to be noticed by the naked eye, and could be seen by viewers through photographs. Details on The Guardian.
Hokusai's 'Great Wave' print sells for record $2.8m in New York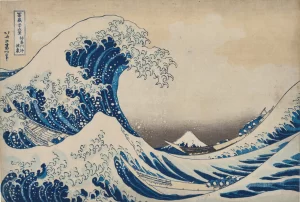 One of the most famous of Japan's ukiyo-e woodblock prints has sold for $2.76 million at the Christie's auction house in New York, a record for a print by Katsushika Hokusai. "Under the Well of the Great Wave off Kanagawa" depicts boats in rough waters with Mount Fuji in the background, and is part of the "Thirty-six Views of Mount Fuji" series. Christie's had expected the work to sell for between $500,000 and $700,000. According to The Wall Street Journal, six bidders pushed the price higher in a battle on Tuesday that lasted 13 minutes.. Read more on Art News.
New York court dismisses the case on who owns the first NFT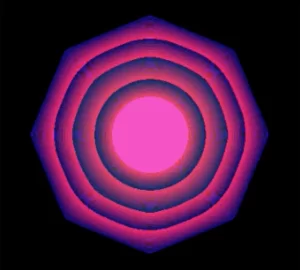 In one of the first legal cases in the US to test how blockchain technology applies to artists' rights, a New York court has dismissed a lawsuit over the ownership of "the world's first NFT". Quantum was minted by Kevin McCoy in May of 2014, before Ethereum had launched or the term NFT (Non-fungible token) was even introduced. The NFT was then sold at Sotheby's for $1.5m in June 2021. Last February, both McCoy and the auction house were sued by a Canadian company called Free Holdings, which claimed to be the rightful owner of Quantum. The company asserted it had secured the rights to the work seven years after its creation after McCoy had let his ownership expire. Detaills on The Art Newspaper.