Krispin Joseph
The birthplace of Raja Ravi Varma celebrated his 175th birth anniversary today morning in Kilimanoor Palace, Thiruvananthapuram, Kerala. Two rare original paintings by Raja Ravi Varma were unveiled at that function in Kilimanoor Palace, attended by distinguished guests from Kerala- Central government and art and culture, including the Governor of Kerala, Arif Mohammad Khan,  Central minister V Muraleedharan, Oscar award winner Resul Pookutty, and writer Ganesh V Shivaswamy.
The Kilimanoor Palace Trust and the art fraternity are all set to celebrate the 175th birth anniversary of the world-renowned artist. People from different areas gather to attend the function. Kilimanoor Palace Trust plans year-long celebrations in different parts of the world in association with various other organisations. The morning session commenced at 10:30 am and comprised Art Exhibitions, Chitrakala Camp, invited lectures etc.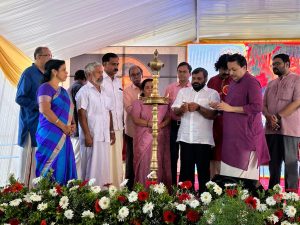 Raja Ravi Varma Janmotsav Chitrakala Camp & Painting Exhibition was also inaugurated by Smt. O.S. Ambika, MLA, in the morning section. Introducing the newly launched book 'Raja Ravi Varma: an Everlasting Imprint' authored by Shri Ganesh V. Shivaswamy, Advocate and founder of The Ganesh Shivaswamy Foundation, Bengaluru, followed by dedication in the Chithrashala, and Keynote Address followed by the book launch by Adv. Ganesh V. Shivaswamy. Raja Ravi Varma Memorial Speech was accomplished by  Media Advisor to the Chief Minister of Kerala.
The afternoon section complied with the public meeting presided by union minister V Muraleedharan, and the chief guest was Governor Arif Mohammad Khan. Inauguration by Lighting the Lamp & Inaugural Address, Unveiling of two rare Ravi Varma Paintings & Honouring of artists and authors are done by the Chief guest, Governor of Kerala. Oscar Award winner Resul Pookutty facilitate the function, and O.S. Ambika MLA and Adoor Prakash MP attend.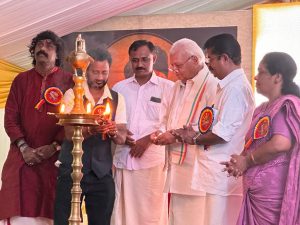 After the public function, Violin Concert by Harishankar S Varma and a 'Hiranmayam' Dance Tribute to Raja Ravi Varma, a Solo Mohiniyattam performance based on Ravi Varma's rare poems by Gayathri Madhusudan.
Stories of two unfinished Paintings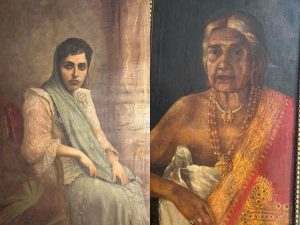 The Kilimanoor palace trust  unveiled an unfinished painting of Raja Ravi Varma, called 'The Parsi Lady', on Saturday to mark the 175th birth anniversary of the artist. This painting has been kept folded and shelved in the studio of Kilimanoor palace since the death of Raja Ravi Varma in 1906. It was the last painting Ravi Varma was working on.  The restoration work of this painting began eight years ago by three conservators, Selvarehai, A Moses, and S Madhan. The team focused on preliminary conservation, straightening the folds, and consolidating the cracks. They also provided a new stretcher to keep the painting intact and gave a relining for it. Finally, after removing all the varnish layer and completing the filling work, a preservative coat was added, and the framing was completed. Restoring an incomplete painting is difficult compared to working on a finished painting. Another rare painting of Raja Ravi Varma, a portrait of Thriketta Thirunal Uma Amma Thampuratti, was also unveiled on the occasion.