Abhishek Kumar
Both war and art are distinctly human activities. Therefore, it is not surprising that artists have reacted in as many different and unique ways as the battles that inspired them for as long as humanity has fought wars and sought peace. On one hand, propaganda has been used in the arts to boost spirits and establish governments; on the other, it has been used to oppose war by expressing deeply emotional and individualized reactions to its harshness. Through the use of various lenses, art also provides a way to deepen our awareness of the nature and character of conflict. It provides a way to comprehend how society has changed in its attitudes toward war and peace. Art is not only looted but also destroyed during the war to demoralize the opponent. Art was also used to help people recover from the war after it ended.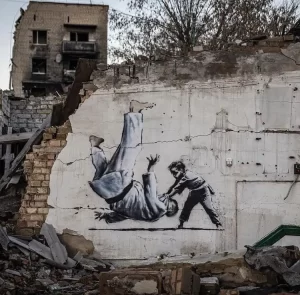 Banksy is renowned for creating public art that frequently challenges authority He has gained wide recognition for his freehand graffiti style. He blends graffiti art with installation and performance art seamlessly with sly wit and stealth. He uses his artwork to address important topics, particularly those that concern normal citizens. He is dedicated to addressing topics of struggling people and his work comments on the inextricable links between war, capitalism, and liberty. He has been critically analyzing politics, and oppression for over 20 years through his artistic creations. One of the most politically engaged artists working today, Banksy has spent his entire career using art as a tool against violence. He is deeply critical of the current, political, military and financial structures.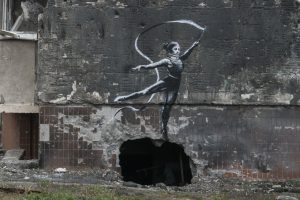 Banksy's artwork on war has different visions. The works not only oppose the opponents but also make people aware of the current situation and boost their morale. Since the creation of his debut piece, Banksy has concentrated on pressing, sensitive, acute, and occasionally even hidden themes. His first piece, 'The Mild Mild West' features a teddy bear brandishing a Molotov cocktail at riot police officers. It was developed in 1997 as a reaction to the violent police responses to many underground raves at the time. One of the paintings from his most recent murals that appeared on destroyed buildings after airstrikes in the wake of the Russia-Ukraine war shows a gymnast performing a handstand atop a pile of wreckage. Another depicts a youngster knocking down a man in a judo battle who some claim resembles Russian President Vladimir Putin. Another depicts a woman in her nightgown holding a fire extinguisher while donning a gas mask. Throughout his career, Banksy has produced numerous anti-war murals and artworks, such as the soldier-painted peace sign in CND Soldiers and the figure tossing a bunch of flowers in 'Love Is In The Air'. A young girl holding a missile to her bosom in Banksy's anti-war artwork 'Bomb Love' creates a startling contrast between the horror of war and the innocence of childhood.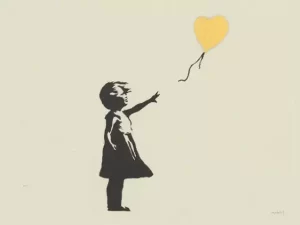 The research paper "How Banksy's Graffiti art has been received by critics and art reporters?" discusses Banksy's work as the focus of lauded reviews. "A danger and war on terror" by Louise Amoore and Marieke de Goede describes Banksy's art as a disruption of traditional urban or artistic locations. Banksy's art has been described as a critique of corporate greed and governmental surveillance in Pauline Frommer's book titled London'. Banksy's art is anti-establishment in the sense that it attacks many current symbols, according to Miranda Sawyer. Compared to fine art, she views his work as a more immediate form of expression. James Gaddy thinks that Banksy is the most well-known street artist currently working and even refers to him as a mythical hero. He concurs that Banksy had remarkable talent for both drawing and stencil cutting in his early works. Katherine Satorius considers the message conveyed by Banksy's artwork to be both incredibly sharp and expressionless. She calls the purpose of Banksy's art "wonderful" and says it gives city dwellers an alternative to traditional art. Banksy is hailed by Jonathan Jones as the greatest living artist. He characterizes his following as being cult-like and made up of people from all walks of life, from teenage book consumers to billionaire bankers. Jones sees Banksy as a guerilla conceptualist whose humour is effective in both public spaces and art galleries based on the way he executes his work.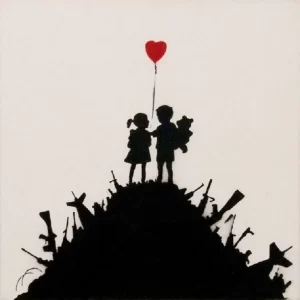 Salford currently hosts a display of the graffiti artists' original works of art. There are 145 authenticated works, including prints and canvases, on display in the Art of Banksy exhibition. The artist has not given his permission for any of the works, which are all on loan from private collectors. The collection includes works created between 2002 and 2017, including Girl With Balloon, which helped the artist achieve international acclaim. Both Rude Copper, which shows a policeman raising his middle finger, and Flower Thrower, which shows a young protester tossing a bunch of flowers, are examples of his political protest works. Brace Yourself, which made headlines when Banksy gave it to the band formerly known as Exit Through the Gift Shop in exchange for the rights to their name, is also included in the collection. Melbourne, Chicago, San Francisco, Sydney, Washington, DC, Boston, Tel Aviv, Auckland, Toronto, Miami, Gothenburg, and London were among the earlier stops for the show.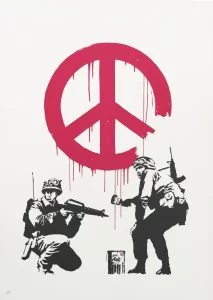 The Art of Banksy is on display at MediaCity in association with HOME until January 8.