Prachi Sahasrabudhe 
M.F. Hussain, renowned as the "Picasso of India," made an unforgettable impression on the world of art with his ingenuity and limitless imagination. His first venture towards filmmaking resulted  in the gem known as "Meenaxi." This cinematic masterpiece, which was released in 2004, demonstrates  Hussain's abilities as a painter, storyteller, and visionary. Meenaxi immerses spectators in a dimension where art and life combine perfectly through a compelling blend of vibrant graphics, mesmerising music, and rich storytelling. 
Every frame of Meenaxi reflects M.F. Hussain's background as a distinguished painter. Each scene is painstakingly crafted, like a painting saturated with rich colours and textures. Hussain's artistic sense shines through in his use of rich and contrasting colours, creating a visual symphony that heightens the emotional impact of the image. Hussain's sharp eye catches the soul of each locale, surpassing the bounds of simple filmmaking, from the busy streets of Jaisalmer to the mystical vistas of Prague.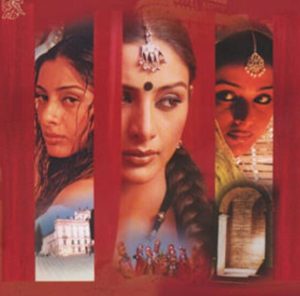 Three Faces of Tabu in Meenaxi, https://www.bbc.co.uk/ 
M.F. Hussain's Meenaxi exemplifies his brilliance as an artist and filmmaker. Hussain's creative talent extends beyond the images, as he illustrates the characters of Meenaxi as living portraits. He depicts the inner worlds and feelings of his subjects with expressive brushstrokes capturing the spirit of each scene with brilliant colours and textures. Tabu's Meenaxi radiates grace and mystery, her presence comparable to a beguiling muse. Nawab's Character is presented with depth and complexity, his conflict between tradition and personal wants is seen in every brushstroke. Hussain's ability to express the human experience through visual language gives the picture an intimate feel as he conveys the living experience with depth and complexity via his artistic representation of moving images.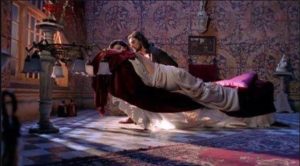 MF Hussain's aesthetic vision in Meenaxi, https://zafarimam.wordpress.com/ 
'Meenaxi: A Tale of Three Cities' emerges with Nawab (Raghuveer Yadav), a dissatisfied Hyderabadi writer, suffering from typical writer's block. It has been five years since his previous book was published, and everywhere he goes, people seem to be asking him the one question he dreads: "When is the next book coming out?" Nawab meets Meenaxi (Tabu), a self-obsessed fragrance vendor in  Hyderabad, during a family wedding, and she challenges Nawab to use her as an inspiration to finish his writing work. Meeting Meenaxi sparks Nawab, and he attempts to be close to her, but she could not care less about being his muse when she spends time with him. In Jaisalmer, Nawab begins composing a narrative that incorporates the local foul-mouthed mechanic (Kunal Kapoor). Meenaxi mocks Nawab as she finds the plot uninteresting and destroys the script in disgust, and he becomes trapped in the maze he has created. When things grow dull in Jaisalmer, Nawab switches the setting to Prague. He restarts the game with the same characters. In this story, Meenaxi is given a new name: Maria. She is portrayed as a carefree figure who goes around with her bicycle – even though she cannot ride a bike! Another unusual notion proposed by the artist (M.F. Hussain) is that this time, she meets Kameshwar (Kunal Kapoor)  at a train station and instantly falls in love. Nawab also has a role in this narrative. He has come to find out if Meenaxi truly loves Kameshwar. However, she does not give him a straight answer. At some point, the positions are reversed, and Meenaxi begins to dictate what happens next, taunting Nawab as he sinks more into despair. With Nawab's death before completing his work, the border between fact,  myth, dream, and fiction blurs. Is Meenaxi real, or is she merely Nawab's ideal lady personified? In such a way 'Meenaxi' is a colourful tapestry that captivates your eyes throughout. Meenaxi is very attractive and enticing, yet it has no broad meaning to convey. It does not have a slogan. There is no hypothesis to prove. It is a unique occurrence. It is as twisted as life and thus, happens to be an underappreciated yet incredible creative work by artist M.F. Hussain. 
Hussain goes beyond traditional storytelling by flawlessly fusing art and music in his film Meenaxi. Meenaxi's music was written by another East Indian musical prodigy, A.R. Rahman. His soundtrack in  Meenaxi is as beautiful as the film itself. He wrote the film's mesmerising music, which expertly compliments Hussain's images. Each song becomes a visual and audio journey, adding to the emotional depth of the film. The combination of different artistic genres creates an immersive experience in which the story unfolds through a symphony of sights and sounds.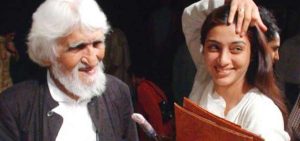 https://www.thehansindia.com/ 
Husain's prolific artistic explorations extended beyond paintings, prints and drawings to a variety of media, including photography, public mural projects and film-making. His interest in film had begun during his early days as a painter of billboards for the Bombay cinema industry. In the late 1960s,  Husain's foray into film directing resulted in a critically acclaimed film, Through the Eyes of a Painter  (1967), which won the Golden Bear Award at the Berlin Film Festival and the National Film Award for Best  Experimental Film in 1968. Two subsequent films, Gaja Gamini (2000) and Meenaxi: The Tale of Three  Cities (2004), received critical acclaim for their cinematic exploration of popular Indian cinema. 
Though, M. F. Husain's 'Meenaxi: A Tale of Three Cities' (2004) was a box office flop and was mocked for being a showcase for an array of people, including composer A.R. Rahman, cinematographer  Santosh Sivan, editor Sreekar Prasad, art director Sharmishta Roy, modern dance exponent Astad  Deboo, and Odissi artist Ileana Citaristi. The film also sparked debate when a qawwali written by  Husain, Noor-Un-Ala-Noor, was targeted by Islamic organisations. Following objections, Husain pulled the picture just days after its premiere, which was sad since it denied audiences the opportunity to encounter a genuine cinematic experience. 
While remembering M.F Husain, writer Zafar Imam claims that Hussain's 2004 release movie 'Meenaxi'  impacted him more than any of his previous artistic work. While he acknowledges his excellence as a  painter, Zafar regards 'Meenaxi' as more alive, creative, mysterious, and beautiful. He goes on to say that Meenaxi is a remarkable work in Bollywood. He has not seen a single Hindi film that is as beautiful and creative as Meenaxi. Every scene contains a hidden message or concept. In the film, each colour has a different significance. Little things and extremely little details are represented in a heartwarming style. In this film, M.F. Husain has experimented significantly with colours, symbols, textures, and words. It is an artist's fantasy.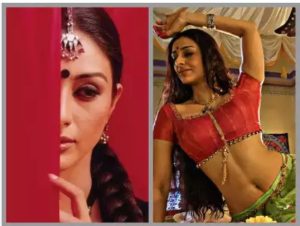 Actress Tabu as Meenaxi, https://timesofindia.indiatimes.com/ 
M.F. Husain's 'Meenaxi' is a lost masterwork that was overlooked due to its controversial reputation. It was self-indulgent in that the painter-filmmaker celebrated his three beloved locations, but Husain also emphasised the individuality of the three sites and integrated them with the tale. As an artist, Hussain was aware of the enigmatic ways in which inspiration manifests itself, and he artistically represented the notion of dissonance between a creator and the product. In an interview following the film's release,  cinematographer Santosh Sivan framed Husain's determination to make a film from an interesting perspective. "When someone of M.F. Husain's stature creates a film", he says, "he is under no  compulsion to do anything other than what comes from within." This feature pervades 'Meenaxi' in all aspects, resulting in the utter genius of narrative in a form that is alive for all senses. 
*** 
References: 
Bangdel D.," Maqbool Fida Husain", http://www.encyclopedia.mathaf.org.qa/en/bios/Pages/Maqbool Fida-Husain.aspx 
Jha S.K., "A sensual and mesmerizing Tabu was unforgettable in MF Hussain's Meenaxi : A Tale of  Three Cities : Throwback", 2 April 2023,Entertainment Times,  
https://timesofindia.indiatimes.com/entertainment/hindi/bollywood/news/a-sensual-and-mesmerising tabu-was-unforgettable-in-mf-hussains-meenaxi-a-tale-of-three-cities 
throwback/articleshow/99184213.cms?from=mdr 
Imam Z. , "A very late note on M.F. Hussain", https://zafarimam.wordpress.com/2011/09/02/a-very late-note-on-m-f-husain/ 
Gajjar M., "Meenaxi: a tale of three cities",  
https://www.bbc.co.uk/shropshire/films/bollywood/2004/04/meenaxi_review.shtml 
Chintamani G., "The magical tale of three cities", 13 November 2016, The Hans India,  https://www.thehansindia.com/posts/index/Hans/2016-11-13/The-Magical-Tale-of-Three Cities/263818?infinitescroll=1