Tsuktiben Jamir
India is renowned for having a diverse, rich cultural legacy rich in history and art. It has long served as a beloved hub for cultural enthusiasts everywhere. India provides a rich tapestry of creative expressions, from ancient temples embellished with elaborate sculptures to busy bazaars bursting with colourful fabrics. In today's list, we will discuss the top 9 places to visit if you, as many, have an insatiable passion for art and culture.
1. Udaipur, Rajasthan – The City of Lakes
Udaipur, the Aravalli Hills encircle, is a city of romance embellished with glittering lakes and regal palaces. The City Palace offers a taste of the splendour of the Mewar period with its magnificent courtyards and elaborate glasswork. Visit the Jag Mandir and Jag Niwas (Lake Palace), which appear floating palaces in the middle of calm lakes, to experience a bizarre, otherworldly environment. The skill and complexity of Udaipur's cultural offerings may be seen in the city's renown for tiny paintings and beautiful Rajasthani jewellery.
Udaipur is famous for its Mewar School of Miniature Paintings, which flourished under the patronage of the royal court. These intricate paintings depict mythological stories, court scenes, and royal portraits. Another speciality of Udaipur is traditional puppetry, or Kathputli, where talented artisans present spellbinding shows with wooden puppets.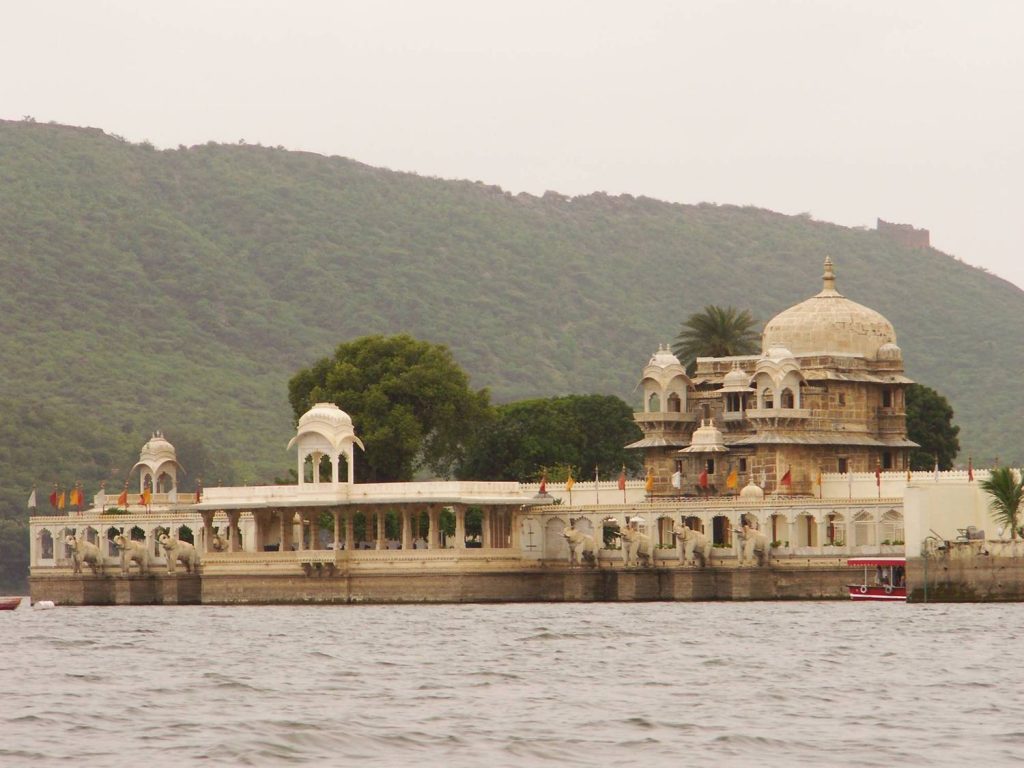 2. Kochi- Queen of the Arabian Sea
Kochi tucked away on the southwest coast, has a burgeoning modern art scene set against tranquil backwaters and rich vegetation. A prominent international art show called the Kochi-Muziris Biennale draws well-known artists and art lovers worldwide. You may also visit the Mattancherry Palace, often called the Dutch Palace, home to beautiful paintings, including themes from Hindu mythology and portraits of the Kochi Rajas.
Fort Kochi's dedication to supporting public art and artistic expression is evident in the countless installations and sculptures that line its streets. One can walk around taking in the beautiful artwork.
3. Puducherry – The Paris of the East
In Puducherry, a former French colonial colony, Indian and European elements harmoniously coexist. Explore the boulevards of the picturesque French Quarter, which are lined with buildings painted in soft hues and home to modest shops and art galleries. Learn about the serene Sri Aurobindo Ashram, a spiritual solace that values the harmonic fusion of art and meditation. The place is like a painting, with picturesque views and soft tones.
In addition to its French colonial legacy, Puducherry's creative community is impacted by its association with Sri Aurobindo and The Mother, who supported the marriage of art and spirituality. The area is also known for its distinctive "Puducherry Art" painting style, which mixes traditional Indian motifs with French Impressionist methods. Visitors may discover a range of art forms, including ceramics, batik, and papermaking, at Puducherry's many art programmes and retreats.
4. Varanasi, Uttar Pradesh- The Spiritual Haven
All who visit Varanasi, frequently referred to as India's spiritual capital, fall under its alluring spell. Ancient temples, colourful riverside ghats, and humming bazaars contribute to the city's spiritual and aesthetic heritage. On the holy banks of the River Ganges, see the mesmerising Ganga Aarti ritual, where art and devotion are intertwined. Explore the history of silk weaving in the area, acquaint yourself with classical music and dance, and you'll have a very moving creative experience.
5. Jaipur, Rajasthan – The Pink City
With colourful murals covering the ancient city's walls, Jaipur's thriving art scene extends to its street art culture, giving its creative history a modern twist. The Pink City is a treasure trove for art enthusiasts. The magnificence of Rajasthani art is seen in its beautiful palaces and complex architecture. Discover historical wonders, such as the Hawa and Jal Mahal, known for their breathtaking beauty. Admire the elaborate frescoes and captivating mirror work at the Amer Fort (also known as the Amber Fort). Jaipur's repute as a haven for artists is further cemented by its renown for fine jewellery, textiles, and block prints.
6. Khajuraho, Madhya Pradesh – The City of Gods
Ancient temples at Khajuraho, a UNESCO World Heritage site, are embellished with magnificent sculptures showing love, passion, and spirituality. These sandstone masterpieces, constructed by the Chandela dynasty, exhibit the period's creative excellence. Visitors are transported to a realm of enduring beauty and aesthetic delight by the elaborate carvings, which feature images of celestial deities and sensual beings. An example of India's old artistic and architectural legacy is Khajuraho. The 85 Hindu and Jain temples of Khajuraho, make it famous and a favourite among art lovers.
7. Kolkata, West Bengal- The City of Palaces
Kolkata, the cultural capital of India in West Bengal, is a vibrant city that celebrates art, literature, and intellectual pursuits. It is the birthplace of Nobel laureate Rabindranath Tagore and renowned filmmaker Satyajit Ray, whose legacies have profoundly influenced the artistic realm. Explore the iconic Indian Museum, showcasing a rich collection of artworks and archaeological treasures, and visit the opulent Marble Palace adorned with exquisite sculptures and rare artefacts. Immerse yourself in the cultural extravaganza of the Kolkata International Film Festival, experience the contemporary street art scene, and delve into the unique world of Kalighat paintings. Kolkata's artistic heritage, literary prowess, and dynamic cultural events make it an inspiring destination for art enthusiasts and cultural explorers alike.
In Kolkata, you will discover a city pulsating with creative energy. Marvel at the Indian Museum's vast collection, wander through the captivating Marble Palace and experience the grandeur of the Kolkata International Film Festival. Explore the vibrant street art scene and embrace the folk art tradition of Kalighat paintings. With its rich history, artistic fervour, and intellectual heritage, Kolkata beckons visitors to embark on a captivating journey of artistic exploration, providing an unforgettable immersion into the city's cultural fabric.
8. Agra, Uttar Pradesh – The Taj City
The renowned Taj Mahal must be included on any list of artistic locations in India. The grandeur of the Mughal Empire is reflected in the city of Agra, which is home to this architectural wonder. The Taj Mahal is a UNESCO World Heritage site, one of the New Seven Wonders of the World and the embodiment of love and architectural genius with its elaborate marble inlays and magnificent symmetry. Agra also has superb leatherwork and marblework, which heightens its aesthetic appeal.
9. Mysuru, Karnataka – Cultural Capital of Karnataka
Mysuru, also known as Mysore, is a captivating city often called the "City of Palaces." This cultural gem holds a wealth of art and heritage, with the magnificent Mysore Palace as its centrepiece. Adorned with intricate carvings and magnificent paintings, this opulent palace is a visual spectacle that leaves visitors in awe. Embrace the vibrant spirit of Mysuru during the grand Dasara festival, a lavish celebration that showcases the region's rich cultural heritage. Immerse yourself in the city's artistic allure as you explore its renowned Mysore silk sarees, exquisite sandalwood carvings, and traditional paintings, making it an absolute haven for art connoisseurs.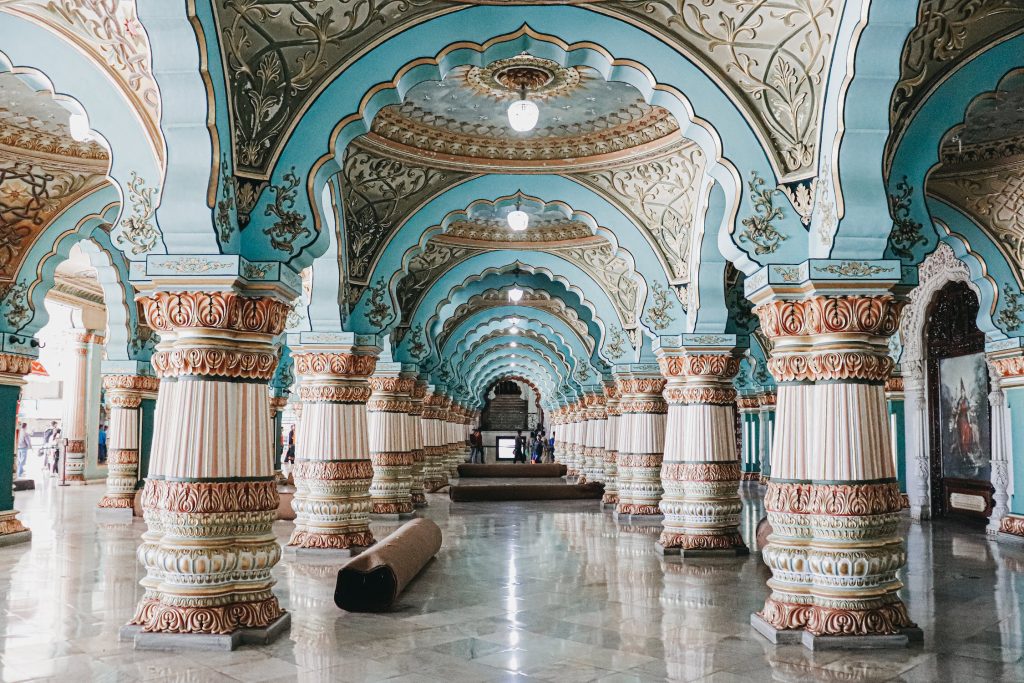 Mysuru invites visitors to embark on a captivating journey where art, culture, and history converge. Experience the regal charm of Mysore Palace, immerse yourself in the cultural extravaganza of Dasara, and explore the city's artistic offerings, from silk sarees to sandalwood carvings and captivating paintings. With its artistic heritage and vibrant cultural scene, Mysuru promises an enchanting experience that will leave a lasting impression on art enthusiasts and cultural explorers alike.