Rajesh Kumar
Contemporary artist Vivan Sundaram passes away aged 79 today at 9:20 am. He breathed his last at a hospital in Delhi, where he had been sent after suffering a brain haemorrhage earlier this month.
Born in Shimla on 1943, he attended Then Doon School, the Faculty of Fine Arts at Maharaja Sayajirao University of Baroda and went on to study the history of cinema in Slade School of London. In London he was trained under British-American painter R.B Kitaj. After returning to India in 1971, he collaborated with student and artist organisations to plan events and protests, particularly during the Emergency years. He regularly joined hands with various industrial organisations in political work. He has been closely associated with leftist politics for most of his life.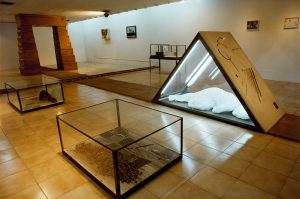 Sundaram's work was politically conscious and heavily intertextual in nature. He worked in a variety of media including painting, sculpture, printmaking, photography, installation and video art. His writings frequently include references to social issues, pop culture, perception issues and historical issues. He was one of the first artists from India to use installation. His installations and movies frequently make reference to his artistic influences which include Dadaism and Surrealism.
View this post on Instagram
His interest in the nexuses of history identity and memory is best illustrated through one of his early series of works, "The Sher-Gil Archive". Sundaram's aunt Amrita Sher-Gil, a well-known Indian painter in the early 20th century is honoured in the series. Together with Sundaram's personal artwork that draws inspiration from Sher-Gil's legacy, the archive includes images and documents relevant to her life and career. Sundaram highlights how personal histories are frequently entangled with wider political and cultural narratives through his investigation of the intricate link between himself, his family and the greater historical context in which they exist.
Extremely sad to share that Vivan Sundaram has passed on . He was one of the finest artist, activist I have known for over 35 years . His demise is a big loss to the art world and also to the creative cultural resistance . 1/3 pic.twitter.com/79SDr9nHn4

— Shabnam Hashmi (@ShabnamHashmi) March 29, 2023
His installation work on 1946 riots in Kolkata was shown at the Victorial Memorial and the exhibition is still remembered as the 'History Project'. His works were the reflection of his times and his environment. His 1991 series 'Engine Oil' made reference to the US-led invasion of Iraq to seize control of the oil resources whereas the 1993 installation 'Memorial' acted as a shrine for the victims of Bombay Riots. Trash (2004-2013) investigated urban landscapes and the economy of second-hand goods.
Sundaram questioned preconceived ideas about what art can be and what it can accomplish through his creations. He also pushed spectators to engage with difficult and frequently painful issues in fresh and surprising ways. His contributions to the art and culture are proof of the influence of imagination and scepticism on the world we live in.
We express our deep condolences on the demise of Vivan Sundaram, a brilliant artist, creator, and intellectual who was a committed and active supporter of the cause of the working people and for democratic and secular values. pic.twitter.com/rGeAZMsaey

— CPI (M) (@cpimspeak) March 29, 2023