A SUMMARY OF THE MOST EXCITING ART NEWS FROM AROUND THE GLOBE
While we focus on Indian art, we can't obviously function in a vacuum. It's a small world and everything is connected, especially on the web. So, let's train our spotlight across the world map to see what's going on — from art trends to socio-political issues to everything that affects the great aesthetic global consciousness. Or, let's just travel the world and have some fun!
Warhol foundation to provide $4 million to 48 organizations in fall 2022 grants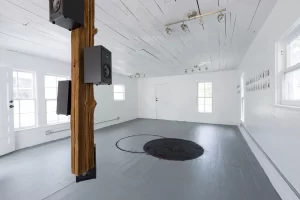 The Andy Warhol Foundation for the Visual Arts will dole out over $4 million to 48 nonprofit arts organizations as part of its Fall 2022 grant cycle. The Warhol grants are given out in three categories: two-year support for programming, direct exhibition support, and research fellowships. As part of its continued response to the economic challenges small- and medium-sized arts organizations face as a result of the pandemic, awardees may use up to 50 percent of their grants for administrative expenses, which the foundation believes "ultimately benefit[s] artists by providing crucial support for the stability of non-profit visual arts field," according to a release. Organizations that will receive support over two years include two first-time recipients, both of which are artist-run organizations: CURRENTS/Parallel Studios in Santa Fe, New Mexico, and Oretga Y Gasset Projects in Brooklyn. Cleveland's SPACES will use its grant to support the realization of the U.S. Pavilion at the 2023 Venice Architecture Biennale and a project with artist collective Cooking Sections. Additional grantees include Independent Curators International, Visual AIDS, Project Row Houses, the Laundromat Project, and the Contemporary Austin. Details on Art News.
Guerreiro do Divino Amor from Switzerland selected for 2024 Venice Biennale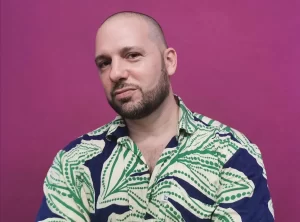 Guerreiro do Divino Amor's work at the Swiss Pavilion marks a new chapter in his monumental saga "Superfictional World AtlasExternal link", which began in 2005, the Swiss Arts Council Pro Helvetia said in a statement on Thursday. The Swiss-Brazilian artist, who turned 40 this year and was born in Geneva, lives and works mainly in Rio de Janeiro, Brazil. According to Pro Helevetia, Guerreiro do Divino Amor ties together different narratives with virtuosity, irony, and humor. "Through these layers of connectivity, he effectively carves out the diverse entanglements of our globalized existence that have been impacted by aspects such as postcolonial distortion." Guerreiro do Divino Amor's work has received international recognition: in 2021, he was selected for the prestigious DAAD Artists-in-Berlin programme after winning the PIPA award in 2019. He was also a finalist in the Swiss Art Awards in 2008 and 2017. Read more on Swiss Info.
Illustration from Cardi B's account removed after threat to sue for copyright infringement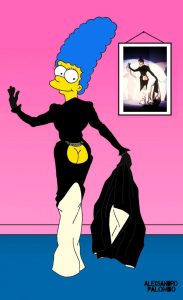 Following legal threats, Instagram has removed an Italian artist's illustration from the account of Cardi B, who allegedly appropriated the artwork without permission. Last Halloween, the "Bodak Yellow" rapper shared a picture of herself dressed up as Marge Simpson in a racy dress. The image was an apparent homage to an illustration by Italian artist aleXsandro Palombo, which was also included in Cardi B's post. Two of the musician's collaborators, photographer Jora Frantzis and stylist Kollin Carter, similarly shared the shots. But Cardi B didn't credit Palombo in the post, nor did Frantzis or Carter. The artist in turnthreatened to sue for copyright violation, hiring the Milan-based lawyer Claudio Volpi to lead the proceedings. "Cardi B and her collaborators have used my artwork without any authorization, debasing its original meaning and only to amplify their image with a clear commercial purpose that has nothing to do with that path of social awareness that has always characterized my works," Palombo said in a statement. Read more on Artnet News.