Smriti Malhotra 
This is the story of a man who was once a long-distance truck driver and is now one of the most influential art critics in the art fraternity. This is the story of Jerry Saltz, who has claimed to be a 'failed artist' who only became a professional art critic at the age of 41. 
He is an exuberant personality, the most famous art critic in the world at the moment with millions of followers on his social media handles. He has written for the Village Voice and The Artnet Magazine (now known as Artnet News) and other publications and has been the resident art critic of NewYork Magazine since 2007. Jerry Saltz is an interesting persona who became an art critic without having any formal training in art writing. He is known for his simplistic, accessible and often provocative writing style, he is direct and to the point in his writing which a lot of the readers of art appreciate. Due to his abilities to visit as many exhibitions, see as much art and write in plain simpler terms and lesser jargon he is hailed as the 'critic of the people' by the Architectural Digest. His insightful essay 'My Life as a Failed Artist' earned him a Pulitzer Prize in Criticism in 2018. It is a vulnerable piece on his incomplete journey from an artist to a well-acclaimed art critic.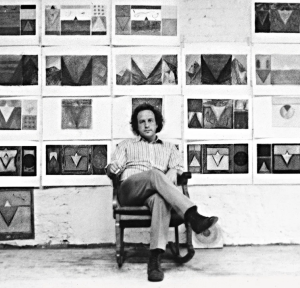 Young Jerry Saltz with his artworks. Courtesy:Vulture.com
In the Pulitzer prize-winning essay, he poignantly charts his history from being a visitor at the Art Institute to Chicago to tasting fame as an artist briefly when he started his own gallery with a friend called N.A.M.E (this was because they couldn't come up with a better name for the space). He goes on to mention one of his artworks 'Inferno' inspired by Dante's Divine Comedy, he explains his fascination with Dante's work and why that was the inspiration behind this artwork. He explicitly told the readers about his childhood and his mother's death at the age of 10 and how that shaped the young Saltz's mind, it is an invigorating memoir of the writer written by himself explaining his life as a young artist and then an art critic. Jerry Saltz was an artist as he claims multiple times in the essay, but who also struggled mentally and was riddled with a lot of doubt and anxiety post his arrival in New York. He says "Being an artist also made me realise that I wasn't built for the type of loneliness that comes from art." in the essay. The essay is a great tell-all tale about Jerry Saltz's life, divided into sections, it highlights the different phases of his life that are peppered with his memories, key moments of his life and references to many great artworks and artists, writers and poets.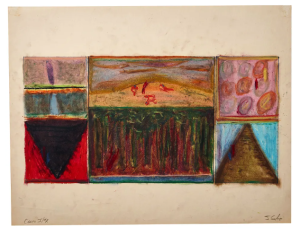 Jerry Saltz's Artwork (inside a drawing of Canto I altarpiece, as a part of the 'Inferno' artwork or Dante Project. Courtesy: Vulture.com 
Jerry Saltz's stories have gone viral and earned his publications many accolades over the years, his writings, exposure via social media handles and work have generated many people to seek him out and ask him all sorts of questions about being an artist and how to make it big in the art world. This resulted in another book by him called 'How to Be an Artist' published in 2020. This book expands on his earlier written, award-winning essay that expands on insights into what artists can and should not do. 
An animated speaker, Saltz is frequently invited to guest lecture at museums such as the Museum of Modern Art, Guggenheim, Whitney Museum and many more. He has lectured to students at Harvard University, Yale, Columbia, and Rhode Island School of Design and his Alma Mater in many ways The Art Institute of Chicago. He has been an advisor with some Bienales, contributed to many global art publications, has received honorary doctorates and according to his interview with the Sotheby's Institute of Art is an avid collector of fake paintings. Jerry Saltz continues to make his writings accessible, enamouring his readers with his dark humour, wit and expansive knowledge of the arts. His own failures and his perseverance serve as an inspiration to many within the art fraternity and his contributions to the field of arts are not only celebrated but are constantly evolving and expanding.