Tsuktiben Jamir
The Légion d'Honeur ("the Legion of Honour") is an award established by Napoleon Bonaparte in 1802 as the highest civilian honour bestowed by the French Republic for exceptional service to France, regardless of the recipients' nationality. This highly regarded title was conferred to Indian art collector and philanthropist Kiran Nadar on the 28th of March 2023 by Mr Emmanuel Lenain, the Ambassador of France to India.
Kiran Nadar, the Chairman of the Kiran Nadar Museum of Art and a trustee for the Shiv Nadar Foundation was also named a "hero of philanthropy" by Forbes Asian Magazine in 2010 owing to her initiative of launching India's first private philanthropic museum (KNMA) as an effort to promote contemporary and modern art from the country as well as to make art accessible to everyone.
Her mission is beyond merely collecting art, but to use art as a means to foster India's good relations with other countries. The Légion d'Honeur was given by France to Nadar in honour of her extraordinary contributions to the arts, her dedication to promoting broader access to culture on a national and worldwide level, as well as her pioneering work to strengthen cultural links between France and India.
In 2022, The French Institute in India, Alkazi Foundation, and KNMA collaborated to produce "Converges", which was the largest original photo exhibition by French photographers to be held in India. This exhibition in India was held as a part of "Bonjour India 2022," a six-month cultural event France organised throughout India in honour of India's 75th anniversary of Independence. She has also established partnerships with prestigious French museums including the Musée Guimet in Paris and the Musée des Arts Asiatiques in Nice.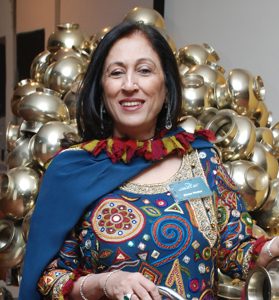 In a statement, Kiran Nadar said, "KNMA has a longstanding relationship with France in the cultural space. Our partnership with France has been instrumental in bringing together diverse perspectives and promoting cultural exchange." Her inspirational vision, which played a significant role in shaping the nation's cultural environment, helped Indian contemporary and modern art become more well-known on a global scale. She has provided India with a global platform that exposes and promotes Indian art through her vision, persistent efforts, and unwavering passion.
At the award ceremony, Emmanuel Lenain stated, "It is my privilege to confer the Légion d'Honneur on Ms Kiran Nadar on behalf of the President of the French Republic. Through this award, France recognises Ms Nadar's pivotal role in India's cultural landscape and her outstanding contribution to the dialogue between French and Indian cultures. We deeply believe in bringing French and Indian artists closer together, and are honoured to be able to count on Ms Nadar's vision to advance this goal."
Kiran Nadar is also an active member of the Rasaja Foundation founded by the late Jaya Appasamy, a well-known artist, art historian, and art critic, in the year 1984; it is an educational, scientific, and cultural institution. She has participated in a collaborative project with the Rajiv Gandhi Foundation as a representative of the Foundation to support the education of Muslim and Dalit girls in some of the most underdeveloped regions of the Indian state of Uttar Pradesh.