Ved Prakash Bhardwaj
In contemporary Indian art, Lalitha Lajmi has been an artist who has expressed feminine identity differently in her paintings. Her art was a kind of depiction of dramatic situations in life. She passed away on February 13, 2023 in Mumbai. She was born in Calcutta on October 17, 1932. In her art, Lalitha expressed the tension between man and woman on the one hand and on the other hand gave expression to the emotionality of the relationship between the mother and her children, especially the daughter. She used to compose the picture like a scene in a play. Despite being the sister of legendary filmmaker Guru Dutt, she never thought of acting in films. However, she made a guest appearance in Aamir Khan's film Taare Zameen Par. Her daughter Kalpana Lajmi is a well-known filmmaker.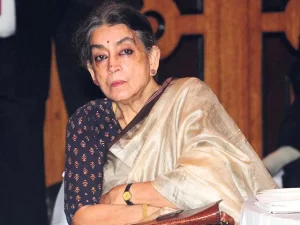 The watercolour paintings of Lalitha are famous. In these paintings, she created human relations in both their forms of tension and attachment. The clown has been a subject of her paintings which convey a dual personality. By showing the man as a clown, she exposed his double character. Masks are seen in many of her paintings, even on women which shows her view that there can be duality in the personality of a woman. The composition of mother and daughter is found in many of her paintings. In some, the mother is depicted protecting her daughter, while in others, she gives her the power to fly in the open space.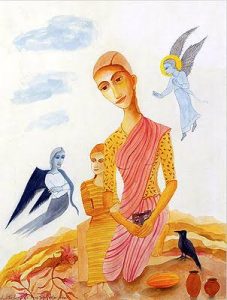 Looking at the structure of Lalitha's paintings, we can see the inspiration of Picasso and Marc Chagall. A girl riding a bicycle, a man dressed as a clown, and standing men and seated women poses are some of the compositions. This is because dramatic structures are very common in the works of Marc Chagall and Picasso. Picasso used to create drama even in his still-life paintings. Marc Chagall's circus as well as other theatrical performances can be seen. Due to this, there is a sense of dynamism in his paintings whereas painting is still a moment of life. There is no desire to compare Lalitha with Picasso and Chagall here. There is no point in comparing artists of different times or contemporary artists. All the artists express different aspects of human life in their own way, some of which are common. Despite living in different cultures and geographical conditions, there is a surprising similarity in some situations in human life. This is the reason why we find similarities with many artists in the world.
It was probably Guru Dutt's influence or it was an instinct somewhere in her that she composed each picture like a frame in a cinema. Many of her paintings, if seen together as a series, would seem like we are watching a still film. This artistic quality was later reflected in the films of his daughter, filmmaker Kalpana Azmi. Dramatic elements abound in the works of both Lalitha and Kalpana. Dramaticism happens not only in theater or film but also in life, which creates an impression of dynamism in Lalitha's paintings. Performance can be seen in her paintings at two levels, the level of emotion and the level of body language. Just as an actor or actress presents a character in a play, similarly Lalitha used to create characters in her paintings. Life is also a drama. This world is a big stage on which we are playing our respective roles. Lalitha kept expressing this thing in pictorial language.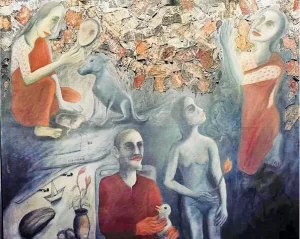 The relatively long figure of a woman in her paintings was considered an expression of feminine aspirations. But this tall figure, which was often taller than the male figure, also represents the Indian family and the role of women in maintaining and managing it. Instead of women's liberation, women's consciousness was their main voice.
Lalitha was a very sensitive and kind-hearted artist. Once in 2015, when I was living in Mumbai, I had the opportunity to meet and interact with her at Jehangir Art Gallery. Like her art, she was clear about life and human relations. I still remember her words that an artist should be like his art. You create something and live something else, this duality takes you nowhere.