Abhishek Dixit
With the help of the curator Anica Mann, Delhi has a program for youth that wants to learn about art through examining every aspect of it. Art has certainly those personal and expressive values that must be felt in order to get an understanding of human emotions and experiences. As India continues to grow in terms of art, it also contributes to the economic growth of the nation as well as it provides a podium to numerous artists who are willing to pursue a career in it. As time has passed, however, ways of seeing have changed, and now it's important to know how young and upcoming artists or collectors see the world in their critical perspective, and how they need to be heard. With this in mind, India Art Fair created an over the top initiative that allowed beginners to get a closer look at artists and their work. Currently, Delhi is awash with wonderful colors of art, as the India Art Fair's "Young Collector Program" bridges the gap between a layman and art. With the primary vision of promoting art in the common people or the young art enthusiasts, this program develops the better understanding and creates ways of perceiving for the individuals. In order to make the art easily accessible by everyone, this program allows you to peep inside the eminent galleries in all over Delhi to provide a better idea of an exhibition and how it works. Since art is for everyone, this initiative by India Art Fair not only adds literacy about the art in the young learners but also captivates several individuals to choose art as medium for their expressions. Upon the deeper amalgamation to understand the process, the curator Anica Mann shared her views on this interesting initiative. 
For her, giving access to all those people who want to start their romantic journey with the art is the motive of this program. It's not about age, it's not about who is young, this is about anyone who wants to start learning about the art. "Young collectors program generally opens a week before the fair because it is a bit intimidating for the public. We recognized that, and thus we created an accessible atmosphere in an alternate location where we meet everybody appetizer by showing them art which could be easy to understand." Mann said. The Young Collectors Program aims to open a gallery and display a range of mediums to promote a diversity of art. It aims to target beginners so that they can understand South Asian art and artists and develop their views on art. The program aims at the young people who want to collect art and this program shows them a lot of art.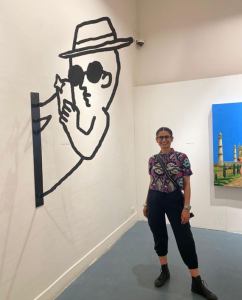 "We found that young people don't like to buy extremely costly art, and they shouldn't because they are just beginning their journey by small. So we focus on the acquired art that is comfortable for first time art." 
Upon asking how a beginner or a young collector should look at an art piece, Mann replied, "Look at the art by your eyes and the heart, either you like it or not, don't overthink about it. If it creates curiosity in you, you ask questions and try to find answers". Young collectors and learners are encouraged to become curious about contemporary South Asian arts through this interesting initiative. Currently, art is becoming more accessible to ordinary people, making abstraction and minimalism more popular. It is difficult to find an objective view of the same and Mann thinks that, "Abstract art is something where you find beauty in nature as it has no concrete form. It may be beautiful for you but at the same time not for me. Abstract art is about a state of mind, a state of fluidity. So, one understands abstract art as color, and the emotion you find beauty in it."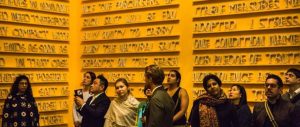 "The India Art Fair is a massive trade fair where the most cutting-edge contemporary South Asian art is on display and for sale. It is Asia's largest platform for performing arts and a commercial fair where people come and buy works. It is like an auto expo where you buy automobiles." Mann said. Taking place in New Delhi each year, the fair showcases cutting-edge contemporary art paired with masterworks and vernacular art traditions. Founded on the principle of putting art and artists at its core, the fair draws in galleries and institutions, private foundations, arts charities, artists' collectives, national museums, cultural events, and festivals, enabling local and international audiences to explore the region's culture and history in a creative way.
The Young Collectors Program includes prominent galleries such as Bikaner House, Vadhera Art Gallery, Akar Prakar, Shrine Empire, Kiran Nadar Museum of Art, Khoj Foundation and Gujral Foundation. This program houses everything for everyone and aims to foster the arts among curious learners and artists. Thus, it is a must-visit event for those who want to start their amazing journey of art.