Vaishnavi Srivastava
10th April, ON THIS DAY
"The kind of painting which I find exciting is not necessarily representational or non-representational, but it is musical and architectural"

— Ben Nicholson
Ben Nicholson, the prominent figure of the abstract and Cubist movement, was far from an artistic elitist who created for the bourgeoisie. Nicholson individually deemed that abstract art must be enjoyed by the masses. Born on April 10th, 1894, Ben Nicholson was an infamous British Painter and sculptor. The artworks by Nicholson derived a major influence from the Cubist movement. The British artist is known for his eminent impact on the history of abstract art. His major artwork varied into three categories, namely, abstract art, still-life, and landscape. It is no shock that his early works on still-life and landscape were influenced by his father, William Nicholson, who was also a painter who mastered the two genres. The history, however, does not look fondly between the father-son's troubled relationship.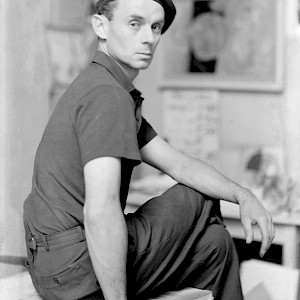 Nicholson focused on "non-objective art". It was during the years starting from 1921 when Nicholson's art initiated to incorporate influence from Cubist and Surrealist movements. He experimented with a wide range of styles during this period. It was after his initial altercations with Cubist paintings that his art in still life started showcasing the same. Nicholson even stated how "Cubism, once discovered, couldn't be undiscovered." His styles were heavily stimulated post observing the studios of Braque and Mondrian along with Pablo Picasso and Barbara Hepworth, who he shared a studio with and later on married. His frequent visits to Paris were where he came across these wide range of styles and influences.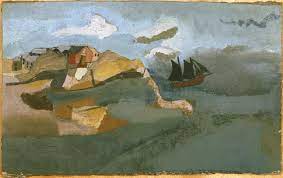 In 1928, he met the fisherman and painter Alfred Wallis, which pushed Nicholson to paint landscapes of port scenes (Cornish port, 1928). The time period of the 1930s changed the trajectory of Nicholson's artwork and his mode of expression. Nicholson, in the early 1930s, got into the medium of reliefs and sculpted abstract and geometric artworks on reliefs which was a major influence from his second wife, Barbara Hepburn. It was essentially an amalgamation of architecture, sculpting, and designing. It was during this time period when he released his first relief named "White Relief," which was believed to showcase the possibility of social harmony. It is regarded as one of the greatest artistic contributions to the modernist movement. In his later life, in the 1950s, Nicholson, true to his style and identity, fused landscapes and still life.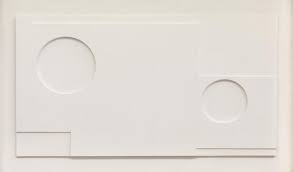 Nicholson garnered critical acclaim during his time as an artist. The painter and sculptor received in 1952 the distinguished Carnegie Prize, in 1956, the Guggenheim International Painting Prize, and in 1957 he won the Sao Paulo Art Biennial. Moreover, an exhibition of his artwork was showcased at the Tate Gallery, London, in the year 1955.
Not only were the artworks by Nicholson one of the defining pieces in the history of Cubism and Abstract art, but it was also an inherent skill of the artist to incorporate all these European movements and shape them in a vessel and technique of his own. The artworks of Nicholson (according to painter Paul Nash) were also analyzed via a metaphysical lens and considered as a microcosm of the infinite which is supposed to be viewed as a world of its own.