Krispin Joseph PX
As an artist, Raja Ravi Varma has been the most celebrated in India for the last two centuries. Ravi Varma creates or fulfils the people's imagination concerning their God and Goddess. The story of the art of Ravi Varma is a mesmerising episode of Indian art history and at the same time, it has been part of Indian religious-socio-political narrative and practices for a long time. Ravi Varma is the only artist who gets visibility and reception all over India and worldwide at that time.
The end of the nineteenth century brings the finest invention of modernity to India: the printing industry. Do any other artists' works' reproductions reach the remotest areas of India before and after Raja Ravi Varma? The answer is no; printing helps Raja Ravi Varma reach the most distant locations everywhere. Cheap mass-produced Ravi Varma's Godly images start hanging the upper-middle class Indian family.
What is the significant contribution of Raja Ravi Varma to Indian art and culture? Ravi Varma learned painting from a British painter and followed European aesthetics to portray the Indian classical texts in a pictorial form. Ravi Varma's significance is that he brings their gods into their homes. We found these Ravi Varma paintings in the prayer-living rooms of Indian homes and public-private spaces. Ravi Varma learned the fusion of pictures, and complied harmoniously. Those narrations go beyond the meters of dimensions and perspective and break the idea that "artwork" should be hanging on the wall.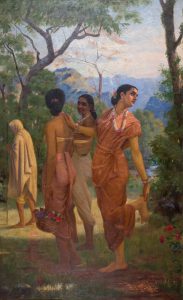 Varma's paintings on the affairs from Ramayana and Mahabharata have been reached worldwide; Shakuntala tries to find Dushyanta, Damayanti rebukes Swan, Shantanu and Matsyagandha, Nair lady adoring her hair, Goddess Lakshmi, Goddess Saraswati, and different Avatar images, Lord Siva with family, Lord Vishnu with Maya and Lakshmi, Goddess Ganga are some of his influential works.
Raja Ravi Varma is well known in the Indian religious mind; what they want and how they want. Ravi Varma gives people what they look into in the prayer room and homes. First, most Indian people need a godly atmosphere in their homes, so Goddess Saraswati, Lakshmi, and other God picture permanently attain their position in Indian homes. Second, if anyone who not religious, then Sakuntala and other works are encouraging and hanging their home walls. Ravi Varma is famous all over India because he allows the hermeneutic interactions of his painting reproductions and people in his time. Most people start to engage with Varma's paintings in the home or public space, not as artwork but as reproductions in various formats. First, oleography gives the reach of Ravi Varma's work to the common public, and then advertisement brings new versions of that painting with products.
In her book titled "When Was Modernism" (2000), art historian and critic Geeta Kapur writes about Raja Ravi Varma in a chapter titled "Representational Dilemmas of a Nineteenth-Century Painter: Raja Ravi Varma". In this book, Kapur explains in detail about Ravi Varma, his time, and works of art.
"By Ravi Varma's time, European art, mainly in portraits, landscapes, and genre pictures, was a common feature of colonial culture. Apart from the British, the Indian elite collected European art in various mediums like oils, watercolours and engravings. There was, for example, a collection of engravings based on European art from the Renaissance and neoclassical paintings from the nineteenth century in the Trivandrum palace. Many of these were indiscriminate collections and included copies of masterpieces by travelling European artists, commissioned portraits and contemporary European works of uneven quality (p147).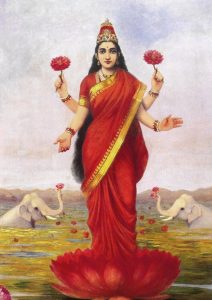 In modern times, artists travel a lot for patronage and space. European artists got enormous attention and commissioned works in colonial India, and Raja Ravi Varma brought this attention to his works first, then to the Indian artists.
"Ravi Varma grew up in the context of the flourishing tradition of Tanjore painting, contemporary to other hybrids included in the nomenclature of the Company School. Significantly, the new medium of canvas and possibly oils was adopted by the painters of the Maratha court at Tanjore. This is important as these painters travelled to Travancore and served the court there, writes Kapur (p148). His work's context is not away from the turn of the cultural formation of the time, and he is also part of that formation. His work's significance is only deciphered historically, and his work's public life is more or less managed through a "popular culture" lens. Raja Ravi Varma's works are everywhere in different styles and tones that he imagined through his press's "oleographs" prints.
Ravi Varm became increasingly celebrated in his time and after as an artist and a prince of oil painting; that legacy is continuing this time too. He became an odd genius of his times, celebrated by colonisers and nationalists simultaneously. Royal patronage welcomes him as a gifted artist, and ordinary people celebrate his works without knowing who the artist is. The striking point is Ravi Varma wants his works to become popular among ordinary people, and he never allows his works to be hanging in the gallery or private homes of the elites.
If we think in visual culture theories, where do we place Raja Ravi Varma's body of works and the impact of that works on Indian society? How do Raja Ravi Varma's works help the national identity? What he did is 'takes on the problem of the 'correct' rendering of persons and objects, he goes beyond the every day to introduce what one might call genre painting that socialises the mythological, as written by Kapur (p153). Indian ordinary people get familiar with the mythical characteristics of Indian epics through his works.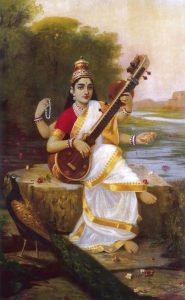 Geeta Kapur writes about the theatre connections of Ravi Varma to aid him in depicting the readymade repertoire of legendary figures and the performance, including Kathakali and Parsi and Marathi theatre performances he saw in Bombay and different venues in India. What influenced him to paint the mythical stories on a colourful canvas that element helps him to reach every corner of civilisation. What are we confronting here when we confront a painting from the past? Knowingly or unknowingly, we are moving with content from history, and our presence is blended with the element of the past. Raja Ravi Varma is an artist from our past; what we are experiencing as a godly life in our surroundings is a creation or contribution of that great painter.
Raja Ravi Varma's artworks beautify our history, ornament our contemporary life, and give hope for the future. The painting and the wall pictures hanging inside our homes or office, public spaces, an advertisement, or media will carry us into our past, which will have to our future.
Reference
Kapur, Geeta. When was modernism? New Delhi: Tulika, 2000.