Tsuktiben Jamir
Something about Legos is so soothing and enjoyable; something about those little plastic bricks opens the door for our imagination to run wild and allows us to create anything that our imaginations can conjure up. We can say the same for Chinese artist Ai Weiwei who has taken the hobby a step further by recreating one of Claude Monet's paintings 'Water Lilies' (1914-26) using only lego pieces. The monumental 15-meter-long piece "Water Lilies #1" (2022), made of a whopping 650,000 Lego bricks in 22 different colours, will be on display at London's Design Museum among his other works when it opens on April 7 and runs until July 30 of 2023. The title of this show will be 'Ai Weiwei: Making Sense.'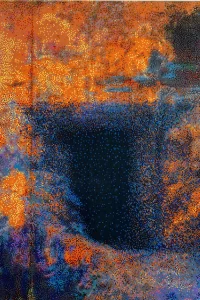 The original Monet work, which shows one of the lily ponds at his residence in Giverny, close to Paris, was created as part of the Impressionist movement, which was primarily concerned with landscapes and called for artistic skill as well as precise attention to shape, light, and shadow. Ai has taken this landscape as his inspiration and replaced the delicate brushstrokes with plastic bricks in the form of legos. In a way, Ai asks the audience to reconsider how we evaluate truth and beauty through this piece. Ai told Forbes "Toy bricks as the material, with their qualities of solidity and potential for deconstruction, reflect the attributes of language in our rapidly developing era where human consciousness is constantly dividing."
Justin McGuirk, who is the Chief Curator at the Design Museum as well as the curator of 'Ai Weiwei: Making Sense' said about the work, "Several of the works in this exhibition capture the destruction of urban development in China over the last two decades. With Water Lilies #1, Ai Weiwei presents us with an alternate vision – a garden paradise." A black gateway on the right side of the artwork, which McGuirk says represents the entrance to the subterranean dugout in Xinjiang region where Ai and his father, the famous poet Ai Qing, resided in forced exile in the 1960s, has been incorporated "a more poignant narrative" by the artist. He gave it some personalization by including the door from his boyhood house in the desert, but he also gave it some depersonalization by employing an industrial language of modular Lego pieces. This piece is definitely intricate and potent.
Ai asserts that our world is complicated and headed for an uncertain future. So, it has become essential for people to develop a "personalised vocabulary" to describe how they are feeling about these difficult circumstances. This unique expression comes from identifying with one's past and memories while developing a new language and narrative. This is very apt in his exquisite reimagination of Monet's painting through legos.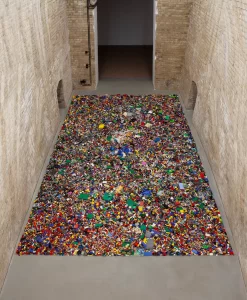 Ai Weiwei employed Lego bricks as a medium for his art for the first time in 2014 when he used them to build portraits of political prisoners. Since then, it has been an important part of his artistic practice. His recreation of Monet's 'Water Lilies' is definitely a commendable feat. Ai may be controversial to some, but there is no doubt that he is good at what he does.