M.F. Husain left a remarkable impact on the trajectory of Indian art. His journey as an artist, mentor, and visionary is vividly portrayed through the eyes of Akhilesh a noted painter from Madhya Pradesh whose works are admired internationally. He has prolifically written original books and also translated many books in Hindi. He is one of the rare artists who had the good fortune of being associated with the three great masters of Indian art; J Swaminathan, Maqbool Fida Husain and Saiyad Haider Raza.
This essay delves into Akhilesh's perception of M.F. Husain, shedding light on the multifaceted persona of the artist who played a pivotal role in shaping the Indian art scene.
It was a time when a new book showcasing Husain's magnificent work had just been published. To celebrate this momentous occasion, a function was held at a college where Husain himself graced the event. As the pages of the book turned, the audience was spellbound by his creations, each more breathtaking than the last. Among them was his renowned masterpiece, "Between Spider and the Lamp."
The day after the celebration, a curious incident unfolded. A few select individuals were called upon by Husain himself. He beckoned them to examine "Between Spider and the Lamp" closely, claiming that a hidden inscription contained a rather unconventional word. Intrigued, they scrutinised the painting with unrelenting focus, hoping to unveil the enigmatic message.
But as days passed, their quest for that mysterious word gradually faded into the background. Instead, they found themselves captivated by the intricate details and symbolism embedded in the artwork. The painting began to reveal its secrets, and their initial pursuit gave way to a deeper appreciation for Husain's craftsmanship.
It was during this time that an insightful article took shape, drawing parallels between Husain's "Between Spider and the Lamp" and Picasso's "Les Demoiselles d'Avignon," both housing five figures within their canvas. An interesting debate ensued as Husain initially disputed this observation, insisting that his work featured only four women. However, after much deliberation and the aid of a catalog, the truth emerged—indeed, there were five women in his painting. This episode exemplified the artist's commitment to his craft and his willingness to engage in discussions that pushed the boundaries of artistic interpretation.
The nurturing environment of art and creativity extended beyond the canvas into the homes of these artists. One figure who played a pivotal role in this vibrant artistic tradition was the narrator's father. A painter himself, he held no biases toward different art schools. Their home became a meeting point for artists with divergent views, including Vishnu Chinchalkar and DJ Joshi, who were known for their passionate disagreements. The narrator's father served as a mediator, fostering an atmosphere of creative exchange.
Their house was not limited to painters alone; it welcomed musicians, poets, and their mesmerising performances. The narrator's father emerged as a central figure in this artistic congregation, and his friendship with M.F. Husain, who lived just behind their house, further enriched their artistic milieu. In the neighborhood, three individuals—Wahid Bhai, a photographer, Husain, and the narrator's father—shared a deep bond, driven by their shared interests in photography and art. Their association began with simple pleasures, like Husain's early morning visits bearing baskets of jalebis, cementing his status as a cherished family member.
In the company of Husain, the narrator never felt like a subordinate; it was always an artist interacting with another artist. Husain's life was a whirlwind of creativity and exploration, as he juggled multiple projects across different media and locations simultaneously. From documenting Arab and Indian civilisations to delving into the history of Indian cinema and the world of horses, he immersed himself in a myriad of subjects. His work spanned continents, from London to Italy, and beyond. Despite his demanding schedule, Husain remained a caring and approachable individual, deeply connected to young artists and passionate about elevating Indian art on the global stage.
One anecdote shared by Tyeb Mehta revealed Husain's determination to raise the value of Indian art. At an auction in 1985, Husain boldly priced his painting at Rs. 5 lakh, a move met with skepticism. However, the painting ultimately sold for Rs. 10 lakh, setting a precedent for increased art prices. Husain's confidence grew, and he pushed the boundaries further by pricing his work at Rs. 1 crore. This audacious move garnered admiration, and he earned the nickname "think tank."
Beyond the world of art and ambition, Husain possessed a simplicity that endeared him to those who knew him intimately. He had a habit of extending spontaneous invitations, whether to visit Patna or Delhi for Holi, watch a play, or simply spend time together. Rejecting such invitations was unthinkable, as Husain's magnetic presence held sway over all who knew him. His London studio offered a glimpse into his unassuming nature, where he quietly prepared breakfast, including the rare find of Indori sev, for his guest.
M.F. Husain and S.H. Raza were not only extraordinary artists but also individuals who effortlessly grasped the essence of the ever-evolving art world. Their lives were an example of the power of creativity, camaraderie, and a shared dedication to elevating Indian art to new heights. In their presence, art was not just a profession; it was a way of life, and they embraced it with unbridled passion and unwavering humility.
M.F. Husain, as perceived through the eyes of Akhilesh, emerges as more than just a renowned artist. He was a friend, a mentor, a visionary, and a down-to-earth personality. Husain's impact on the art world was not limited to his paintings; it extended to his influence on emerging artists, his ability to foresee market trends, and his unwavering dedication to his craft. His simplicity and caring nature added depth to his persona, making him a cherished figure in the world of Indian art. Akhilesh's narrative offers a glimpse into the multifaceted genius of M.F. Husain, a legend whose legacy continues to inspire generations of artists.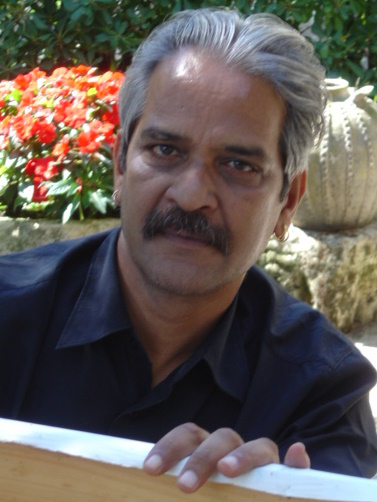 Born in 1956, is an artist, curator and writer. He has gained worldwide recognition and appreciation for his works through extensive participation in numerable exhibitions, shows, camps and other activities.