Tsuktiben Jamir
mOTHERTONGUE
Born in West Bengal in 1971, Mithu Sen is a conceptual artist. With a focus on the "myths" of sexuality, language, market, and marginalisation, Mithu Sen creates conceptual and interactive multi-format expressions through drawings, performances, poetry, moving images, sculptures, installations, sound, and more, to explore and subvert hierarchical codes and rules.
Mithu Sen is currently featuring a series of her new as well as existing works in a solo exhibition in Australia's ACCA (Australian Centre for Contemporary Art). It will be on display from the 22nd April- 18th June 2023. Sen's mOTHERTONGUE is presented in partnership with KNMA (Kiran Nardar Museum of Art). The exhibition surveys the past two decades of Mithu Sen's compelling art practice, including a series of major new installations. The exhibition is presented as an illuminated mind-map," writes ACCA.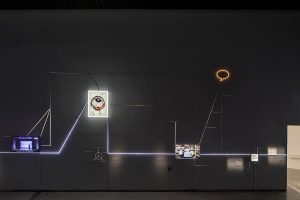 mOTHERTONGUE explores how language is channelled into forms as varied as drawing, sculpture, media, and performance to create complex artworks that defy definitional categories, institutional power structures, and imposed identities related to race, ethnicity, and gender. It does so as a constellation of image and word associations that shift between visible surfaces and interior states.
Sen's work examines personal dependence and public trust via radical hospitality practises, returning often to the concept of myth and relishing in its unmaking. Sen's development of contact zones, dialogues, and contractual agreements test relationships between guests and hosts, participants and performers, and ultimately, an artist and her audiences by exploring the links between "I and we," "me and you," and "us and them."
Exhibition:
22nd April – 18th June 2023
Australian Centre for Contemporary Art, Melbourne.
Afterglow
Danelle Bergstrom is an Australian painter born in 1957. She is best known for her landscape and portrait paintings, which serve as vehicles for navigating human emotion. Danelle's exhibition 'Afterglow' has been on display at Bathurst Regional Art Gallery in Melbourne since the 1st of April 2023 and will continue till the 11th of June.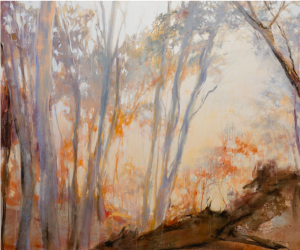 As her first career survey, 'Afterglow' explores the internal landscapes of Danelle's own life as they are mirrored in the overtures and undertones of both her landscape and portrait themes. Afterglow shows significant works from the last 25 years of the artist's practise, ranging from significant Australian and worldwide places as well as individuals to the private landscape of drawings and sketches.
The exhibition's namesake, Afterglow, as well as other significant landscapes by Danelle, including Symphony, Between Two Worlds, and works from her Deception series will be on display. Additionally, portraits of significant national and international figures, including Margaret Olley, Nancy Bird Walton, Guy Warren, Jack Thompson, and the first female president of Finland, former President Tarja Halonen, will be on display. Moreover, the show will feature pieces from Hill End, where the artist has lived and worked since 1997, as well as Åland, a significant place in Bergstrom's personal and professional life.
Painting, according to Danelle Bergstrom, is an examination of "human emotions, experiences, and choices," in which the artist expresses her feelings rather than what she observes.
Exhibition:
Free
1st April – 11th June 2023
Bathurst Regional Art Gallery at 70-78 Keppel Street, Bathurst
Free – donations encouraged
To read more about Mithu Sen on Abir pothi Click here