A SUMMARY OF THE MOST EXCITING ART NEWS FROM AROUND THE GLOBE
While we focus on Indian art, we can't obviously function in a vacuum. It's a small world and everything is connected, especially on the web. So, let's train our spotlight across the world map to see what's going on — from art trends to socio-political issues to everything that affects the great aesthetic global consciousness. Or, let's just travel the world and have some fun!
Freezer removed from Banksy's Valentine's Day Mascara artwork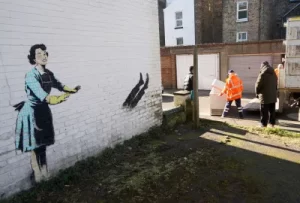 A freezer which forms part of an artwork by Banksy in Kent has been removed for a second time. The mural, titled Valentine's Day Mascara, had seen its chest freezer, broken garden chair, blue crate and empty beer bottle taken away by a local council in Margate on Tuesday. All the pieces were subsequently returned by Thanet District Council, who said on Wednesday it was in contact with the property owner to discuss ways to preserve the piece. On Thursday, the Red Eight Gallery in London said the freezer was now in storage with permission from the homeowner, before a permanent home can be found for the entire work. In a statement provided to the PA news agency, Julian Usher, chief executive of the gallery, said: "(The homeowners) have stipulated that they wish a local charity supporting prevention of domestic abuse against women to benefit along with the piece being used to raise awareness in Margate and nationally. Read more on Independent.
Huastec Earthen Mounds Excavated in Northern Mexico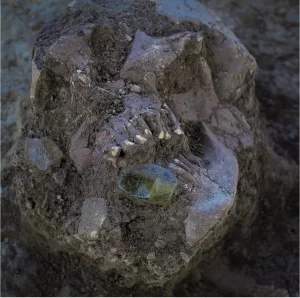 Archaeologists from Mexico's National Institute of Anthropology and History (INAH) are investigating four large earthen mounds at the site of El Naranjo, which is located in northern Mexico. Esteban Ávalos said that the 1,000-year-old mounds were part of a Huastec settlement, and were used for both burials and daily activities. Hearths, everyday ceramics, grinding stones, and projectile points have been recovered from two of the mounds, he explained, in addition to a dozen burials. Adults who had been interred in Mound 4 were buried with earrings made of green quartz and shells. Some of these earrings had been carved in the shape of flowers. In Mound 1, which is larger than Mound 4, Ávalos and his colleagues also found several burials, including of one adult whose remains had been placed in a limestone structure. "We can see that they practiced both single-individual and multiple-type burials, and that they were buried in different positions," he said. The mounds themselves were made of alternating layers of earth, limestone, and basalt. Their foundations are similar to earthen houses that are still being built in the region, he concluded. Details on Art News.
Musée D'Orsay Ordered To Restitute Four Masterpieces Stolen During WWII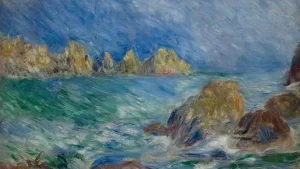 A Paris administrative court last week ordered the Musée d'Orsay to restitute four masterworks by Renoir, Cézanne and Gauguin, which were stolen during the Second World War and sold to the Nazis, to the heirs of the hugely influential French art dealer Ambroise Vollard. The museum will return two Renoir paintings: an 1883 seascape of Guernsey and a sanguine study (around 1908-1910) for the Judgement of Paris (owned by the Cleveland Museum of Art), as well as Still life with mandolin (1885) by Gauguin and the watercolour Undergrowth (1890-1892) by Cézanne. The court's decision was expected. In May 2022, another court had confirmed that these works were the property of Vollard at the time of his sudden death in 1939, before being stolen by the experts in charge of his succession, who then sold them to German museums, dealers or Nazi officers. This judgement was upheld by the High Court last November. The last step has now been taken by the administrative jurisdiction which had to formally endorse the restitution. The French state—under whose purview the Musée D'Orsay falls—has indicated it will not appeal. Read more on Republic World.