Ved Prakash Bhardwaj
Abstract paintings are not very verbose in their content; there is a kind of silence in them. Looking at Bimmi's paintings, this silence descends somewhere deep and takes us to the world of feelings where much of life remains untold. According to Bimmi, when she creates paintings, she only focuses on her emotional feelings. Wandering in the emotional world, she creates such scenes on blank paper which are symbolic. Her paintings seek stability in the instability of the mind amid the worldly tumult. Recently she had a solo exhibition at Sridharani Art Gallery in Triveni Kala Sangam, Delhi.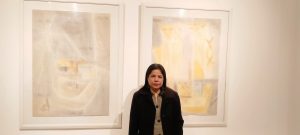 This is Bimmi's fourth solo exhibition. When asked about her source of inspiration for art and abstract art, she says that she finds an atmosphere of art at home. From thereon she felt that painting should be adopted to express her feelings. Her husband Anwar is a well-known abstract painter and that also became her biggest inspiration. It is a different matter that even after being inspired by her husband, she developed her own artistic language.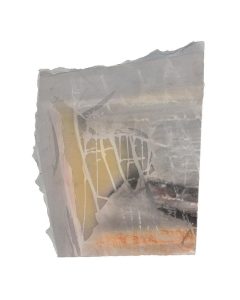 Bimmi has displayed paintings made on paper in this exhibition which are made of pastel colours. Grey has been used more in these paintings. She has adopted a lighter tone for that too. Somewhere in the paintings, the red, green, and blue are also visible. Colours don't speak much for them. Emphasizing the combination in the whole picture, she has created triangles, squares, rectangles, somewhere parallel moving or intersecting lines which express the dynamism and coordination of life.
Bimmi's early paintings were more muted. Even in the pictures included in this exhibition, silence prevails in those pictures too, but in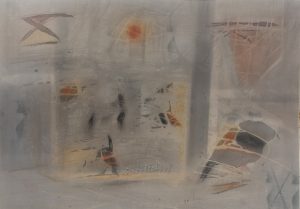 some places, it seems to be breaking. Especially in those pictures which have the feeling of urban architecture. By tapering the paper and at some places the white texture has created a different effect. In many pictures we get the impression of a map of a city or colony, but nothing more. This is her silent expression, The silence of mute time, which spreads in her paintings.
If we look at these pictures from the perspective of ideological analysis, then this silence is the silence of metro city life. In a crowded, noisy city, people are so busy with themselves that they don't have time to know or communicate with anyone. We know many people, but our communication with them is less. In this way, a silent feeling and expression settle in our relationships. It is no wonder if this appears to be the case looking at Bimmiji's pictures. This appears to be the case looking at Bimmiji's pictures.
One special thing about Bimmi's paintings is that they remain silent, but once you establish a dialogue with them, they take you to a world of feelings and experiences where different experiences of life open before you.