Ved Prakash Bhardwaj
While creating landscapes, it is not possible for everyone to convert them into abstract joy apart from real images. Nabibakshsh Mansoori succeeds in doing this in his paintings. Mansoori ji's art journey is a journey of movement between shapes and abstract structures. He has also worked with human figures, which indicates his departure towards abstraction. His painting series about Tigers has also been very popular. On the one hand, the spirit of saving the tiger is visible in them, and on the other hand, the voice of environment and ecological balance is also heard. Along with oil on canvas, he has also done a lot of work with watercolour on paper. The exhibition of his paintings titled 'Time in a Prism' started on January 16 at Navya Art Gallery, Delhi. The paintings in this exhibition are full of colours. That's why his abstract landscapes appear emotional.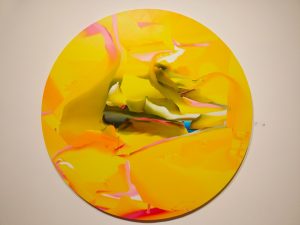 Some pictures have the shape of an open book. He says I am like an open book. An open book that anyone can read. To read it is also to read self. When we start reading his paintings, the book of our experiences and feelings opens before us. At first sight, his painting is just a gaiety of colours, but as we read it, it starts unfolding like a story. In some parts of the painting, many abstract figures like rivers, birds, fish, and kites start emerging. It is from here that his paintings start turning into the enthusiasm for life and the saga of that enthusiasm.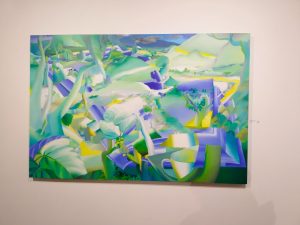 In some paintings, we see the shapes of houses, some are complete and some are like only remains. This is life, the process of becoming and dying which goes on continuously. Somewhere there is an impression of trees. The title of the painting is Words Are Not Enough. This indicates that it is better to see a painting as an image rather than as a story. Anyway, the abstract structures that emerge through the colours in his paintings are not like anyone's complete story.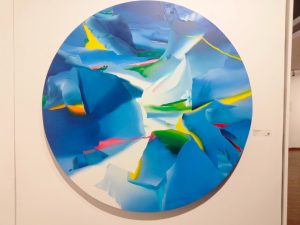 According to Mansoori ji, since his childhood, he has been observing various forms of nature which is the inspiration for his art. Many of the paintings included in this exhibition are collages of several landscapes. Together in the river, mountain, tree, house, bird, and path, many things are present in abstract form. Not everything can be written, this feeling is the basis of many of his paintings. That is why he creates his visual experiences in a symbolic way in his paintings. The title of the exhibition also points in this direction.