A SUMMARY OF THE MOST EXCITING ART NEWS FROM AROUND THE GLOBE
While we focus on Indian art, we can't obviously function in a vacuum. It's a small world and everything is connected, especially on the web. So, let's train our spotlight across the world map to see what's going on — from art trends to socio-political issues to everything that affects the great aesthetic global consciousness. Or, let's just travel the world and have some fun!
Aravani Art Project paint the Karnataka CEO's office
The office of the CEO (Chief Electoral Officer) in Karnataka has invited Trans artists from the Aravani Art Project to paint the walls of the new office building. With only a few days left for the election, the artists have painted the building on a variety of themes that range from the population, inclusive democracy, constitutional rights and much more. They have also been assigned to paint the walls of the metro pillars in the city. "All characters that we paint are real-life characters, but we take care not to reveal their identities", says one of the artists of the organisation. Read more on Times Of India.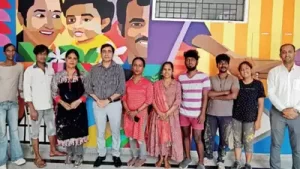 NGMA to showcase artworks by MF Husain, B Prabha, GR Santosh and more from the Air India Collection.
The National Gallery of Modern Arts (NGMA) is set to showcase 200 works from the Air India collection in order to honour the Indian arts and culture. The exhibition will include artworks from prominent artists such as MF Husain, B Prabha, VS Gaitonde, GR Santosh and KH Ara. It is set to be inaugurated on the 27th of April by the Minister of Culture Mr G Kishan Reddy. The exhibition is being showcased as a form of homage by putting together 80 years of Indian art. The exhibition includes artworks such as The Ashtray by Salvadore Dali, Women Hold Up Half The Sky by Arpana Caur, Lady With Kite by Anjolie Ela Menon, etc. Read more on the news on Republic World.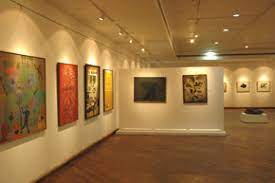 Tim Cook visits Lodhi Art District in Delhi
As Tim Cook, the Apple CEO stepped into Delhi, to inaugurate the famed Apple store launch, he visited the infamous Lodhi Art District in order to further travel the National Capital of India. In a Tweet, posting his visit to the place and conversing with the artists of the mural, Cook wrote, "Delhi's Lodhi Art District is a remarkable public space. Congratulations to the St+art India Foundation and so many amazing artists for capturing Indian life so powerfully. And thank you to Dattaraj Naik for showing me how you design your murals on iPad." Read more on news18.