The National Gallery of Modern Arts (NGMA) will receive Air India's precious collection of almost 4,000 paintings and sculptures by well-known painters for preservation and public display. In this regard, the airline and the NGMA inked a memorandum of understanding in the presence of Union Culture Minister G Kishan Reddy and Civil Aviation Minister Jyotiraditya Scindia. Kalpana Rao, the Corporate Secretary for Air India, and Temsunaro Jamir, the Director of NGMA, both signed the MoU.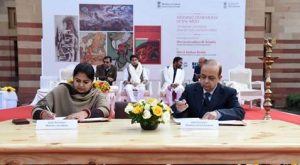 Air India has acquired and amassed a sizable number of priceless artworks from all over the world during its extensive journey of over eighty years of operation as a commercial airline. These artworks include paintings, sculptures, wooden carvings, glass paintings, decorative items, textile art, photographs, and other items. These works of art will be included in the NGMA's collection.
The Air India Collection's modern and contemporary art includes pieces that were purchased or specially commissioned from prominent artists such as B Prabha, Shankar Palsikar, Lakshman Pai, Vasudev Gaitonde, M F Husain, S H Raza, K H Ara, and other leaders of the Progressive Art Movement like the trailblazing artist Hari Ambadas Gade. Additionally, it has artwork created by contemporary masters like Anjolie Ela Menon and Jatin Das, which will improve the NGMA collection even more. Air India gave away free tickets to aspiring painters over the first eight decades of its commercial operations, which began in 1932. These artists went on to become well-known figures in the art world. These artists returned the favour by giving the airline their creations, including paintings, statues, and wooden sculptures, at various times, which over time grew to be a priceless collection.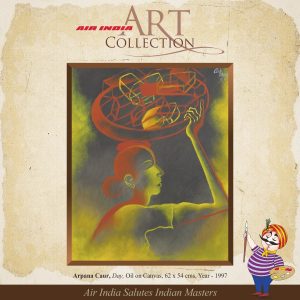 Extending his gratitude to both the civil aviation minister and Air India for handing over the collection, Culture Minister Reddy said "Whatever transfer is happening today, we will preserve them for our future generations. We will also display these artefacts." Aviation Minister Scindia hailed it as a historic occasion and noted that Air India had achieved numerous firsts, including the first mail courier aircraft that J. R. D. Tata personally piloted from Karachi to Mumbai, the first international flight between Mumbai and London, and the first longest non-stop journey between New Delhi and New York.