Smriti Malhotra
The much talked about Nita Mukesh Ambani Cultural Centre opened its doors for the first time in a 2-day gala launch on 1st and 2nd April 23 in Mumbai. The 2-day opening event saw the presence of many celebrities and artists, who descended upon the green carpet.  The opening night began with the musical masterpiece; The Great Indian Musical: Civilisation to Nation by Feroz Abbas Khan and a magnificent costume exhibition called 'India in Fashion' that examines Indian craft and its global impact.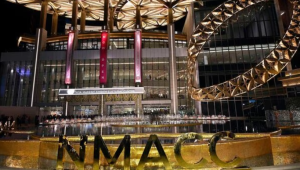 The magnanimous NMACC has a 2000-seat theatre with 16,000 square feet of exhibition space, and a chandelier embellished with 8,400 crystals. The Cultural Centre is envisaged by Mrs Nita Mukesh Ambani, a businesswoman, philanthropist and ardent lover of Indian arts. "The NMACC is envisioned as a platform to spotlight Indian arts and culture at its best, both for the audience and the artists. A truly inclusive centre for performers and visitors, for dreamers and creators, for one and all. With world-class infrastructure and robust programming, our aim is to make the arts accessible to everyone." She further adds that it is an ode to our nation, the NMACC is our commitment to preserving and promoting Indian arts.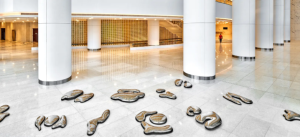 The cultural centre also houses a special space called the Art House which is a significant initiative of Isha Ambani Piramal. A four-storey area dedicated to art is a great testament to Isha's keen interest in the arts and curatorial sensibilities. The opening show at the exhibition centre 'Sangam/Confluence' has been co-curated by American curator Jeffery Deitch and Indian cultural theorist Ranjit Hoskote. The exhibition showcases artworks by Bhupen Khakhar, Bharti Kher, and Ranjani Shettar including various international artists who shall inspire the Indian audience and expand the meanings of Indian arts in a global context.  The space also includes public artworks for the viewing of Indian audiences such as a large-scale Pichwai painting by Raghunandan Sharma and other artists from Nathdwara as well as Clouds(2019) by the Japanese Contemporary artist Yayoi Kusama. 
Ms Isha Ambani Piramal envisions the exhibition space to be an opportune place to host various global-themed art exhibitions, art fairs and even biennales. The Art House has been planned and made by architect Richard Gluckman with the structural frame of the building, designed by Atlanta-based architecture, planning and interior design firm TVS Design.  Ms Piramal while speaking to Vogue India says "accessing art in India has not been easy for everyone. It was, therefore, important to build a space like the Nita Mukesh Ambani Cultural Centre with venues such as the Art House to inspire and create a culturally engaged community and give people a versatile array of cultural experiences."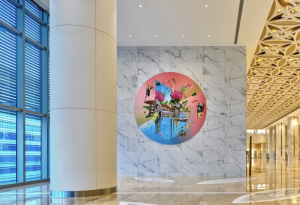 "Art is a lifelong love" for Ms Isha Ambani Piramal and she hopes that the NMACC and the Art House shall play a pivotal role in changing the narratives around Indian art and helping Indian audiences to expand their global cultural vision.