A SUMMARY OF THE MOST EXCITING ART NEWS FROM AROUND THE GLOBE
While we focus on Indian art, we can't obviously function in a vacuum. It's a small world and everything is connected, especially on the web. So, let's train our spotlight across the world map to see what's going on — from art trends to socio-political issues to everything that affects the great aesthetic global consciousness. Or, let's just travel the world and have some fun!
Phylida Barlow, totemic British sculptor dies at 78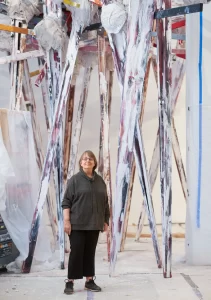 Phyllida Barlow, the relentless British sculpture who made innocuous materials into idiosyncratic meditations on art-making, has died. She was 78. The news was confirmed by her longtime gallery, Hauser & Wirth. In a statement, Iwan Wirth, the gallery's cofounder, said, "Phyllida Barlow was a cherished friend as well as a visionary artist. Her ideas, knowledge, experience and wry humor were always shared with the most extraordinary warmth. Her generosity of spirit extended through her art, her writings, and her many years of teaching and mentorship." For more than 50 years, Barlow created "nonmonumental" sculptures that prioritized absurdity over grandeur. Functional materials like cardboard, nuts and bolts, fabric, and plywood were stacked, stitched, and stretched into imposing forms and painted in vibrant colors. The seams were often left visible. The textures contrasted and symmetry was disregarded; sometimes, they tipped dangerously to the side. Many of her works are large, but scale was just one way to investigate the physical negotiations between objects and space. Read more on Art News.
1800 year-old Roman bathhouse discovered in a French village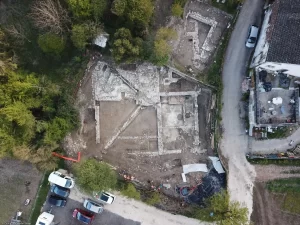 The ruins of a 2nd century Roman bathhouse were discovered after plans to build a single-family home required an archaeological assessment. The 1,800-year-old bathhouse had a large basin that was likely used as a swimming pool, a garden, and three rooms that were connected to a heating system. Experts believe these rooms may have been similar to modern steam rooms or saunas, each with a different temperature. According to the French National Institute for Preventive Archaeological Research (Inrap), the ruins were originally thought to have been a shrine or religious building. However, once excavation began, archaeologists realized they had found an elaborate bath complex that was fed from a nearby waterfall. Details on Art News.
No plans to return Parthenon Marbles to Greece, says UK Prime Minister Rishi Sunak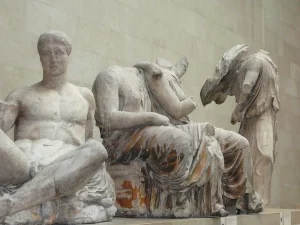 Rishi Sunak has vowed to protect the Parthenon marbles from being returned to Greece, saying they remain a "huge asset" to the UK. The prime minister stuck by commitments made by his predecessors Liz Truss and Boris Johnson to safeguard the treasures at the British Museum in London. Despite a campaign to return the marble sculptures to Athens, and talks between officials in the UK and Greece about the idea, it was given short shrift by Sunak as he headed to a major defence and security summit in California. "The UK has cared for the Elgin marbles for generations," Sunak said. "Our galleries and museums are funded by taxpayers because they are a huge asset to this country. "We share their treasures with the world, and the world comes to the UK to see them. The collection of the British Museum is protected by law, and we have no plans to change it." While decisions about the care and management of specific collections are treated as a matter for the British Museum, Downing Street believes a long-term loan would not be in the spirit of the government's position. Read more on Guardian.