Saptarshi Ghosh
Two of the foremost women painters of the twentieth century, Amrita Sher-Gil and Frida Kahlo's artistic careers have uncanny similarities. They carved out unique female subjectivities in their works, thereby introducing a much-needed female perspective in a tradition dominated by male artists for centuries. The female body features prominently in both their art, conveying their preoccupation with the lives and experiences of women. Frida is famous for her expressive and powerful self-portraits, providing glimpses into the changing terrain of her personality and experiences. Amrita too is known for her paintings on rural life in India along with her self-portraits.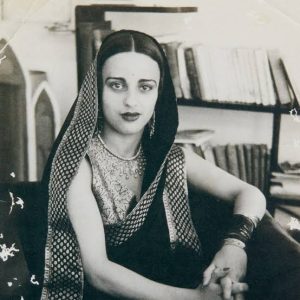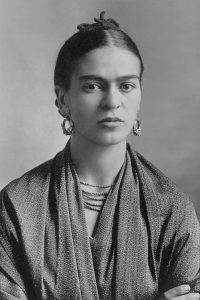 Both Frida and Amrita are of mixed parentage – the former was born to a German father and a Mexican mother while the latter was born to the Punjabi Sikh aristocrat, Umrao Singh Sher-Gil, and Marie Antoinette Gottesman, a Hungarian-Jewish opera singer. Consequently, they channelled both indigenous and Western influences in their works. Amrita and Frida also refused to bow down to heteronormative demands of society – they were both bisexual and openly embraced their queer identities. Evidently, what ties these two trailblazing artists is their affront to the mores and conventions of a conservative, patriarchal society that sought to restrict them. 
On the occasion of International Women's Day, let's check out their individual struggles and celebrate their resilience!
Frida Kahlo
Very few artists continue to reign our collective memory and popular culture like Frida Kahlo. Born in 1907, her vibrant self-portraits from different stages of life articulate a unique female selfhood, capturing her pain, hope and fears. She also blends in fantastical elements and influences from her native Mexican culture. Frida's life was full of adversities which she overcame with determination and her art practice. 
She was afflicted with polio in her childhood and as a result, her right leg was thinner than her left one. At the age of 18, she suffered a critical bus accident which grievously injured her and left her bed-ridden for three months. She broke her back and pelvis and also fractured her collarbone and two ribs. Her right foot was also crushed and her right leg was left broken in 11 places. The repercussions of this accident would haunt Frida throughout her life. She continued to experience severe pain and even needed frequent surgeries for her spinal injuries. Interestingly, she discovered painting while recovering from the accident. It became her medium for exploring issues of identity and existence. "I paint myself because I am often alone and I am the subject I know best," she said. "I am not sick. I am broken. But I am happy to be alive as long as I can paint."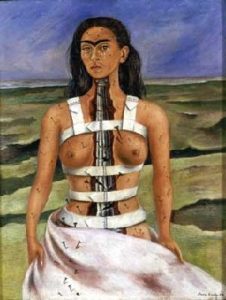 Many of Frida's works reflect the excruciating physical pain she endured. Her disturbing self-portrait The Broken Column (1944) shows her nude body impaled with nails and wrapped in corset-like bandages, while being split from the middle. Replacing her spine in this fissure is a column-like structure. Frida also explored bodily experiences of women, like miscarriage, abortion, breastfeeding, drawing from her own life. Frida and Cesarean Operation (1932) and Henry Ford Hospital (1932) are two paintings that deal with Frida's harrowing experiences involving abortion and miscarriage. She correctly pointed out, "My painting carries with it the message of pain." Yet, it is noteworthy how Frida used art to alleviate her hardships. Her defiant gaze in her self-portraits reminds us of her unwavering spirit and fortitude in the face of adversities.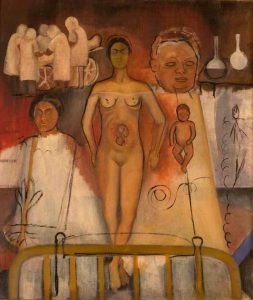 Frida had a tumultuous relationship with the famed Mexican mural artist Diego Rivera, whom she married in 1929. Both were known to have had multiple extramarital affairs. After returning from the United States in late 1933, Rivera began an affair with Frida's sister Cristina, which deeply hurt her. Her 1937 painting Memory, the Heart is a result of her anguish over this affair. Frida and Rivera divorced each other in 1939 but got remarried a year later. The Two Fridas (1939), which Frida painted following her divorce, presents two Fridas – one in traditional Tehuana costume and the other in contemporary attire. She later revealed that this painting conveyed her inner turmoil following her separation with Rivera.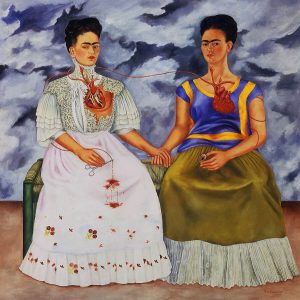 In her self-portraits, Frida's gaze is radically unflinching as she also captured 'aberrant' physical features which defy socially sanctioned notions of feminine beauty. She painted her face just as she saw it – with a unibrow and faint traces of a moustache. 
No wonder Frida's life continues to be an inspiration to women all around the world, teaching them to not get held back by societal restrictions and be unabashed about who they are!
Amrita Sher-Gil
One of the most significant Indian modernists of the 20th century, Amrita Sher-Gil's contribution to Indian art is at par with the giants of Bengal School, like Rabindranath Tagore and Nandalal Bose. Her paintings, exhibiting a mixture of European styles and Indian sensibilities, evoke the dignity in lives of ordinary people in the Indian countryside. The Government of India declared her works as National Art Treasures and most of them are housed in the National Gallery of Modern Art, New Delhi.
A spirited woman known for living life on her own terms, Amrita managed to carve out a space for herself in the male-dominated art world, despite her short career. Her mixed parentage always made her an outsider, both in India and Europe. In France, where she trained first at the Académie de la Grande Chaumière and then at the École des Beaux-Arts, she was considered as the 'exotic Hindu princess', a result of demeaning Orientalist stereotypes. In India, her beauty, precocious talent and torrid love affairs inspired awe, bewilderment and shock. Discussion on her work would never fail to mention her beauty, which she really disapproved of. In 1936, when the All India Fine Arts and Crafts Society awarded her the prize for the best work by a lady artist, she did not mince words and pointed out how "it rather smacks of concession due to the feebler sex".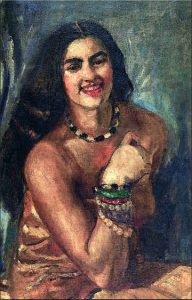 During her stay in Paris in the early 1930s, Amrita partook of the bohemian lifestyle prevalent among artists. She led a wild, reckless life and had multiple lovers, thereby flouting conservative gender norms which encouraged women to be docile and sexually submissive. She painted several self-portraits during this period, turning her gaze towards her own body. Like Frida, Amrita too used the genre of self-portraiture to affirm her control over her own body and how she is represented. Moreover, her 1932 oil painting Young Girls won her accolades, including a gold medal and her election as an Associate of the Grand Salon in Paris in 1933. Not only was she the youngest ever member but also the only Asian to have received this recognition!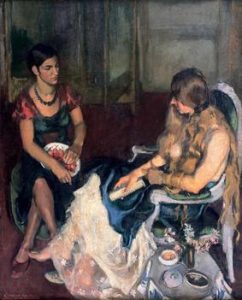 Frida and Amrita held their own ground in the male-dominated world and continue to inspire us with their unrelenting spirit!
Bibliography
https://artsandculture.google.com/story/parallel-lives-frida-kahlo-and-amrita-sher-gil-kiran-nadar-museum-of-art/9gXxFG06EI7OLg?hl=en

Partha Mitter,

The Triumph of Modernism: India's artists and the avant garde 1922-1947

, Reaktion Books, London (2007)