Tsuktiben Jamir
Artmatr is a New York-based art tech firm that uses robotics, cutting-edge software imaging, and high-end painting technologies to transform digital art into physical art. Led by a group of visionary leaders in the fields of art and technology, the company is driven by the creation of disruptive art. Artmatr takes pride in their passion to "build a host of cutting-edge, proprietary, creative tools that empower artists to create, scan, visualize, and authenticate art in ways never been done before."
In latest news, this sophisticated company is hosting their newest art exhibition in collaboration with well-known French generative artist Michael Zuncan titled 'Organic Matr' on the 13th of April 2023 during the NFT.NYC 2023 in Brooklyn. They hope to narrow the gap between the digital and real worlds by educating people and fostering creative expression via the usage of Web3.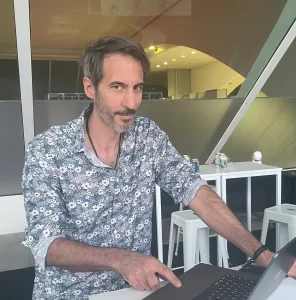 Zancan, a programmer and former oil painter hailing from the South of France, has a lifelong passion for plants, trees, and all things botanical. He is well-known for his work on the Tezos-based art platform fx(hash), which produces generative art. Zancan shattered NFT records by selling the highest-valued NFT ever in Tezos for 83,000 tez and by selling more than 900,000 tez in total to collectors.
During the exhibition, the physical works of art, which will be created by Artmatr's team of creative engineers, programmers, and artists, will be displayed in association with NFT Collective, an organisation run by artists that brings together curators and thought leaders from both the NFT and traditional contemporary art spaces. By using Web3, the exhibition aims at narrowing the gap between the digital and physical art worlds by educating people and fostering creative expression.
The exhibition will be a ground-breaking show that examines the meeting point between digital and physical art, presented by Artmatr in collaboration with NFT Collective. Leading artists like Tyler Hobbs and Zancan are given the freedom to reinvent, merge, and transform their works across numerous digital and physical mediums thanks to Artmatr's cutting-edge robotics and painting technology. This partnership is opening up new avenues for the Web3 and physical environments to experience, curate, and collect art.
Two panels with some of the biggest names in the art world will also be part of the opening event for the exhibition, including Tyler Hobbs and IX Shells, generative artists, Seth Goldstein of Bright Moments, Sara Kay, Matt Miller of Metaversal, writer and curator Anika Meier, Sofia Garcia of ARTXCODE, Sebastien Sanchez of Christie's, and Alexi Worth, a painter.
The first panel will be moderated under the title "Beyond the Gallery: Web3 and the Evolution of Art Experience," followed by the second panel, titled "The Future of Art in the Digital/Physical Convergence."
There is a significant upheaval in the art market as a result of the blending of digital and physical art. However, this exhibition serves as a means to bridge this gap. Both are legitimate methods for producing art, yet each has its own difficulties. If it is art, all of it has the potential to be beautiful. After all, art is art, and we should appreciate it as the creator intended. Art has the power to unite so many different groups and it is such a lovely thing.
Ryan Roybal, CEO of NFT remarked, "Art and technology are merging once again in the Digital Art Renaissance. Working collectively, we empower creators with a new toolset to connect their audience on a deeper, more interpersonal level.  A creative idea can live in a multitude of mediums. With blockchain technology we are able to bridge that gap and create new conduits in the contemporary artworld that widens the reach and impact of a creator's narrative. This unique collaboration with Zancan bridges these worlds, and is the emergence of a new medium, ushering in the Digital Art Renaissance."