Tsuktiben Jamir
Hetain Patel stands out for his incorporative work, which combines sculpture, film, performance, and photography, which has earned him considerable recognition and praise. The British artist born in Bolton, England in 1980 is known for his frequent infusion of humour and creative experimentation to explore topics of identity, cultural heritage, and language.
However, we are excited for his solo exhibition in Chatterjee and Lal in Mumbai which will feature a series of his paintings and carpet works. Titled 'Cars and Carpets', this is his fifth exhibition and it is a fresh collection of art that explores people's need to experiment, take risks and push limits; a multimedia projection that blends extreme sports footage with historical film of Patel's own childhood memories will serve as the show's focal point.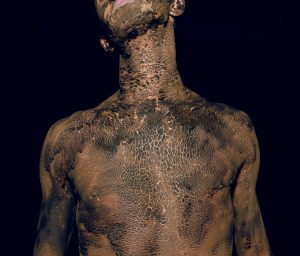 The paintings, which are part of the artist's ongoing effort to include the personal essence into his work, are inspired by significant recollections of his childhood growing up in the UK; Patel views the paintings and carpet designs as continual attempts to preserve something that is constantly dwindling. He has grown increasingly worried in recent years about the loss of first-generation immigrants in diaspora communities as they age and pass away. This is therefore his attempt to preserve the culture he witnessed while growing up.
In an era of digital proliferation, Patel uses a medium that still holds a significant amount of cultural value. His painted portraits of his family in various stages of life are physical artefacts that speak of a certain period in history, while their reflective surfaces naturally reflect the present.
In this exhibition, we see the seamless incorporation of his childhood into his paintings; the shiny black vehicle paint used to create the hearses by Patel's father at the company garage's workshop, as well as a pattern found on a carpet that belonged to his late grandmother Lakshmiben Patel, who was lovingly called as "Baa."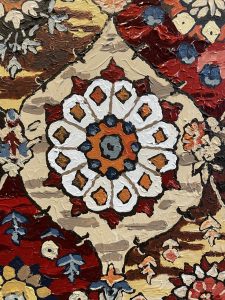 Apart from his reputation as an artist, Patel is also a TED fellow and has delivered a number of TED Talks. His artworks, which include a range of videos, photography and live works have been displayed internationally, notably at the Royal Opera House, London; Frieze Art Fair, London; Tate Britain, London; Bodhi Art, New York and the Sydney Festival, Australia. His work has been appreciated for the tender handling of such issues as personal identity as well as cultural concerns; he has the capacity to unite many cultures and viewpoints.
Growing up in a Gujarati family in London that strictly adhered to tradition, the superheroes and fantasy worlds he encountered in stories influenced his imagination and goals, and his imitations of these characters served as a means of gaining acceptance among his own peers. His digital drawings, sculptures, movies, live performances, and pictures all draw inspiration from this early propensity to imitate and follow the framework of popular culture.
This will be the first ever exhibition of his paintings in India; so, if you are a fan of contemporary art that delves into the concepts of authentic search for identity, culture, and human experience make sure you don't miss out on this opportunity.
PREVIEW:
Art Night Thursday. 9th March 2023. 7PM- 9PM
ON VIEW:
10th March-22nd April 2023
Tuesday-Thursday. 11AM- 7PM