In an interview with Manjeera for Abir Pothi, Garima Agrawal, and Jai Thakur, two independent photographers, talk about their collaborative project Astitva Photo which aims to bridge the gap between the novices and the experts in the photography industry. Jai and Garima saw that there is a noticeable lack of structure in the industry, making it extremely difficult for amateur photographers and photo artists to find a direction to work in and define their own style. Their solution to this is Astitva Photo, where they create a platform for budding photographers to engage with seasoned masters.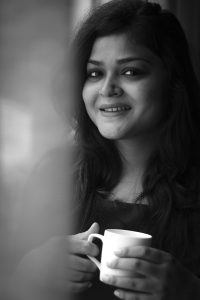 Garima Agarwal is an independent photographer based in Delhi. After completing her post-graduation from NIFT and working in the fashion industry for a year, she delved into photography full-time. She has worked for a variety of clients, including private firms, NGOs, advertising agencies, and the wire service Agence France-Presse, covering CSR initiatives and significant school events such as midday meals, education, wash and sanitation, and women enterprising and farmer entrepreneurship on a pan-India scale, contributing to books and brochures. She is also working on a few personal documentary projects about education, family, and relationships. The majority of her work focuses on children, education, and related stories. She has also managed art festivals and exhibitions, as well as co-curated three editions of City Experience Festivals. Her work has appeared on AFP News, 101 India, Tasveer, Sahapedia, Man's World Magazine, Inspiro India, and eShe Magazine, among others.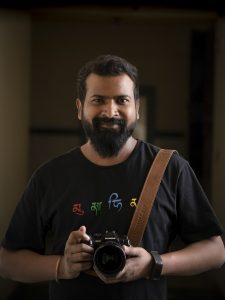 Jai Thakur is an Independent Photographer from India. His practice investigates the conflicts that exist within society and within himself, as well as the connection between the two. For his efforts in raising awareness about river conservation, he was awarded 'Water Hero' by the Govt. of India and appeared in the MX Player web series "Express Yourself". He received a grant from Sahapedia for his work on the Potters Community of Delhi. He has been assigned as an Olympus Mirrorless Cameras Mentor since 2020. Jai has been on the jury panel of several national and international photographic competitions, including the New York, London, Muse, and European Photography Awards. He works as a Research Analyst during the day, and in his spare time, he practices photography. He has been a member of Diversify Photo since 2022.
​
Manjeera: I was going through both of your profiles and I noticed that you didn't intend to start pursuing photography initially. I'd like to hear the details of your creative journey. How did you end up here? How did you two end up becoming independent photographers?
Jai: I never imagined myself pursuing photography as a career. However, I have been involved in creative pursuits such as theatre throughout my years of school and college. I was drawn to any form of art, whether it was sketching, drawing, poetry, or participating in various theatre festivals.
I began my career as a copywriter in an advertising agency, where I worked with the studio department and learned how to make prints and how a studio works. As a result, I became quite attached to that segment of an agency. I used to print the layouts myself. I gained that kind of knowledge, but a turnaround came in 2012 when I got the opportunity to work as a junior artist in the Bollywood film Bhaag Milkha Bhaag. Throughout the process, I understood the potential of the camera. I was in Haryana for two days when I realised I wanted to learn how to use a camera. When I asked my director about it, he suggested starting from the beginning. Following that, I began looking for photography clubs or workshops. Because I was already engaged with a full-time job, finding the time was difficult. Weekends were the only time available. So I attended a workshop and began practising on my own. So that's how I got into photography.
Initially, I would travel and photograph whatever I liked, which included everything. My thought process was completely transformed by photography. With time, I began documenting the subjects that I felt were important for me to bring forth through my projects. And right now, I'm working on projects or stories that I genuinely care about.
So photography was never a choice for me. It just happened, and if I'm not doing photography tomorrow, I'll be writing poems or maybe doing theatre. I'll be doing something else with my art. Photography is a part of me; it's a platform for me to express myself.
Garima:Yes. So this was a deliberate choice on my part. After finishing my education, I made a very conscious decision. As you can see, the trajectory of my education is completely different from what I am currently doing. After graduating in engineering, I pursued a Master's degree in fashion management. And the reason there's even a distinction between graduation and post-graduation is that I have always wanted to work in the creative field. So when I was in engineering, I knew it wasn't for me. I mistakenly entered the incorrect field, because of a lack of knowledge of other fields I would say, but I couldn't return because I was already in the middle of the course. In search of a creative outlet, I made a minor shift to fashion which made me happy.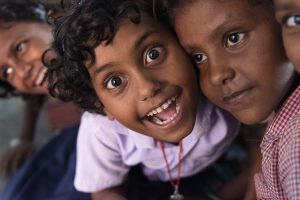 After completing my course, I returned to Delhi and worked in the fashion industry for a year. I interned with Grazia Magazine as an assistant to the stylist for six months and then worked for a fashion marketing firm for another six months. So I went through this transformation in the last six months. I spent two days travelling with a photography group to a location. And photography was something that was always on my mind when I was in college. I enjoyed taking photographs and the photographic process. So going on that trip transformed my mind. I was convinced that this is the career path for me.
So I have been practising photography ever since. To support my photography, I have worked on a variety of projects. I have dabbled in other fields, such as managing art festivals and exhibitions. Other assignments like these allow me to broaden my knowledge of the art world beyond photography.
Manjeera: What are the key aspects that you look for when you are considering a potential project? Is there something that draws you to certain projects? Or do you have a pre-planned idea of what you want to do?
Jai: If I classify my process of working, there are three categories. The first is what I see, the second is what I believe I should show, and the third is what I feel.
When it comes to what I believe needs to be shown, that's a planned one. My first long-term project, on Yamuna, requires planning and research and is intended to depict the state of the rivers. So that is a conscious story.
However, when I travel or work, I continue to take photographs of what I see and like. So, while it may appear to come out of nowhere at first, I eventually return to them after a year or six months. Sometimes it happens that I realise it's beginning to form a story or has a rhythm to it. It is the union of ideas and images.
My social documentary projects are meticulously planned. The other two categories, on the other hand, are unplanned. I'm sure Garima's process is different, but this is how I work.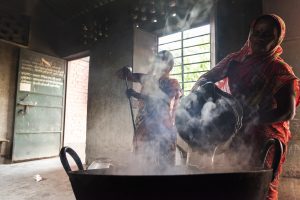 Manjeera: So it seems the other two kinds of series are more spontaneous. What about your process Garima?
Garima:The process of figuring out what I wanted to do or which projects I wanted to work on did not come easily to me. Travel photography was where I began my photography journey. Then I moved on to commercial work, such as weddings and product photography. I even assisted Jai at several weddings. As a photographer, however, I couldn't connect with doing wedding photography. So I chose to help Jai for nearly three to four years because weddings are commercial work that pays.
So it took me about six years to figure out what kind of work I wanted to do in photography. So, fortunately, I gave myself a lot of time in 2020, during the Covid lockdown. When I looked back at my work, I realised what I really wanted to do. That period of time helped to streamline both my mind and my work. Instead of working on anything at all, I began to focus on long-term projects.
Another good thing that happened during that time was that I met my mentor, Mr Amit Mehra. I am grateful that he guided me in streamlining my thoughts with what I wanted to do. Two things changed from then on. One difference now is that I don't stop photographing; if I don't have my camera, I shoot with my phone. I photograph anything that appeals to me or that I believe should be photographed. The second is the pre-planned project that Jai discussed. I am currently working on a project related to children and education.
It is also possible that you are not planning a project and are simply taking photographs, but it eventually grows into a larger project. So the important thing is to take photographs, and when you are shooting randomly and not thinking about creating a project, you have the most creative freedom. Don't confine yourself to a box. Obviously, social documentary projects require planning and research. There is a particular approach and it varies from project to project.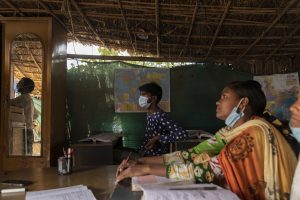 Manjeera: As you mentioned that you are working on education, I could see that you have very strong beliefs about the importance of education and mental health. And these are topics that are not often discussed in India but they're very important topics. So can you tell me more about this project?
Garima: The value of education was instilled in me by my parents. I am a single child from a middle-class family. This is important to me, so I'm quoting it. In our country, marriage takes precedence over everything else for girls. Families save all of the money that is supposed to go to the girl for her wedding. My parents, on the other hand, have always prioritised education over other things, especially marriage. They saved it for my education rather than my marriage and inculcated in me the idea that study as much as you want, pursue higher education, and we will support you.
My father always said that as a girl, you must study in order to be independent and strong enough to make your own decisions. That's what my father taught me as a child: education allows you to shape your own life rather than simply following what others do. These ideals were always present in my life.
So, in 2020, I began working on this project on education. This is where my thought process intersected with what I learned from Amit sir and my own beliefs. I've always believed that I should be working on something meaningful to me, something with personal value and significance to me. I never do something just because it's popular. I do things, I work on projects that interest me, projects that have meaning for me. And education is something I can directly relate to. When I see a lot of talented kids, far more talented than I was, I connect with them. I simply want to tell their stories through this project.
Manjeera: Your series 'Fighting Souls' depicts women who have survived acid attacks. What drew you to this? Can you tell me a little bit more about the woman that you've portrayed in the series?
Jai: Sure. It was never intended to be a project with the goal of documenting these survivors. However, this was back in 2015, when, as Garima stated, education played a significant role in her life. She had that kind of awareness, that sensitivity to understand people who fight back in their lives. Garima is deeply moved by their stories. So we talked about it, and she told me she wants to meet them.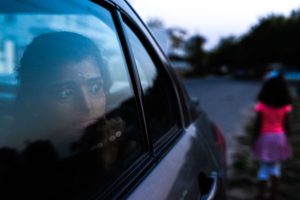 Manjeera: So the inspiration came from Garima for this.
Jai: Not exactly the inspiration, but the original thought process and connection came from her. It was simple for me. I simply enjoy travelling. Garima was the one who asked if I wanted to accompany her to Agra to meet these people. And I agreed. At first, it was just a plan to travel and meet these wonderful people. We were moved by their stories and became emotional.
So I had no idea that one day I would be documenting the survivors. I didn't plan this, and it wasn't a mature or informed decision at the time. I took portraits of all the survivors and we had a good time. But we eventually became friends, and I began working with Ritu Saini, with whom I have now been working for the past four years.
I began documenting Ritu as a friend and how I perceived her as a human being. I sense that connection. I was in constant contact with her for three and a half years, from 2015 to late 2018. In fact, we were both constantly in contact with Ritu. We became good friends with her along with Mr Ashish Shukla, co-founder and Mr Alok Dixit, founder of Chaanv Foundation.
We have both been continuously supporting them in our personal capacities and with the resources available in terms of promoting their campaigns and organising workshops with them. When I first started documenting Ritu, I wanted to show more than just what she was going through or doing. I wanted to document my impressions of Ritu as a person.
She's mischievous and childlike, but she won't show it to everyone. But it's reflected in what I've observed and how I feel about her. So, if you look at all of my images, you'll notice that they all have a cinematic feel to them because she's very dramatic, and drama relates to the theatre, and theatre relates to the cinema, so all of my images revolve around that kind of colour palette. So it's a very initial phase of my project where I'm only documenting her different sides.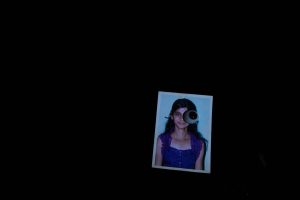 Manjeera: So this is still an ongoing project.
Jai: Yes, all my projects are ongoing apart from my commissioned work. There's been a significant change in my approach towards photography and life as a whole after I met and started receiving guidance from my mentor Mr Amit Mehra. I have started documenting these projects with a new approach, let's see how far I can go.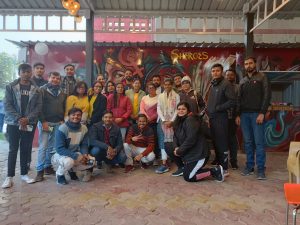 Manjeera: When I was going through your work, I noticed that you tend to show these close-up shots of smiling faces of women and children. Can you explain why it is so important for you to show this optimistic side?
Garima: There are two aspects to this. First and foremost, when working on a commissioned project, you must adhere to the client's specifications. Second, I believe there are some faces that make you smile. So, as a photographer, I believe it is my responsibility to show what needs to be shown. There is a great deal of grief in the world. I'm not saying I always look for the bright side. Wherever possible, I try to focus on the positive. As a photographer, if there is something worthwhile that I can convey through my photographs, I should do so. So that's one aspect of my job. That is not the entire work.
Second, the photographs of these women and children on the website are part of commissioned work. So, it is my responsibility to show the difference that the NGO or these social welfare organisations have made in the lives of these children and women. That smile is essentially the result of the transformation they have experienced in their lives.
It's also not easy to get that smile, especially with children; it's very difficult for a child to open up to you. We, as adults, have the ability to open up and communicate. A child, especially a younger one, will not. As a result, you must be patient and give that time. I have spent a lot of time around children, and I think that's one area where I would like to work. So, even when I'm looking for commissioned work, I look for work that has something to do with children and resonates with me. That is the type of work I want to do.
Manjeera: Do you have any personal projects focusing on kids?
Garmia: Yes. I am currently working on a project about children and education. It's about a makeshift school built on the banks of Yamuna for children from low-income families. The gentleman who founded this school is the son of a farmer and has always lived in that area. Currently he's teaching 150 to 200 students at this school. And the beauty is that, even during Covid, when all schools were closed, this school was not only open continuously, but he was also supporting the children in various other ways.
The idea behind his school is that he wants to provide those children with the opportunity to receive an education that he did not receive easily. I could actually connect with his thinking and the platform he has provided for these kids because I was given the same.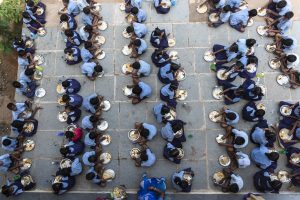 In our country, education is a privilege. It's not something that comes easily to every child and I was privileged enough to get educated. I want to put my education to good use and when it comes to photography, the only thing I can do is document reality. Nothing can be changed. But, through my lens, I can show the world these aspects of our society that need to be seen.
Manjeera: That's a very inspirational motive to have. Coming back to you Jai. Your collection Yamuna differs from your other projects in composition and style. Your other collections portray moments of isolation, while Yamuna is full of crowded shots and scenes of disarray. Please tell us about your creative process and how you choose to highlight the theme of water pollution.
Jai: You are the first to ask this question. So when I first started, my work was more objective. This was my first project, and it was before both were receiving guidance. I began this project in 2017. There are two major differences between it and my other projects. The first is the compositions we are discussing, and the crowdedness of the scenes, which I was still exploring at the time. The second thing is that this series is a social documentary.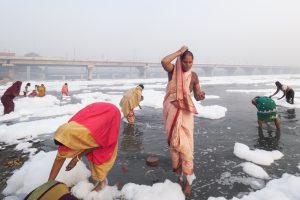 The main reason for the crowded frame is because of what I am capturing—the type of activities taking place on the banks of the Yamuna, which are considered sacred, are always crowded affairs. There were numerous rituals, festivals, and other events going on. There are issues, but we must remember that India is a very chaotic place. Perhaps I subconsciously wanted to highlight Yamuna based on what I had learned from various photo books or by studying the works of senior photographers. I eventually realised that I was doing the wrong thing. However, if you look at my recent work, you will notice that it is very different from what I used to shoot earlier. So, in comparison to other works, Yamuna is very close to me, and I want to continue working on it. It is not a funded project. It is a very personal project. As a result, this project now has new connotations and variations.
It will eventually form its own shape. I'm still exploring new avenues and experimenting with different shooting styles. Let's see how things turn out. And the only reason it feels so different is that I started this project so early, and thus it is visually distinct from my other subjects.
Manjeera: I wanted to ask some questions about the ongoing collaborative project, Astitva. Could you tell us a little bit more about this project and how it came to be?
Garima: During the second Covid lockdown in 2021, Jai and I, like everyone else, were confined to our house. Moreover, a lot of negative things were going on around us at the time. So I was having a conversation with Jai one day. And we realised that as we advanced in our careers, there was one thing we were always looking for: guidance and the right direction. However, it is difficult because the photography industry in India lacks a proper structure. There is no structured method in which you can follow specific guidelines or directions. As a result, each photographer must chart his or her own course.
Second, there is always apprehension and a sense of intimidation when approaching seniors, especially when you are a beginner. Due to multiple commitments, it is also difficult for seniors in the photography industry to give time easily. Furthermore, I would like to emphasise that a person may not even know how to approach a senior. There is always a way to approach someone, whether it's an editor, a photographer, or anyone in the industry. But it's difficult to figure out and carve your own path in the industry.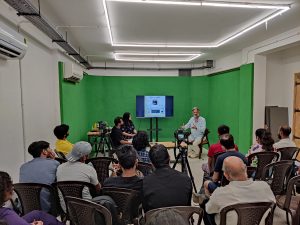 That is why it takes so long for new photographers to figure out what direction they want to take and how they want to develop their photography. And, because the industry is so unstructured, a lot of time is wasted figuring out which direction to take one's work in. If you have some guidance ahead of time, you can save some time. Although finding your voice and unique direction is a journey that every photographer must take at some point, having support and a guidance system can make that journey easier. So we were having this conversation, and the idea sprouted. This was also the time when we did some online sessions with a few of the photographers using an audio chat app. We invited some photographers and conducted an online session with them. Everyone was free to talk about their photography and styles. Even though the sessions were only supposed to last an hour, the discussions frequently lasted 3-4 hours. This was due to the fact that people had more free time back then. Second, they would be interested in the discussion because it was an all-inclusive topic.
During our discussion, we also noticed something. When we opened up the pitch for questions, the questions would never end. Seeing this triggered something in us. We decided to try to fill this existing gap. This initiative, Astitva Photo, grew out of that idea. It's quite new. In May of last year, we launched our website. It hasn't even been a year. We are currently engaged in a number of activities. In my opinion we are attempting to build a community. We are bridging the gap between those who are learning or want to learn photography and those who are experts. We want to bridge the gap that we suffered when we first started out. We want to make the process more approachable.
Jai: Exactly. We want to make it more accessible for everyone. And hence we have bifurcated our activities. One of the sections is called "Behind the Firewall". So, what exactly is a firewall? As I previously stated, I used to shoot whatever I saw without thinking. So we want to reduce that initial confusion by reaching out to emerging artists or students and helping them in speaking with senior photographers or industry experts through in-person artist talks and conversations. We started off this segment with renowned Photographer, Visual artist and Mentor Mr Samar S Jodha.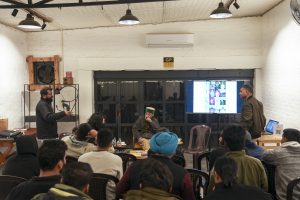 Second, the "Behind the Book" section began as an idea by one of our friends and collaborators, Parthiv Goel, who is a photographer himself, as well as owns and manages, GP Pro Camera Store, – a multi-brand outlet for photography equipment. He's been a constant source of support for us since the beginning. He also helps us by providing the workshop space. He came up with the idea of doing something with the books because he has a massive collection of photo books at his GP Pro studio. So we sat down and worked together to create "Behind the Book." We are delighted to host the first session with Mr Sanjeev Saith, a well-known editor and publisher, and Vicky Roy, a documentary photographer.
We discovered that, while there is always an opportunity to learn, it is also very easy to express your ideas when talking with your peers. However, the approach is once again difficult. So we track it down in order to create an environment in which to engage in a discussion with peers.
We have peer-to-peer interviews. So there are six photographers who are excelling in their respective fields. So we reached out to them, and they were gracious enough to share their thoughts and insights. We began doing travel workshops in order to sustain all of these activities. These are travel workshops in which we will attempt to instil the essence of photography. Having said that, our main goal is to take people and provide them with wholesome experiences of the places and cultures. It's a fascinating thing. We went on a photo trip to Mandava. This has all been made possible thanks to our friends and partners like Ravinder Ji from Creative Newtech, Alok Ji from Chhanv, Parthiv from GP Pro, and our mentor Mr Amit Mehra, as well as a few other friends in the photography fraternity whose support has been invaluable.
Garima: With regard to the travel workshop, I would like to add one thing. We were inspired to do these trips because we both love to travel and have been travelling together for nine years now. In fact, Jai and I met on my very first photo tour and became friends.
Manjeera: So you met nine years ago?
Garima: Yes, 2014. And it was around this time, in February or March, that I took my first photography trip. We both enjoy travelling and have done so extensively through our work and otherwise. So we want to share the experiences we've gained from our travels with others. For those trips, we plan everything. So we basically built it around the idea that you pay once and we take care of the rest. We'll give you the experience of travelling to one location rather than just going there, touching it, and returning. So that's what we do. That is our goal.
Manjeera: What is the future of Astitva and how do you plan to uplift and motivate non-traditional photographers and amateur photographers.
Jai: Astitva's primary meaning is existence. A lot of people have tried to become photographers and practice photography. However, half of them lose motivation. We faced a lot of challenges ourselves, we still do, but we never gave up, especially after the post-Covid era. So, for the time being, we are quite new. We believe that we can all share, learn, and grow together. So we're not in a hurry. We seek advice and accept suggestions from other photographers about what they want and need. We've been doing research and surveys to figure out what we can do for aspiring photographers. As a result, we can shape ourselves and design programmes to meet those needs.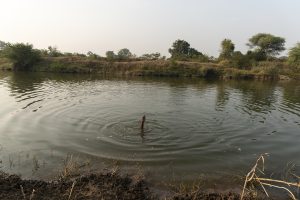 Manjeera: Do you have any future programs in mind as of now that you want to work on?
Garima: As Jai mentioned, we are still planning. We also want to encourage more female photographers to come forward and connect with us. Like, through these travel workshops, we want more women to come forward to travel with us. They can feel safe, to be very honest, that's a big concern. Also, they don't have to take care of anything, especially when we are there to give them that platform. They can just come and freely travel with us. We are making a conscious effort towards that end.
Jai: Finally, if you see a holistic view, it may become a means of gaining information in terms of photography in various genres, such as documentary or journalism. People can use the names of the artists to contact them. Because sometimes, if I want to do a specific type of work, I may end up going to the wrong person. So they have a clear idea and are better informed about how to present portfolios to the appropriate person. We want to build a highly informed information network where people can decide whom they want to approach.
Garima: Because that's what we missed. We had no idea whom to ask or where to go to find what we were looking for. We aim to build that kind of resource.
Jai: Also, we first try to make the list of photographers, category-wise or genre wise and so on. That's a long project. It'll take time.
Garima: Anything takes years to build. We want to give it time. We are not in a hurry.
Jai: People have been very nice and helpful to us. We were initially hesitant to contact senior photographers. The only thing we realized, and I'd like to take their side, is that if I'm an amateur and I go to them with my portfolio and I'm not in the right position or haven't done that kind of work, I'm wasting their time. If they are giving you time, you must have concrete work or an approach. At the very least, not good, but you know, some muscle in your work. And this is where peer-to-peer came into play.
Manjeera: According to me, often talking to your peers can be very enlightening. You can learn a lot about your work through that. Whereas a master photographer might not be able to give you that much time or attention, but interacting with your peers critically will give you a certain insight. So it's a very great initiative. Is there a specific name for it?
Garima: We keep it simple and the section is called as peer-to-peer learning.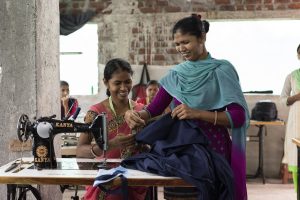 Manjeera: Sometimes it can be hard for young artists to pursue their passions. Since there are a lot of aspiring young artists and photographers following Abirpothi, I wanted to ask if you had any inspirational words for them. Anything you want to tell them or may be guide them.
Jai: People often say never give up, and we get the impression that this is the advice that everyone gives. However, when it comes to practical advice, this is extremely helpful. This is very clear in my case. I had nothing when I left my home at the age of 16. But, after 19 years, I can say with confidence that I never gave up. As a result, I am the person I am today. So I am happy with what I have accomplished so far, and I get a good night's sleep at the very least. My family and friends are also very encouraging.
Second, from my perspective, I can only advise you to be a student of life. Accept yourself and your uniqueness. Never compare yourself or your work to others' and be content with what you have. That mindset will eventually show up in your work. So, be patient. These are the two most important lessons I took away from my own experiences.
Garima: I've also learned a few things from my experiences. One thing is that we always say "follow your passion," but no one tells you that there has to be some planning and directed activity and thought process involved in following your passion. You cannot pursue your passion blindly. There must be a realistic approach to it.
Jai: I wanted to add something to what Garima said. Maintain your finances. I've been working in other fields and that supports my photography.
Garima: Something similar happened to me. I was on the opposite side of Jai. Too suppoert myself, I did not pursue a full-time job in order to sustain myself. Instead of a full-time job, I would take on projects that would fund my photography. Because photography is something that is, especially if you are in the space of documenting, it's not going to give you money to run your house. And that gives you a tremendous amount of mental pressure. So, I would like to stress, follow your passion, but have a practical approach to it.
Nobody tells you that. And we want to tell people that through our initiative as well. That if you want to commit to photography, it's excellent, but you have to have something concrete with you. You just can't just go out of the home and shoot and come back. Nobody's going to find your pictures. No, it doesn't work like that.
I would like to say that secondly, find people around you who do not just appreciate you for what you're doing. Find people who also give you good feedback. And learn to take criticism positively. It doesn't always work out for the best. I have met people, a lot of people who have downgraded me for no reason. But you can't get disheartened by that. You have to come out of it and meet others who'll give you feedback. People who will criticise you and give you positive constructive criticism. So for example, my mentor always criticises me and Jai as well. Since we have the same mentor, we connect in that way as well. And you have to learn to take criticism in a good way. You can't keep expecting praise all the time. You won't develop as a photo artist that way. I am constantly questioning myself, and my processes and finding ways to improve my work. Learn from your criticism, and always have something concrete to support the work that you want to do.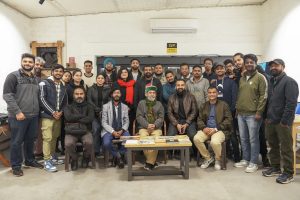 Manjeera: So the last question that I want to ask you is about the creative process of collaborating with each other. How does that work? As you mentioned, sometimes you guys sit for edits together. You discuss projects together, you go to places together. So how does that work for you? Collaboration is a difficult process, sometimes you can butt heads, and sometimes you don't agree. So how have you found the balance and harmony to work with each other?
Jai: To be completely honest, it's not a question of collaboration. To use an analogy, the collaborative process is similar to looking in the mirror. If a collaborator is the personification of the person on the other side of the mirror, they will seek trust. Trust is the foundation of any collaboration. The more you trust your collaborator, the easier the process becomes. We do have disagreements and heated discussions from time to time. However, those debates and discussions are always beneficial to the Astitva photo as a whole. I trust Garima's beliefs and decisions as much as she does. It's a good habit to sit down and talk about things while keeping everything open and transparent.
Garima: I agree with Jai, especially regarding trust. You must have trust and respect for anyone you work with or approach for feedback. First and foremost, there must be a conscious decision to reach out to or collaborate with that person. Second, you must have faith in the individual. If you have agreed to work with someone, you must trust the process, give the other person space, and listen to what they are trying to convey. Collaboration is not a one-sided endeavour.
Jai and I have travelled and worked together for many years. We've worked on a variety of projects. And, while our documentary projects are separate, we do help each other when we get stuck. I respect his viewpoints. But here's the catch: we never force our opinions on each other. The point is that if I make a suggestion to him, he listens to it, then makes his own, and we find common ground. That is extremely important. It would be impossible to collaborate if we were constantly fighting instead of finding common ground.
We recognise that if another person is discussing something or making a point, there is a reason for it, and we must pay attention to it. Jai has his own set of experiences. I have my own experiences, and we each handle our own departments. We don't interfere with each other's work. We obviously have disagreements because we are separate individuals. But we must maintain that respect and trust; we must recognise that if the other person says something, there is a reason for it. We welcome constructive criticism.
Website: https://www.astitva.space/
Instagram: https://www.instagram.com/astitvaphoto/
The images shared are from photographers' commissioned and personal works. Photographs may not be reproduced in any way without prior permission.