Vandana Shukla
Since the time man began to express himself by painting the walls of a cave, humour was used to express what could not be said otherwise; ridicule is used to critique the times.
Humour was made pivotal to Indian art by the post-modernists; it was not an invention of the post-modernists though.
What does humour contribute to a work of art? One may ask, how does humour in art differ when compared to the slapstick comedy in Bollywood films or the humour of stand-up comedians? What happens when art takes on comedy, parody, and satire; not necessarily for laughter but to a point of ponder; to something 'beyond language': as Duchamp would suggest. Perhaps, an intersection of all these divergent forms creates humour in Art to salvage the unsaid. To enliven the dead. To tickle the thinking.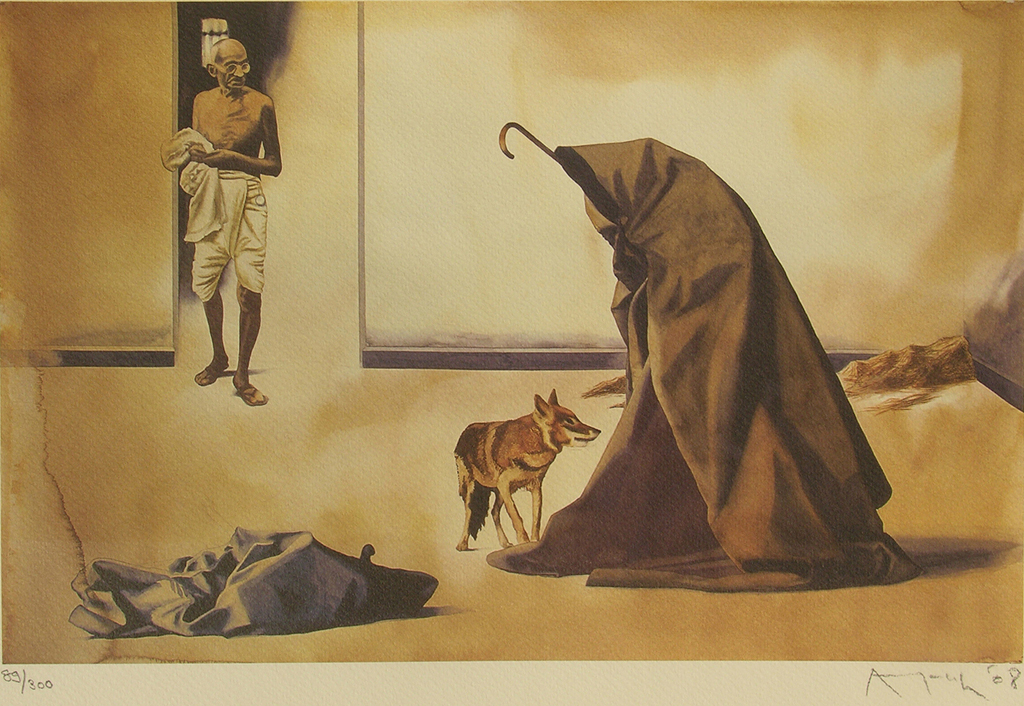 Artists periodically used humour, but Atul Dodiya started to bring humour blatantly to solo exhibitions. He dared to go beyond the obvious 'fun'; his series on Bollywood and Gandhi, layered with history, geography, politics, media, cinema, art, billboards, tribute and nostalgia blends kitsch with wit and humour. One of his iconic works titled 'Portrait of a Dealer' features iconic villains from Bollywood; Pran to Prem Chopra, Madan Puri, Jeevan, Kanhaiya Lal, Gulshan Grover and others.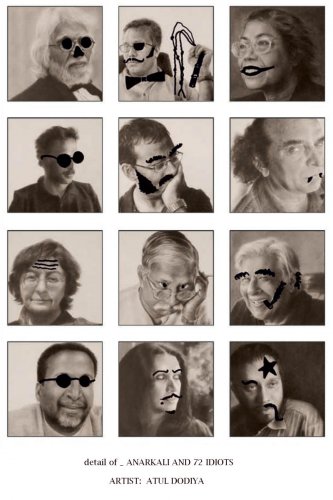 Inspired by Duchamp's Mona Lisa's reproduction that the artist had painted with a moustache; raising questions about formal beauty and how we see the history of art; Dodiya launched a prank on a catalogue of artist's portraits he had painted—by affixing Hitler cut moustache, dark glasses, horns, bindis, goatees or sideburns. He did not spare senior artists like Krishen Khanna, Akbar Padamsee, Hussain, Jehangir Sabavala and Raza. The set of images titled Anarkali and 72 Idiots became a part of the show Sub Plots: Laughing in the Vernacular, at NGMA, Mumbai, in which 24 artists engaged at different levels — questioning or disrupting the status quo; injecting absurdities; highlighting tensions, and sometimes ridiculing the times we are living in.
As fresh subtexts entered the art space- around globalised cultures, women's rights, urban, upwardly mobile prototypes, highlighting oddities of our times, it was also expanding the scope of humour in art. Manjunath Kamath uses the interiors of middle-class houses to unveil the unconscious where universes coexist in uncanny juxtapositions; Superman, Banksy's pink elephant, as well as sadhus and mythical characters, coexist in this surreal space. His brightly coloured digital collages create imaginary landscapes where diverse cultural influences and realities collide to capture the dreams of middle-class households.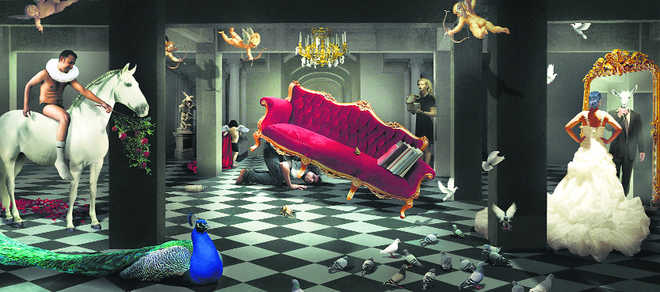 Nilofer Suleman, a Bangalore-based artist's narratives weave together fantastical sights and sounds of roadside Romeos, popular culture and the intimacy of chai stalls in her brightly coloured kitsch. Cherubs share space with the most revered of the Hindu pantheon in a La Paris Sita Ram Studio. Goddess of wealth, Laxmi, stands nonplussed emerging out of a damp wall, as though looking for an abode of better comfort. A woman buying fish has tigers eyeing the fish from her choli print. Here, Fresh Fish is sold since 1976. You cannot miss the cell phone tucked in the blouse of a buxom beauty.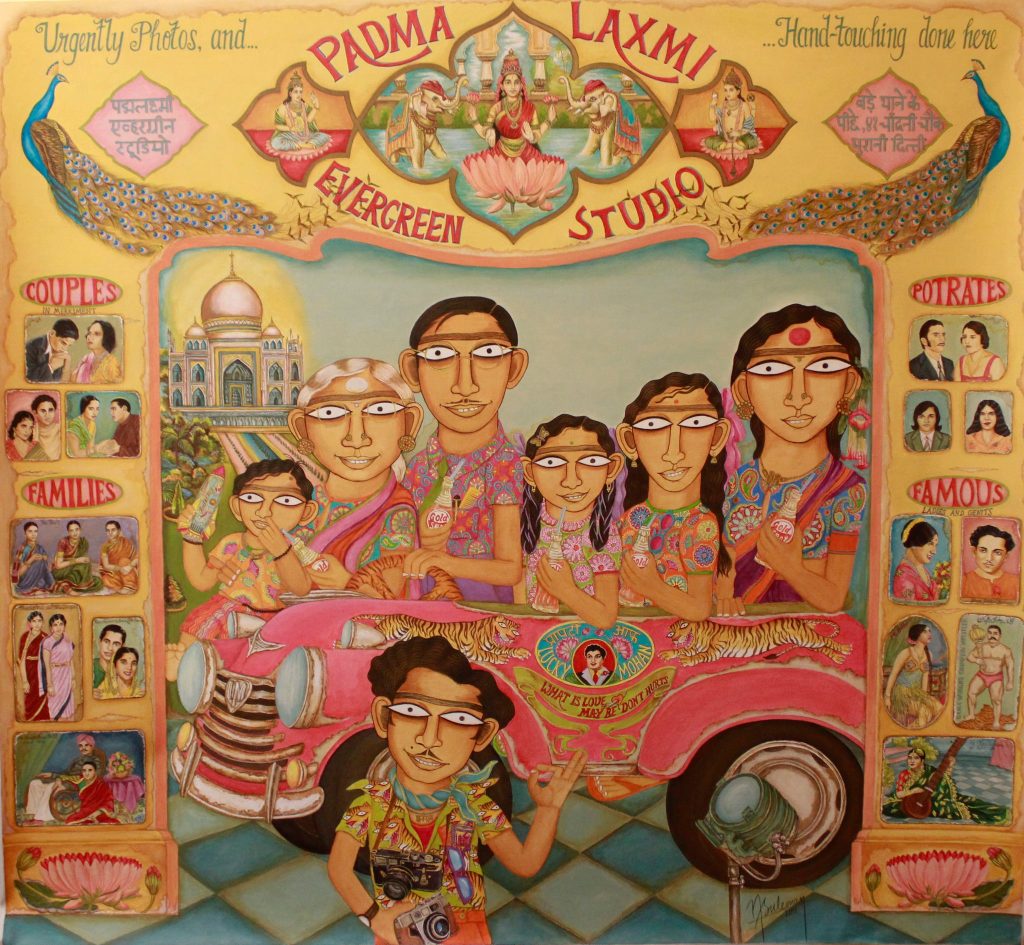 Suleman paints India at its awkward best. What looks funny at first look with silly characters and subjects, trivial perhaps, but just around the corner of your half-smile, you realize, how she hits with her vivid details of a world which memory refuses to forget but the mind does not bother to remember. These are pictures of gawky characters in loud, gaudy clothing- taking the viewer back to the mofussil life of melas, mohallas and qasbas. Her paintings, with their innate humour, bump into your own nostalgia in a very narrow alley of the lives gone by.
She captures the functionality of life in its mesmerising, witty, funny colourful shades; the left-over of a wannabe world flashing by. Her works tickle, amuse and amaze.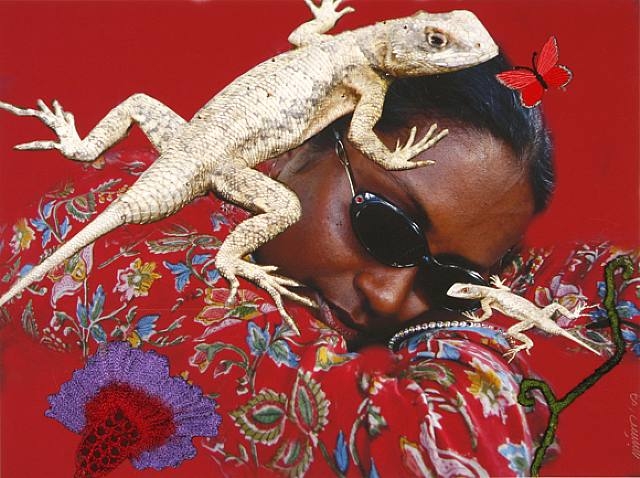 While Mithu Sen's dark humour presents itself in subversive collages and pokes fun at the morality of a repressed society; expressed in her series of works exploring the crises and anxieties of the sexuality of the Indian male, like in Black Candy, Nitasha Jaini, a Gurgaon based artist, mocks the prototype urban male, for his lack of originality and imagination. Like an industrial product, falling out of the conveyor belt; the office-going man in slick clothing, expensive bags, shades and imported shoes; the entire 'personality' of pretence, greed, power and dominance becomes laughable for its pretentiousness. He represents the life between "red traffic lights", one of the titles of her works.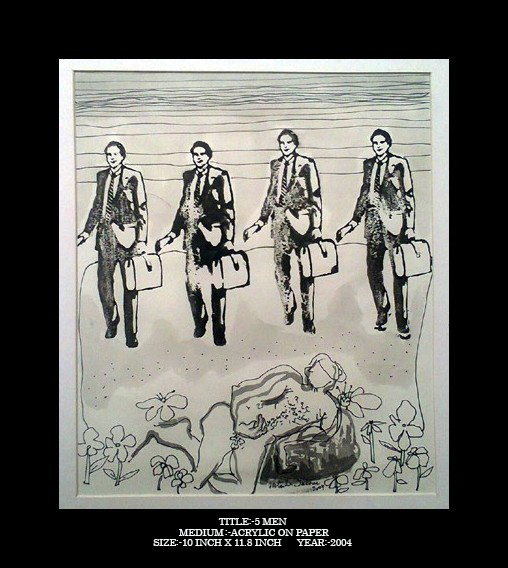 Through her prototype male, she unfolds a persona that defies the façade of the macho — the subjugated man of social norms and imposed ambitions is, in fact, a compromised figure. Nitasha not only paints the man, but she also re-creates his predictable world, at times dream-like with tall buildings rising in the background, cars moving all around, or, hanging from a tree, like a man's desired fruits. She explores the hidden, stubborn child behind this prototype; the victim of an image. The efforts of this prototype to stay put into this image amuse and sadden; in a Chaplinesque manner.
Guerrilla Girls, a group of anonymous feminists who fight sexism within the art world, found, while over 90 per cent artworks shown at MOMA celebrate female form (sans her other attributes) only two per cent of female artists are given the space to showcase their works in the prestigious museum. Nitasha paints only men, as a subversive act.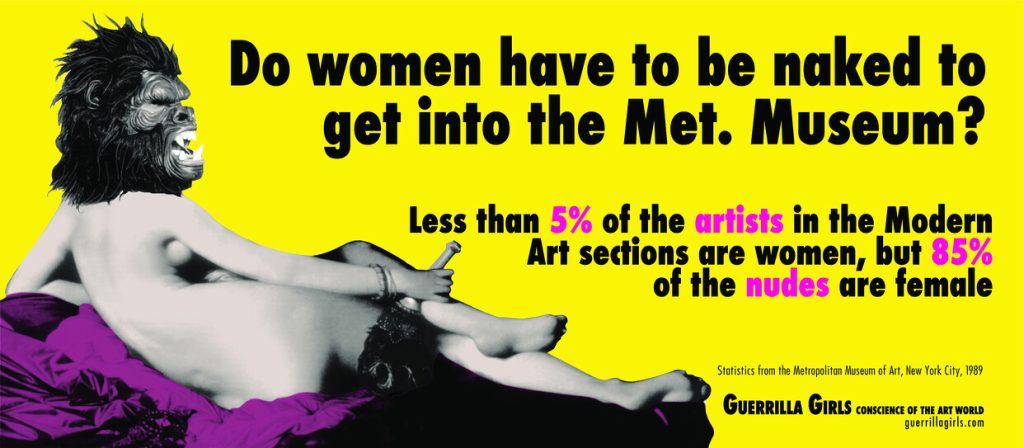 Tarun Jung Rawat lets his verbal skills tickle and dances around the visual space. With such chuckling titles to his works as, 'Dancing Kree-Kree Flying Time', 'Tales, Tails and Tricky T Trails', 'Prey Seeker Deceiver', 'No Never Don't Yes Can and Will' and 'Don't Bleed the Freaks', you know the artist has not forayed into visual space from lexical handicap. His quirky creative space is a continual extension of mediums and ideas. His own struggles to strike a chord with the viewers of diverse classes create an amusing landscape of kinetic ideas.