A SUMMARY OF THE MOST EXCITING ART NEWS FROM AROUND THE GLOBE
While we focus on Indian art, we can't obviously function in a vacuum. It's a small world and everything is connected, especially on the web. So, let's train our spotlight across the world map to see what's going on — from art trends to socio-political issues to everything that affects the great aesthetic global consciousness. Or, let's just travel the world and have some fun!
Man admits to making fake Basquiats seized from Orlando Museum of Art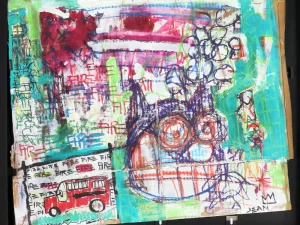 A former auctioneer has pled guilty to helping create and sell dozens of fake Basquiat paintings that were seized by the FBI last year from the Orlando Museum of Art, the Department of Justice said Tuesday. Michael Barzman, 45, from Hollywood, California, has been charged with making false statements to authorities about the provenance of the works, which ignited a headline-grabbing scandal when they were confiscated from the OMA in view of curious museumgoers. The works were on display in the show "Heroes & Monsters: Jean-Michel Basquiat" that opened in February 2022. The court filings detail how Barzman and a second man—identified only as "J.F."—painted the fake Basquiats in 2012. Details on Smithsonian Magazine.
Former art institute of Chicago employee pleads guilty to $2M embezzlement scheme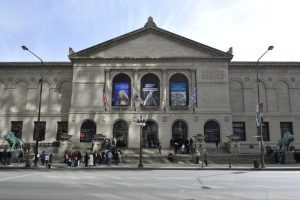 A former payroll manager at the Art Institute of Chicago plead guilty in federal court this week after he was indicted in January on several fraud charges for stealing more than $2 million from the museum over 13 years. The written plea agreement states that Michael Maurello redirected payments from the museum's payroll system into his personal bank account at JP Morgan Chase between 2007 and 2020. "The Art Institute thanks law enforcement for their handling of the case, and we look forward to the resolution of this matter,". Read more on UPI.
Premier Color Field Painting by Gerhard Richter goes to auction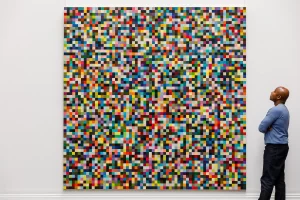 Gerhard Richter's iconic painting 4096 Farben is set to be auctioned at Sotheby's Contemporary Evening Auction in New York on May 18, with an estimated value of $18-25 million. That work was the culmination of his colour field paintings, which were famously inspired by a trip to the hardware store in the mid-1960s. LIke many, he was beguiled by the paint samples there, seeing them as perfect readymades for painting. In 1966, he gestured toward these paint samples in his first color field work, little blocks of color separated by a thin, white grid —just as in those samples— or thin, rectangular charts. In 1974, he created 4096 Farben, which he considered to be the pinancle of that style and was the last in his Color Charts series. Details on Art News.