Krispin Joseph PX
Regarding the discussion on Abstract art, Paul Crowther and Isabel Wünsche write: 'the creative process is rooted in the unconscious, and is thence expressed most effectively through acts when the creative impulse is allowed to develop naturally rather than through conscious control'. When the artist does their creative process naturally, that flow brings a form; artists unleash themselves into canvas or any shape to create something that makes a formless physique, which is discernible as abstract art.
More than any definition of abstract art is required to define the form created in that genre.
One thing is clear: we are thinking and seeing animals, believe what we see around us, and we can see what we think. In another order, we draw what we call abstract art. Abstract art is a visual language that gradually arises in the association between a language and those who engage within that language. Abstract art also begins from wonder, as philosophy begins.
Everything is so abstract, including what we are doing in front of the artwork, deciphering a meaning, or trying to understand something carrying eternal significance. We never reach a harbour of meaning; our ship has never been anchored at any point of right or wrong; maybe we shipwrecked in the port of meaning.
In OED Gallery, Bazar road, Mattancherri opened a show as a tribute to 'The legacy of abstraction' named 'Primary Concerns', which starts on 14th Jan and ends on 14th Feb, featuring ten contemporary Indian artists. This show is the same time tribute to abstraction and primary colours; blue, red and yellow. Artists are invited to create artwork from the primary colours, and how the fundamentals of all colours create the variations is also a subject in this 'primary concerns'.
'The painting combines these colours with other forms also considered foundational: lines and planes that are linear, angular and curvilinear. However, Kandinsky's use of basic, essential elements allows for emotional intensity and a complex visual experience', writes Brian Curtin in a concept note. Were we start with abstract art forms in this show? 'The artists in Primary Concerns pay homage to Kandinsky's Yellow-Red-Blue while unfolding this question from a high interest in creating a visual equivalent to the emotive impact of music and channelling spiritual qualities from the radiance of colour', writes Brian Curtin.
Ten abstract artists display their works at the time of the Kochi Muziris Biennale, which invites audience response and interactions. These artists are different in mediums, philosophy and what they are doing in abstract forms.
One of the participating artists, Minal Damani, begins by making something from nothing; this involves repetitively confronting the void and artists referring absence of elemental meaning in the everyday living experiences of artists self and others. That activity may repeat most people's daily life and lead them to a sense of meaninglessness. Artists use visual language to translate these ideas into a visual form; the language of drawing gives repetitive marks of what they are experiencing in daily life. This process furnishes a materiality or a body of work, making many layers of absurdity on canvas. To narrate the vagueness, Minal Damani draws lines and dots repeatedly, line after line and dots after dots, transforming into a symbolic pouring. Minal Damani's works reflect a performance of dailiness, where we are exhausted and starting daily life again, a repeated practice of dailiness.
For Damani, paper becomes the time and filling the time is an activity that artists do. When doing this, drawing artists are attuned, random, uncontrolled, anxious, chaotic and attentive, lining a practice of moving from chaos to order or vice versa. The works are never completed; even though they are displayed, they are cyclical during production. We experienced a phase of in-betweenness, the Abyss of present and past in one space. Artists' mother's daily works and the unnoticed part of this labour in the larger living sphere apprised the artists reflected in her works.
The 'Rise and fall' series of works starts during the lockdown period, bringing drawings as representations of graphs. These works demonstrate the movements of stocks in the economic market, which is linked with her father's conversation about the fluctuating stock exchange numbers during which he spent the day. For artists, these abstract phenomena occupied everyday time-space, like a framework of Volatility, weaved into the space of the everyday. Artists look at the complete graphs at the end of the day; diagrams are records of time fluctuations. Translating these diagrams into a visual language and imaginary bodies/structures became a gesture of timekeeping of those days of confinement.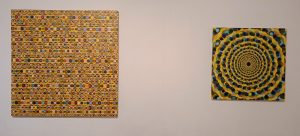 Saravanan Parasuraman's art practice invites the audience to significance equally to artists to view the artwork in the meticulous way that artists did that work. A sensible audience can induce abstract work as a subject into a point of engagement. In abstract works of art, artists and the audience meet in the realm of creativity, notional interactions between creator and fiction. His works brought living and survival together in a revolving and guided inherited from nature, academics, research on different subjects, and observations. Colours have a distinct purpose in Saravanan's artworks, portraying a solid correlation with seeds of colour pallets of nature such as figures, landscapes, and animals. Colours are not just pigments but play as independent surfaces which would reveal potentials, possibilities and discoveries through the viewer rather than guide the viewer to conclusions. In primary concerns, artists portray a series of works exploring new subject matters that produce possibilities by modifying the continuity of colours and rhythmic practice.
Life's abstract pattern lead Suresh Kumar into the abstract way of practice; the material world of life needs a label, so connect things with reference. The abstract emerges momentarily and beyond the mind and matter of phenomenon. Primary colours are the primary concerns of the artists, and it matters a lot. In abstract format, colours are mostly the primary thing. Colours interpret and represent themselves.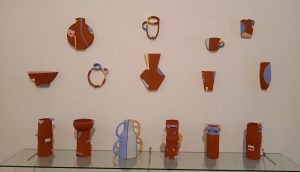 Reyaz Badaruddin's art practice questions the distance between art and craft and examines harmonies of functionality, aesthetics and materials as part of the enduring exploration. The core of this quest is how to blend the cultural nuances of traditional and contemporary forms and invent something unique. Traditional forms are the reference and representation of abstract physiques and reach out the ways of formlessness; Reyaz's works are out of the box in primary concerns idea of primary colours. Artists mix terracotta clay locally available in the mountains and fire at a lower temperature. These processes and art practices are sustainable.
The Interference series of paintings & drawings are driven by repetitive mark-making as an act of meditation for Visakh Menon. Creating an algorithmic aesthetic from this visual space is the aim of the work, with the repetitive lines creating optical & spatial transitions referencing screen space. Artists are interested in the collapse of expectation within digital media & images, which happens in and out of the expected time process, and then starts to malfunction.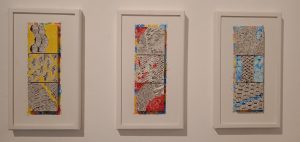 Water cosmology and the element of water is the primary source of artistic practice for Parvathy Nayar. Water, the origin of living species, has become a source of artistic practice and a fascinating subject. Abstracts come from nature, and dealing with fundamental ideas through art is the basic concept of Parvathy Nayar's art practice. Primary colours shape the way of seeing the world, and artists are deeply interested in the form of seeing the world. 'The Scales' is inspired by amplified fish scales and viewed at different levels. This series of works is the same time, a tribute to abstraction and the primary beauty and pearlescent colours of our planet's water-dwellers. The Scales speak more than Colour or pattern, it's an abstraction of life, and the impacting issues affect oceans, ocean-dwellers, and the living waters of our planet.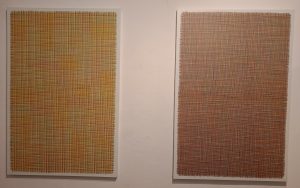 Harisha Chennangod's visual language evolves from childhood memories and woven handloom patterns, and he explores the netted fabric of cityscapes in an abstract form. Artists' visual language is tailored with lines of thought, crossing lines, gaps, and primary colours. 'Portrait of the present is a vibrant attempt at cartography, revealing the subtle nuances of life. Everything is lined in his artistic practice; dreams, resistance, fantasies, the fiction of life, and everydayness.
Lines create the delusion of coinciding threads on a loom, bearing towards the margins, receding as frayed edges-unstitched and open, revealing the quiet of the boundary. "The weaving and layering in Harisha's works haveseveral meanings, like in Kabir's poems. The unusual works are marked by repetition, which is spiritual and therapeutic", the artist Vasudevan Akkitham notes.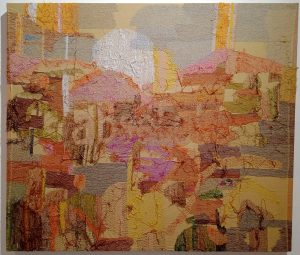 Ranjith Raman's art practice coincidently starts to engage with abstract art and unknowingly comes to artworks. Artists never intentionally create abstract artwork; it begins with an idea and lets them go anywhere realistic or abstract. Abstraction stands in between realistic and abstract thought and practice. Ranjith Raman is more curious than excited in the process of creation, as a very disciplined child obeying the changes which the process demands. "Many functions merge in abstraction, but I am always amazed to see the evolvement of abstraction that happens during the process," said Ranjith Raman. It is like an uncertain journey to somewhere that artists have never been, totally unknown and strange.
Upendranath's works follow his rememberings from life as an essence of abstraction. Upendran considers life a cosmic drama; one follows the other, and celestial worlds cover us in an abstract form. Artists assume work happens in every corner of the world, and life brings them into the structure; that will be an abstraction or a formless form. Abstraction is one thing that happens in everyday life; life itself is an abstraction. Works displayed in Primary Concerns are the spontaneous routine of the artists narrated in red, blue, and yellow. Amoebic and microscopic drawings are visually portrayed in these paintings, describing life's ephemerality.
"Colour is only a starting point for a work of art, and I am not concerned about the colours and meaning of the colours produced. I worked for a long time on the same-sized canvas and the same method. I am okay with where I will end. I used the same Colour on one canvas more than eighty times. In a work of more than eighty layers, in between these layers, some areas are open and hidden in visual perception; Sheetal Gattani responds to it through a call.
The artists in Primary Concerns carry us across a range of considerations about the possibilities of abstraction: between the analogous and the very materiality of the painted surface, Brian Curtin writes.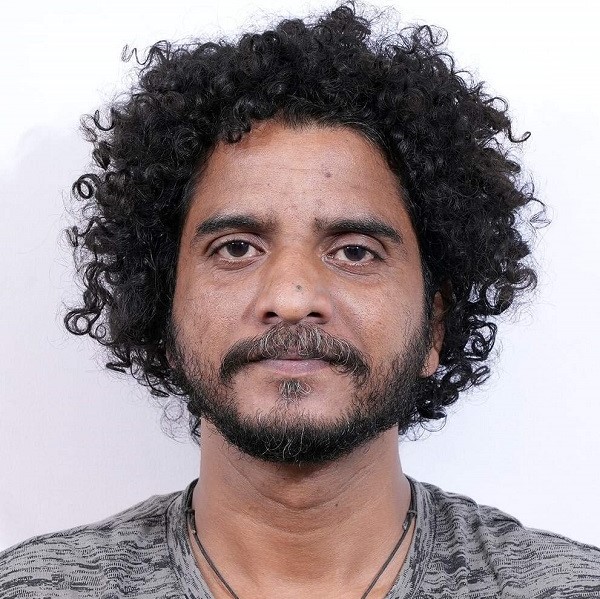 Krispin Joseph PX, a poet and journalist, completed an MFA in art history and visual studies at the University of Hyderabad.