Smriti Malhotra 
The former Royal family of Kilimanoor last year requested the Central Government to posthumously honour Raja Ravi Varma with the Bharat Ratna, which is the nation's highest civilian award. 
Ramvarma Thampuran K.R. wrote to the union minister of Culture, G. Kishan Reddy that the family wishes a Bharat Ratna Award for the late artist who changed the course of Indian art in the country and is a well-renowned and celebrated artist whose contributions are immense. Ramvarma, general secretary of Kilimanoor Palace Trust, further wrote in his letter to the union minister, "Ravi Varma was truly a flag bearer of the ancient traditions of India and his works reflect various aspects of our unique culture and heritage. As the 175th birth anniversary of Raja Ravi Varma is in the offing, conferring the Bharat Ratna is the best way for Mother India, on its 75th year of Independence, to acknowledge the merits and matchless contributions of one of the most prodigious sons."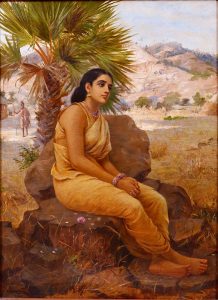 Shakuntala by Raja Ravi Varma. Courtesy: Wikimedia Commons 
Raja Ravi Varma is known for making evocative paintings on the themes of Indian mythology, historical scenes, portraits of Indian Royalty and various sketches of common people and their daily ordinary life. He is known to have depicted Indianness and given a peek into the women's lives through his portraits and many paintings on Indian women highlighting their jewels, textiles, expressions, etc. While he has been conferred various Indian awards and accolades after his demise in 1906, he has not been a recipient of the Bharat Ratna Award. In 2013, the Indian government introduced a commemorative postage stamp in his honour for his contributions to Indian arts and culture, and in the year 2021, his birth anniversary was celebrated as National Art Day in the country.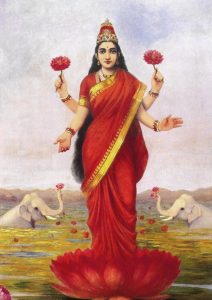 Goddess Lakshmi by Raja Ravi Varma (1896)
Raja Ravi Varma made thousands of paintings in his lifetime and in 1894 established a lithographic press in Bombay to make his famous paintings on Indian Gods and Goddesses and important mythological scenic paintings more accessible to the public. Apparently, a former dewan of Travancore and then Baroda gave the artist that idea, the letter stated that he sent his famous paintings to Europe and have oleographs printed of them. However, Raja Ravi Varma had other plans and decided to open his own press in the country. These oleographs were a huge success in India, common people learned about Raja Ravi Varma's art and everyone wanted these mythological Gods and Goddesses in their homes. Raja Ravi Varma had managed to humanise these characters from tales Indians have grown up watching, believing and worshipping. These oleographs showcased key moments of Indian mythologies and also played an essential role towards the fight for Indian Freedom Struggle.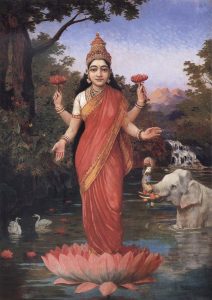 Oleograph Print of Goddess Lakshmi (1910)
Raja Ravi Varma's imagery was popularly used in calendars, matchboxes, and advertisements, woven into textiles, and has influenced the likes of many artists over the years. His works have reached far and wide and is indeed one of the greatest Indian painters who still intrigues the likes of many art historians and lovers.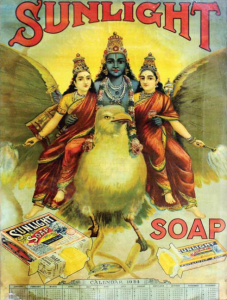 Raja Ravi Varma Prints on Advertising/Calendars. Courtesy: OPEN Magazine
"We hope there will be a positive decision as the Union Minister has responded to our request sympathetically. We will soon submit a proposal to hold a one-year-long grand anniversary celebration across the country in connection with his 175th birth anniversary fete," said Mr. Thampuran. 
If the demand of his family to honour him with a Bharat Ratna is accepted by the Indian government, it will be a great win not just for the artist but for his art as well. 
References:
https://timesofindia.indiatimes.com/city/vadodara/bharat-ratna-sought-for-painter-raja-ravi-varma/articleshow/93172814.cms
https://www.thehindu.com/news/national/kerala/kilimanoor-palace-makes-a-strong-case-for-ravi-varmas-bharat-ratna/article65682302.ece