Smriti Malhotra
A Book Review of Raja Ravi Varma: Painter of Colonial India by Rupika Chawla
Published by Mappin Publishing in the year 2010
Rupika Chawla is an art conservator, a profession that requires the utmost patience and dedication to work with paintings covered in soot and dust accumulated over time. It takes ages to slowly breathe life back into the painting, working layer after layer and reconstructing the original artwork to its former glory. This book is representative of the same labour of love and de-construction of the legend in Indian Art History;Raja Ravi Varma. It is a well-documented and meticulously researched book that explores the life of one of India's most celebrated artist's of all time. This book is a reflection of Rupika Chawla as a profound conservator, who has worked on several of his paintings as a conservator, one could assume her fascination with the artist began in one of conservation sessions of Raja Ravi Varma's paintings. This book provides an impression of a love affair with the arts of Raja Ravi Varma and the artiste. The author navigates the entire complete oeuvre of Raja Ravi Varma's vast artistic pantheon showcasing many of his portraits and sketches which have not seen the light of the day. His works mentioned in the book have been painstakingly sourced by the conservator cum writer from private and princely collections, galleries and museums, making this book a visually delightful and radical read for art lovers and others.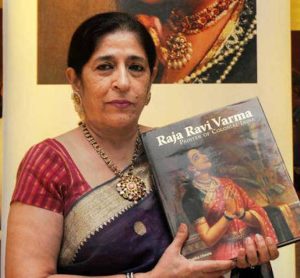 Raja Ravi Varma was known for merging the Indian sensibilities with his academic European trained techniques. He is till date particularly known for his rendition of Indian mythology on canvas and then oleographs/lithographs. He reimagined Gods, Goddesses and mythical characters from our beloved Indian mythologies and made them delectable and even relatable to the Indian audiences. He showed the Indian audience, the hero-heroine version of their beloved Gods and Goddesses, whom they had only seen in temples smeared with vermillion and covered in garlands until then. While the original Ravi Varma paintings hung in aristocratic homes and collections and were for a certain elite, his lithographs that were introduced much later were bought by almost all Indians and were displayed proudly in their households. He made his works more accessible, everyone wanted a Raja Ravi Varma's God and Goddesses print in their homes and in their temples.
Raja Ravi Varma dabbled in realism, that means that he was able to paint the smallest details very well, his fascination with the human anatomy led him to make his characters more human-like with their expressions, body contours and hand placement to be exact and befitting.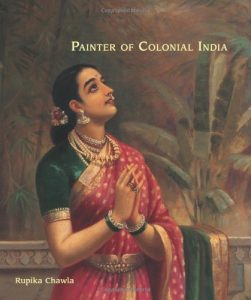 His beautiful use of imagery, colour palette, textile drapery and even the intricate painting of the jewellery worn by the characters bedazzled the audience. The women in his paintings were curvaceous, draped in the finest silk sarees reflective of the great Indian textile heritage and the most spectacular jewels. He proudly showcased the Indian female body as well the Indian heritage for the world to revel at. His Damyanti, Menaka, Shakuntala, and other beautiful women were bewitching and echoed innocence at the same time. Such observations and beautiful images of unseen paintings and sketches are a part of the book.
One of the striking features of this particular tell-tale on Raja Ravi Varma is the focus on his familial relationships, those that he had with brother Raja Raja Varma and his sister. Although we are fairly aware of their relationship, this book delves deeper into their personal and professional bond with the two. This has been brought to light through numerous letters, travel tickets and other documents charting his life-story. Through these accounts, the reader gets an insight on the migratory life that Ravi Varma and his siblings held travelling from one city to another making commissioned portraits.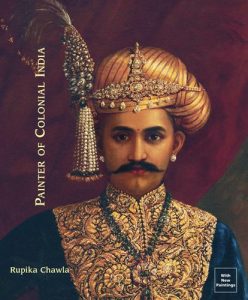 The writer has offered a microscopic examination of Raja Ravi Varma's life's work which is different in comparison to an art historian's perspective on the artist. The writer not only provides a background about Raja Ravi Varma but also contextualises the time period and writes about what was happening at the time of him making a particular painting or monograph. A deliberate way of writing to give the readers a glimpse of the artist's lifestyle and meaning behind certain elements painted onto the canvas. For instance, a woman reading a letter signified the diligent postal and telegraph system that was already in place in the region. Another example could be a man reading the newspaper near the gaslight reflecting two major moments in Indian history; emergence of the printing press  to print newspapers and gas lines coming in from Russia.
Rupika Chawla's book offers a vibrant and new palimpsest into Raja Ravi Varma's life, history, artworks, relationships, travels and more. The book paints a compelling portrait of an extraordinary artist that has been celebrated in Indian history. It is a must-read for art enthusiasts, academicians who are researching the story of Raja Ravi Varma and for anybody interested in Indian art, culture and even mythology.