Ved Prakash Bhardwaj
The essence of Rajesh Ram Sculptures is memories, understanding the past, and understanding the threads between the histories made and the histories under construction, i.e., the present, and expressing the impact of power, power of all kinds of politics in human life. His sculptures are a journey from history to the present. In this journey, he gives voice to the contradictions of life. Rajesh Ram creates stories in his sculptures that are very real. For this, sometimes he goes into the history and sometimes while walking in the corridors of the present, he expresses the seen-unseen scenes in the context of human destiny. That's why there is a kind of conflict in his art. This conflict sometimes appears in a religious-social context and sometimes in the form of crises derived from the power of political power. Will it ever be possible to compensate for the damage caused by pollution in public life due to the power play of religious, social, and political authorities? Rajesh Ram tackles these questions on a creative level. That's why he calls his sculptures the carvings of time. His initial identity as a sculptor has been as a socially conscious artist. His current exhibition Carving Time is currently running at the Palette Art Gallery, in Delhi. Some of the works of this series were also recently displayed at the India Art Fair 2023.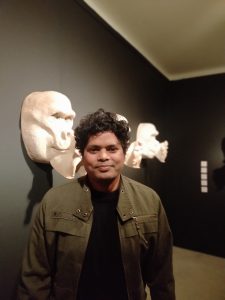 Rajesh Ram is known for his analytical presentation of social and political situations in his sculptures. Right from his early sculptures, he started probing the layers of social reality. Through local symbols, he has now come to historical references. In his current exhibition, he has gone back in history and selected some references that represent those innate human tendencies that are present in today's man as well. He says, "I'm constantly exploring the properties of the place of history amidst a fluidity and movement created with heavy connotations of human reality and the power of politics in the life of man."
Rajesh Ram's solo exhibition is going on at Palette Art Gallery, New Delhi. For his recent stoneware sculptures, he has combined two types of sculptures installed in Indian temples with the face of Homo sapiens. On one side there are erotic poses, and on the other side, there are poses of the goddess of knowledge and art. Looking at these sculptures, one gets the impression that the artist has presented the immutable physical and intellectual psyche of man. The expressions on the faces of Homo sapiens reveal the present conditions. On the one hand, there is talk of cultural liberalism, and on the other hand, there is an attack on the arts in the name of obscenity. This contradiction baffles the artist. This is what Rajesh Ram has called the relation of political power to human reality. Rajesh Ram constantly investigates this relationship.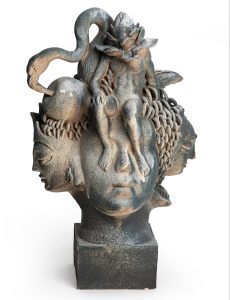 Ram's Homo sapiens series is a Darwinian delight. He juxtaposes Homo sapiens with Indian temple sculptures. "I have always had a fascination for the roots of human history, it creates an unending curiosity within me," says Ram. "In this sculpture, I am creating a bridge between the past and the present. I have portrayed an erotic figurine style from Indian temple sculptures. I wanted to represent fertility and the procreation of civilizations by making these sculptures. Here I have created 10 Homo sapiens sculptures in different styles and figurations."
By keeping the past and the present together, he looks towards the future. His work proves that Indian artists have much in their tradition that can be the basis for contemporary art. Stoneware is usually a ceramic art material with most artists doing pottery. Rajesh Ram has given it a new dimension.
On the one hand, the displayed sculptures have the realistic form of the sculptures of Hindu temples, and on the other hand, by combining those sculptures and structures with human faces and other shapes, they create surrealist art. This surrealism also has a contemporary consciousness. Through these crafts, many contemporary realities like increasing animalistic tendencies in man, big heads, and materialistic pressure in the form of houses over the heart come to the fore other shapes, they create surrealist art. This surrealism also has a contemporary consciousness. Through these crafts, many contemporary realities, like increasing animalistic tendencies in men, big heads, and materialistic pressure in the form of houses over the heart, come to the fore. Two crafts that highlight the contradictions between private and public life are Relation of War and Relation and War. There is no narration in these crafts, just an idea that helps the viewer access multiple stories from their own experiences.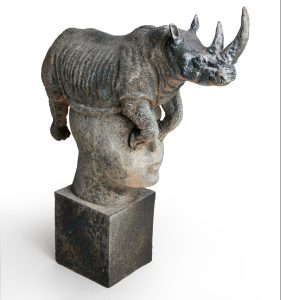 Rajesh Ram has worked in many of his crafts by combining animal or bird faces with human faces. This is an indication of the growing animalism in humans, which is one dimension of their relation to human life in terms of political power. But these crafts have another meaning which indicates the need for ecological balance. Only the balance between all the living beings on earth can save human society.
There are some crafts in this exhibition that point towards the growing materialistic pressures in human life. For example, we can see the structure of the building above the heart in a sculpture. In metropolitan life, on the one hand, people struggle for living space. On the other hand, the concept of home is becoming increasingly vulnerable. A house means a family whose symbol we can see in the form of a building structure.
While working in ceramics, Rajesh Ram has maintained the texture quality of stoneware. These stoneware crafts have softness as well as strength. For this reason, in their composition, these crafts effectively reveal the physical dualities of human life. These crafts awaken our memory. Prompt us to go back in history to understand our times and their contradictions. This can be called a big success of Rajesh Ram. The work of art is not only to awaken an aesthetic sense but also to make man aware of his surroundings.
If we think about all the crafts in this exhibition together, we find that the artist has created such a surreal environment that inspires us to think about life from many directions. Even while sitting in the temple, our mind wanders in many directions; the pressure of material life does not allow it to remain stable. This is the dilemma of today's life. Rajesh Ram can be said to be composing it as a group of different crafts.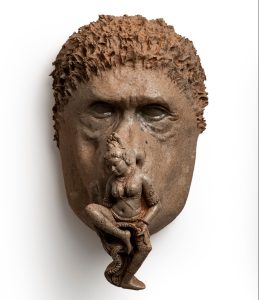 Blending religious art and architecture in some works that are wall stories avoids human and animal depictions, and these constraints seem to be spiritually effective. Visually glorious botanical patterns and small, specific depictions result in something that feels universal. The pillars and arches constructed during the golden age of innovations in math and science seem to have fed such stunning decorative geometries. Human Roots and Spacecraft are two works that play with symbolism and geometry.
"Sculptures and architecture are records of the past," says Ram. "Somehow we can track the passage of history through these artworks. It also talks about human development and so many journeys. So I portrayed the human brain to show the roots of human existence. I use architectural representation because it is my favourite expression for my art practice."
In one sculpture, we can see a hippo with its mouth wide open and a man's head attached. Ram says that when he sculpted this roaring hippo a few years ago, he was describing a story of power and taking notes on a trip through history. Half the head represents the politics behind the throne. "The composition is a scene that describes how my mind describes the reality of history and the beauty of its many elements," says Ram.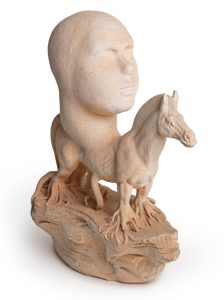 Rama's hybrid fragments of Purusha (man) and Prakriti (woman or nature) give us a sense of wonder at both inclusion and exclusion. It's like travelling at a crossroads. Rama transforms these conflicting feelings into his sculptures, creating a contemplative space of his own duality that is open to all. He employs simple means to achieve the dramatic effect: a single human head or figure, as well as the plant's stems and roots, shine through complex botanical elements made of stone and treated with ash. Each side of these idols is a mark of brilliance in comparison and form, repeating contrasting patterns that Rama designs by combining and adapting various decorative elements in different visits to different parts of the world. Ancient figures and motifs of human and animal faces cast shadows on the gallery walls. No clear boundaries or separations exist within the fusion of human and animal forms; as we move freely through the dense silhouettes in the gallery, our moving eyes transform the nature of the patterns.