Tsuktiben Jamir
Christie's New York set to hold auction from RISD's founding member family's collection. The Rhode Island School of Design (RISD) in Providence, Rhode Island functions as a college and a museum and was co-founded by a group of women back in 1877 even before women had gained the right to vote in America. According to RISD's history, it was the brainchild of co-founding member Helen Adelia Rowe Metcalf; "That year Helen Adelia Rowe Metcalf urged 34 members of the Rhode Island Women's Centennial Commission to invest their group's surplus funding of $1,675—which they had raised for RI's contribution to the Philadelphia Centennial Exhibition in 1876—in founding a school of art and design (instead of building a public fountain, one of the other options on the table)." RISD empowers artists, designers, and researchers to create and contest the ideas that influence our world by encouraging wide and free thinking.
The family that was part of the establishment of RISD amassed a large collection of artworks throughout the years, which is expected to be auctioned off at Christie's New York in May.
Sophie S. Danforth married Murray Snell Danforth Jr who was a descendent of Helen Adelia Rowe Metcalf. Sophie passed away in 2019. However, her estate, which includes works by Francisco Goya, Henri de Toulouse-Lautrec, Edgar Degas, and Honoré Daumier, will be featured in Christie's evening auction of 20th-century art in the month of May. The Danforth family has had the collection of paintings and drawings for many years. The artwork that will be featured at Christie's auction was collected by Danforth's mother-in-law, Helen Metcalf Danforth.
Square de la Trinité (1878–79), a painting by Pierre-Auguste Renoir, is the centrepiece of the collection. It has been loaned for numerous international exhibitions and has been on view at the Art Institute of Chicago, the Metropolitan Museum of Art in New York, and was included in a 2007 travelling exhibition of Renoir's landscapes that visited the National Gallery in London, the Philadelphia Museum of Art and the National Gallery of Canada. The painting is expected to sell between $4–$6 million.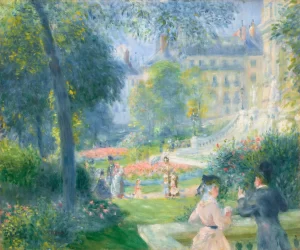 A drawing by Francisco Goya titled 'A horse covering a she-donkey, while straddling its owner, a monk' is another highlight of the collection and is expected to fetch between $800,000 and $1.2 million at the auction.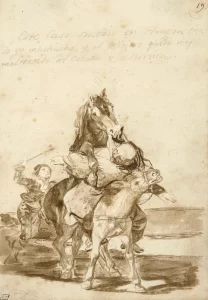 'Les Trois Juges' by Honoré Daumier is one of the artist's subtle caricatures depicting influential people that examines the courtroom dynamics; it is anticipated to sell between $300,000 and $500,000. One of the 50 works Toulouse-Lautrec created while residing at the Folie Saint James asylum outside of Paris 'Au cirque: Eléphant en liberté' (1899) is also expected to sell between $400,000 and $600,000 in the auction.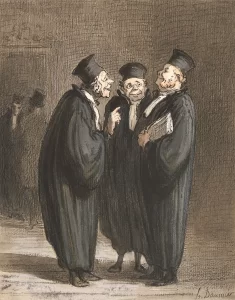 The Danforth estate is the most recent collection from one owner that auction houses have announced for their spring auctions. Christie's Vice Chairman of 20th and 21st century art in the Americas, Max Carter told The Art Newspaper, "Collections tend to get dispersed over time and through generations, which is why it's very rare to see such a number of works which were acquired beginning in the 1930s."