Vaishnavi Srivastava
17TH April, ON THIS DAY
"Amid all the nonsense, impostors, rhetorical bullshit and sheer trash that pass for art in the 21st century, Doig is a jewel of genuine imagination, sincere work and humble creativity."

–Jonathan Jones (Art critic)
What makes an artist great? Over the centuries we have seen a plethora of artists who gain recognition as a legend way past their lifetime, which has urged a series of discourse and discussions around the question- Is it death that finally maketh a masterpiece out of a man's work? Peter Doig is a living contradiction to this dialogue. On his day of birth, we discuss the brilliance of one of the greatest living contemporary artists in the world of art.
Being the representational voice of this era, Peter Doig is a Scottish-origin artist. Born on 17th April 1959 in Edinburgh, UK, Doig's, the family shifted to Trinidad in 1962 and then to Canada in 1966. He got his first degree in 1979 from Wimbledon School of Art and his master's from Chelsea College of Art and Design in 1990. One of the characteristic features of Doig's work is inspired by childhood memories and photographs which he then turns into paintings. They contain figures as well as landscapes wherein Doig amalgamates history along with personal memories in order to create his art that reeks of nostalgia and pure artistic virtuosity.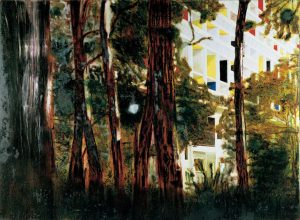 His works, according to Doig himself, are supposed to speak of the unspoken-able feelings and emotions. They give an image to a feeling that cannot be described by human language but can be felt via his artworks. Not only does he incorporate his personal recollections into his artwork, his paintings also contain political ethos (as seen in Two Trees) with no persistent "formula". One of the recurring themes of a Peter Doig artwork is the presence of Magical Realism as a theme. The paintings tend to send the observers into a state of tranquillity by portraying his ideas of serenity. His paintings are fantastical in nature, wherein the art is solely dependent on the perspective of the viewer. Canoes are also a recurring subject of his artwork that serve their own particular purpose.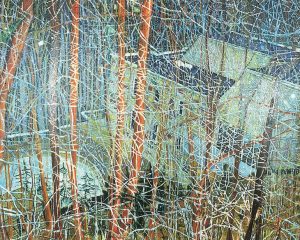 Recently, Peter Doig had his new work exhibited in the Courtauld Gallery. He is officially the first living artist to be exhibited at the gallery. Moreover, his works have been exhibited among the likes of Monet, Renoir, Manet, Cezanne, and Gauguin. Going back to the previous conversation on the dead and living artists, what is it really that they might have in common? Doig had his work White Canoe sold for 11.3 million dollars back in 2007. This certainly makes him stand out from the likes of Van Gogh whose gift was recognized a bit too late and died wealthless. Doig, even after once being the highest-auctioned artist in Europe, scoffs at the bizarre inflation of his artworks. The fact of the matter is, even the highest-selling artists of this time get only bits and pieces from the money of their auctioned artworks. It is the galleries and investors who end up taking the majority. Furthermore, with modern-day systems come modern problems for the artists and their artwork. An interview with The Guardian revealed how Doig worked through sleepless nights in order to complete his artworks within the given deadlines. It seems the capitalist world thrives on suffering artists who are underpaid for their skills.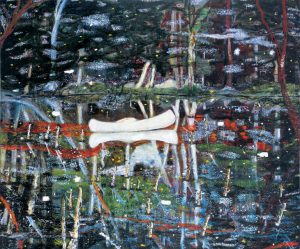 Finally, Peter Doig is one of the most celebrated and highly anticipated painters of this generation. His works are displayed in various prestigious galleries which include The Tate Gallery in London, the Art Institute of Chicago, the Goetz Collection in Munich and the National Gallery of Art in Washington D.C. Some of his infamous artworks include, White Canoe 1990, The Architects Home in The Ravine 1991, Concrete Cabin 1994, Canoe Lake 1997 etc.